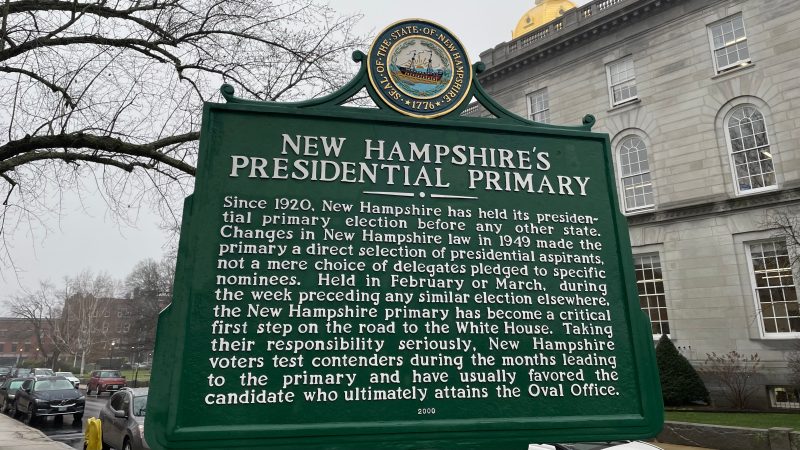 New Hampshire's GOP governor to DNC: 'We will not be threatened … we will not give up'
CONCORD, N.H. – New Hampshire's Republican and Democrat leaders are making it crystal clear that the state that's held the first-in-the-nation presidential primary for the past century will not give into demands from the Democratic National Committee (DNC) to give up their early voting position in the Democrats' presidential nominating calendar.
Longtime New Hampshire Democratic Party leader Ray Buckley on Thursday argued in a letter to the DNC that the move by the national party to revamp the top of their 2024 presidential nominating calendar by moving South Carolina to the leadoff spot — just ahead of New Hampshire and Nevada — would be 'an unfortunate, reckless, and self-inflicted blow' that would damage Democrats' prospects in the key northeastern general election battleground state.
'The DNC has handed New Hampshire Republicans a salient political attack to use against both state and national Democrats,' Buckley wrote.
New Hampshire Republican Gov. Chris Sununu was even more blunt, writing in a letter that 'we will not be blackmailed. We will not be threatened, and we will not give up.'
The letters came on the day that the DNC had set as the deadline for the five early voting states in its proposed calendar to show that they are moving toward meeting the national party's necessary requirements — or else they would forfeit their early slots in the new schedule. For New Hampshire, that means scrapping a state law that protects its cherished first-in-the-nation primary status and passing legislation to expand access to early voting.
The DNC'S proposal, which cleared a key first hurdle when it was overwhelmingly approved last month by the party's Rules and Bylaws Committee, moves South Carolina to the leadoff position in the Democrats' primary calendar, on Feb. 3, 2024, with New Hampshire and Nevada holding primaries three days later, followed by Georgia and Michigan.
It's a move aimed at making the leadoff state in the nominating cycle more representative of a party that's become increasingly diverse in recent decades.
President Joe Biden's plan, which the full DNC membership is expected to pass at their winter meeting in early February, is a dramatic shift from the current calendar, which has seen Iowa and New Hampshire for half a century hold the first two leadoff contests in both the Democratic and Republican Party schedules.
For years, plenty of Democrats have knocked Iowa and New Hampshire as being unrepresentative of the party as a whole for being largely White with few major urban areas. Nevada and South Carolina — which currently vote third and fourth in the calendar — are much more diverse than either Iowa or New Hampshire.
Michigan and Nevada – where Democrats control both the governor's office and legislature – submitted letters meeting the DNC's necessary requirements to receive a waiver to retain their early voting slots in the new calendar. So did South Carolina, where the state parties rather than the state government dictate when presidential primaries are held. And the DNC is likely to give an extension to Georgia, where neither Republican Gov. Brian Kemp nor GOP Secretary of State Brad Raffensperger have voice public opposition to the Democrats' plans.
But Buckley, pointing to Sununu and the state's GOP controlled legislature, wrote in his letter that 'the DNC's waiver requirement is unrealistic and unattainable, as the New Hampshire Democratic Party cannot dictate to the Republican governor and state legislative leaders what to do, and because it does not have the power to change the primary date unilaterally.'
And while he noted that Granite State Democrats have worked to expand absentee voting, he showcased that 'since 2004, New Hampshire has consistently ranked in the top five states for voter turnout in presidential election years.'  Buckley also highlighted that in the 2020 presidential election, '74.2% of New Hampshire voters turned out compared to 66% of Nevadans, 65.4% of South Carolinians, 67.9% of Georgians, and 73.1% of Michiganders.'
Sununu, in his letter, blasted the move by the DNC to put South Carolina first as 'absurd' and charged that 'the power brokers in the Democrat party in Washington have made it clear that they believe New Hampshire's time is up.'
'But I have a message for them and President Biden — you can try to come and take it — but that is Never. Going. To. Happen,' the governor added. And Sununu emphasized that state officials 'across party lines stand in unison' on ensuring that New Hampshire holds the first presidential primary next year. 
New Hampshire state law dictates that presidential primary be held '7 days or more immediately preceding the date on which any other state shall hold a similar election.' Republicans in the New Hampshire state Senate now want to take that a step further, as they on Wednesday started the ball rolling on a state constitutional amendment to protect the primary.
There's virtually no drama when it comes to the GOP's presidential nominating calendar. The Republican National Committee voted last year to make no changes to their current order of Iowa, New Hampshire, South Carolina and Nevada leading off their schedule.
This post appeared first on FOX NEWS