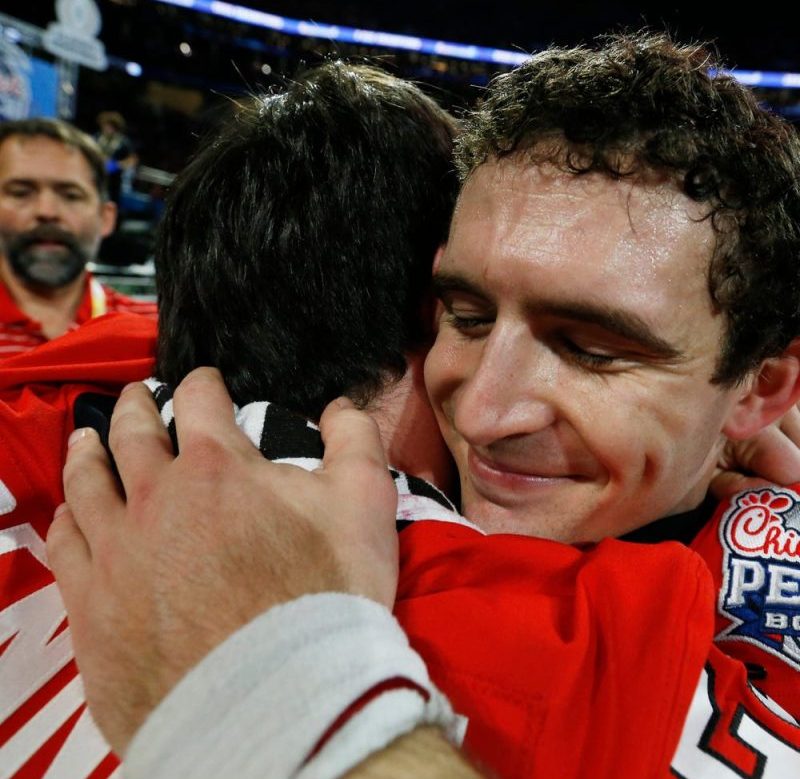 Just when doubt seeps in, Georgia QB Stetson Bennett proves us wrong again
ATLANTA — Just when Stetson Bennett looks like the walk-on quarterback opposing fanbases love to hate, he said give me another chance.
Just when he throws his worst interception of the year — possibly of his career — he let it slide right off his shoulders.
Just when you count him out and believe that he can do no more as Georgia's quarterback, he puts Bulldog Nation on his back.
Just when you've typed out the story that sends him off into his post-college journey, lauding him for his career as a Bulldog while demeaning him for having the worst game of his Georgia career at the worst of times, Bennett pulls off a stunner that reels you back in and makes you believe that the walk-on miracle quarterback really is one of the best Bulldogs to ever wear the uniform.
'You're right, I was playing like crap there for a little bit in the second half,' a mentally fatigued Bennett said in Georgia's locker room as he cut tape off his ankles while being pulled away to do interviews in Mercedes-Benz's press room. 'I don't know, man. That was special though. That was crazy. Nuts.'
Follow every game: Latest NCAA College Football Scores and Schedules
Dan Wolken: Can the College Football Playoff get any better than Saturday?
Georgia was down and out on Saturday.
Bennett looked a bit off physically, and performance-wise he appeared lost. Georgia's offense wasn't clicking and the Bulldogs began the second half with consecutive 3-and-outs while Ohio State extended its halftime lead with an early second-half touchdown.
But just when you think all is lost and the clock has struck midnight on Stetson Bennett IV, Georgia's Heisman candidate whom many turned their nose up at for being in New York in early December, he turns in a Heisman performance in the fourth quarter to outduel Ohio State's CJ Stroud, the far superior Heisman trophy candidate for much of the evening.
When it mattered most, when Georgia needed him most, when a shot at back-to-back national titles was on the line and the Bulldogs had to turn to a savior to come back from a 14-point deficit, Bennett's heroics led the Bulldogs back to the College Football Playoff finals for the second straight year.
With Georgia trailing by 14 at the start of the fourth quarter, Bennett pushed the Bulldogs down the field and into field goal range. A couple plays on the drive, however, were emblematic of the night Bennett was having.
An inexplicable backward pass that lost 10 yards was followed by a throw to Ladd McConkey in a tight window that was nearly intercepted and the Bulldogs settled for a field goal.
With 8:51 to play and Georgia trailing by 11, Bennett's star shined brightest.
He hit Arian Smith on a 76-yard touchdown pass down the Georgia sideline before finding McConkey for a two-point conversion that pulled Georgia within 3 points.
'When Stetson does something bad or something coach doesn't want him to do, our job is to lift him up, man,' Smith said. 'Let him know that we're here for him.'
Georgia managed to stay in the game from there and trailed 41-35 with 2:36 to play. It needed a touchdown to win.
The Bulldogs never counted out Stetson through any of his struggles. They knew who their guy was, and to hell with anyone who has ever doubted him.
'When we counted on him, he showed up,' said senior Kearis Jackson, who had a 35-yard reception on the Bulldogs' final drive. 'He made those plays and made those throws in clutch situations. That's what it's all about. It's not about how you start it's about how you finish.'
Five plays and 72 yards later, Georgia had a 1-point lead. Bennett finished the game with 398 yards, the most of his career. He completed 10 of 12 for 190 yards in the fourth quarter.
The Bulldogs needed a missed Ohio State field goal to seal the victory. When it went wide left, Bennett sprinted onto the field sans helmet, arms out wide with tears appearing on his face, much like they did at the end of last season's national title game.
No matter the result of the Jan. 9 championship game against TCU in Los Angeles, Bennett's legacy can't be tarnished. He was named the Peach Bowl MVP on Saturday (or early Sunday morning), adding to his trophy case of legendary performances in last year's Orange Bowl, national title game and this season's SEC Championship game.
Just when you think you've found the moment that you can shove in his face and say, 'see, here's the reason you can't trust a walk-on quarterback,' the legend of Stetson grows.
Saturday's performance was a perfect culmination of Bennett's career. The lows turned to highs and the suspense kept you on your seat until the clock did indeed strike midnight to ring in 2023.
But it wasn't the end of Bennett's Cindarella run. Oh no, there's one more game for this proven winner.
'The legend isn't over. We have one more game this season,' said center Sedrick Van Pran. 'I'm not sure what he's doing next year or if he's committed to come back.'
Ryne Dennis is an editor, sportswriter and columnist for the Athens Banner-Herald. He can be reached at rdennis@onlineathens.com or on Twitter @RyneDennis. 
This post appeared first on USA TODAY