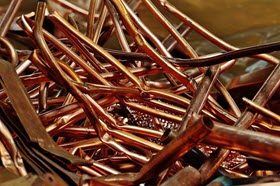 Copper Breaks with an Outsized Move
The S&P 500 moved to a new low from June to October, but copper held up better with a higher low and broke short-term resistance with an outsized move this week. A breakout with an outsized move shows above-average strength and it looks like the downtrend in copper is reversing.
The chart below shows weekly bars for Continuous Copper Futures ($COPPER). Copper fell sharply from March to July and then consolidated with a triangle the last few months (blue lines). Normally, a triangle after a sharp decline is a bearish continuation pattern that represents a rest within the downtrend. Sometimes, however, triangles can break the other way and trigger a reversal, which is the case now.  
Also notice that copper retraced 50-61.8% of the prior advance (gray lines) and returned to resistance from the 2018 highs (blue shading). Prior resistance zones turn into potential support zones and a 50-61.8% retracement is normal for a correction after a big advance (155%). Think two steps forward and one step backward. The indicator window shows Normalized ROC, which is the 1-week point change divided by the 52-week Average True Range (ATR). The indicator hit 1.15, which means this point surge was more than one ATR(52) value and this is the biggest advance since late February. The next chart shows the Copper ETF (CPER) with similar characteristics.
The stock market timing model at TrendInvestorPro remains bearish and has been bearish since April 11th. Most of the ETFs in the MasterList (274) are in downtrends, but some ETFs related to healthcare, defense and energy are bucking the bear. We are also seeing strength in some industrial metals ETFs. Click here for immediate access to our reports, videos and strategy articles.
Normalized ROC, Trend Composite, ATR Trailing Stop and eight  other indicators are part of the TrendInvestorPro Indicator Edge Plugin for StockCharts ACP. Click here to learn more and take your analysis process to the next level.
—————————————