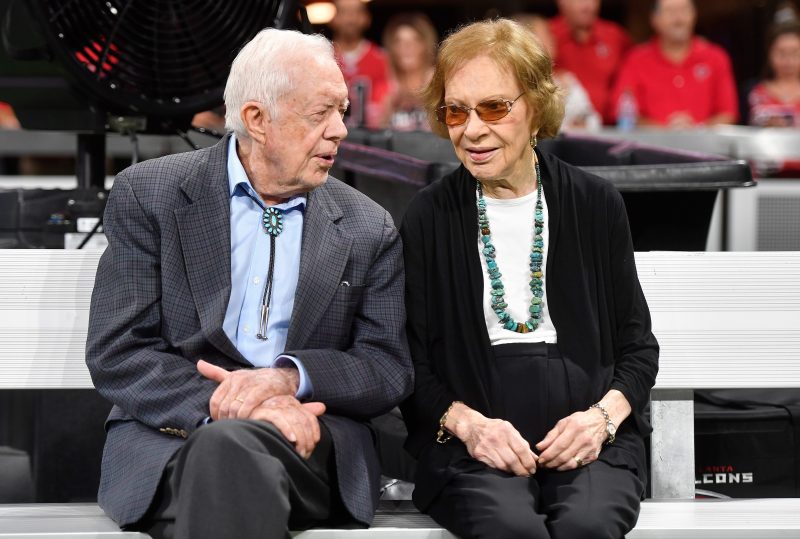 WATCH: Jimmy and Rosalynn Carter captured on kiss cam at Braves, Hawks games
Jimmy and Rosalynn Carter had perhaps the nation's most enduring love story.
The 39th president and former first lady were married for 77 years, the longest-married couple in American presidential history. The Carters married in 1946 and built a life in Georgia, where they were both born and raised, and they remained each other's greatest supporters throughout their long lives.
Rosalynn Carter died Sunday at age 96. Jimmy Carter celebrated his 99th birthday in October.
"Rosalynn was my equal partner in everything I ever accomplished," Jimmy Carter said in a statement from the Carter Center. "She gave me wise guidance and encouragement when I needed it. As long as Rosalynn was in the world, I always knew somebody loved and supported me."
The beloved couple were frequent visitors at Atlanta sporting events over the years and were captured on kiss cams at both Braves baseball games and Hawks basketball games to the delight of the fans in attendance.
HOT STOVE UPDATES: MLB free agency: Ranking and tracking the top players available.
Here are three of their most recent kiss-cam appearances:
Feb. 14, 2019
Jimmy and Rosalynn Carter attended the Atlanta Hawks' NBA game against the New York Knicks at State Farm Arena on Valentine's Day in 2019 , and so, of course, they needed to be captured on the kiss cam.
Oct. 2, 2016
The former president and first lady took in the final Atlanta Braves' regular-season MLB game at Turner Field and enjoyed a kiss and a 1-0 Braves win.
Sept. 17, 2015
While the Carters' presence at the home game against the Toronto Blue Jays did not provide a lift for the Braves, the Atlanta fans still got to see a kiss by Georgia's most famous couple.
This post appeared first on USA TODAY