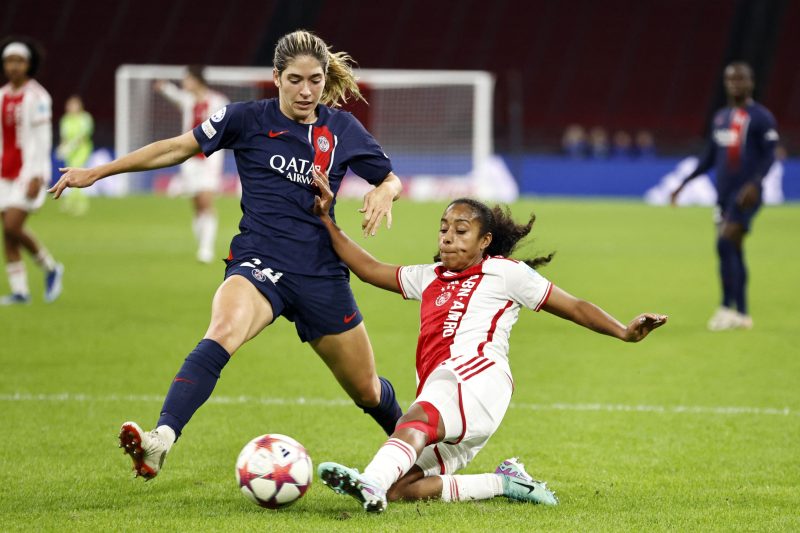 Meet the player everyone had to Google after USWNT roster release
The U.S. women's national team's first roster of the Emma Hayes era likely had all but the most diehard of fans heading for Google.
Korbin Albert, a midfielder with Paris Saint-Germain, received her first call-up to the senior national team. And her name immediately spiked in Google search as a result. She and NWSL Rookie of the Year Jenna Nighswonger are the only players on the 26-woman roster who've never been in camp with the USWNT.
Interim manager Twila Kilgore said the coaching staff has had its eye on Albert for 'a good amount of time now,' and decided this was the right time to bring her in for a closer look. Hayes and Kilgore are using this camp to evaluate younger players, both for the Paris Olympics team and beyond.
'Her role has been increasing with her club. Obviously, she's getting good Champions League games,' Kilgore said Monday.
Here's what to know about Albert:
Where does Korbin Albert play?
The 20-year-old midfielder is at Paris Saint-Germain.
Albert left Notre Dame in January, after two seasons with the Fighting Irish, to sign with the French team. After playing in eight games last season, starting three of the last four, Albert has become a regular in PSG's starting lineup this year.
She's started in PSG's three Champions League games — a draw and a win against Manchester United followed by a loss last week to Ajax — and played all 90 minutes. She's also started three regular-season games, also going all 90.
PSG uses Albert all over the midfield, and Kilgore said her versatility is appealing to the USWNT staff.
'(She's) playing a little bit lower or higher at times, depending on what the team's needs are,' Kilgore said.
Did Korbin Albert go to college?
Yes. Albert played two years at Notre Dame, where she became the first Irish player since 2010 to be a finalist for the Hermann Trophy, given to the country's best soccer player. Albert finished her final season with 16 goals, most in the country by a midfielder, and was named the ACC's top midfielder.
Her 12 goals as a freshman were second-most on the team and second-most in the country by a freshman.
Has she played for the United States before?
Albert was in the youth program with the Under-20, U-17 and U-15 teams. She was part of the Under-20 World Cup last year, where she played alongside Alyssa Thompson, Jaedyn Shaw and Olivia Moultrie.
Thompson made her USWNT debut in the spring and played at the World Cup, while Shaw and Moultrie got their first call-ups at camps earlier this fall.
Where is Korbin Albert from?
Albert grew up in Grayslake, Illinois, a far northwestern suburb of Chicago, and comes from an athletic family. Her mom, Janet, was an All-American in track and field at Iowa. Two of her four brothers played soccer in college, DJ at the University of Cincinnati and Keaton at Indiana Wesleyan, while sister Teagan plays soccer and is a diver at Olivet Nazarene.
Korbin Albert and Nike
The announcement Albert was getting her first call-up to the USWNT comes a day after she announced she had signed with Nike.
Albert made the announcement on Instagram, saying she was 'excited to become part of the Nike legacy.'
'Time to raise the Tiempo, Nike in the house!,' she wrote.
This post appeared first on USA TODAY