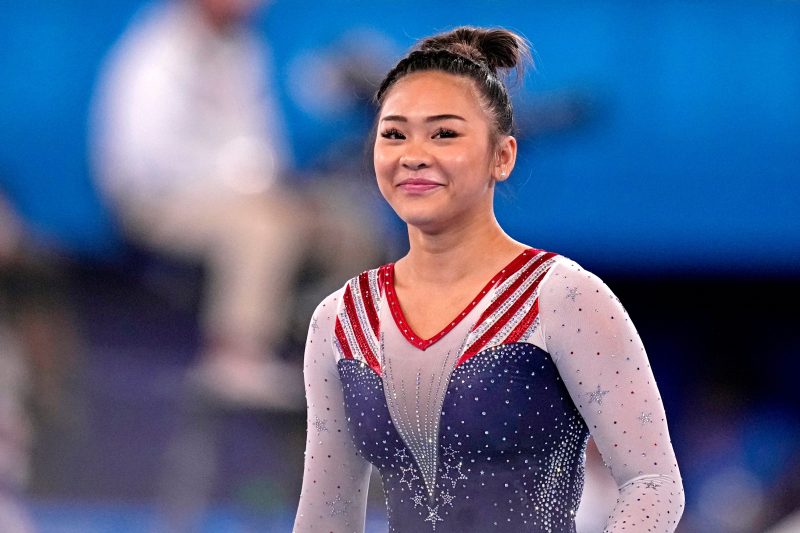 Olympic champion Sunisa Lee says she gained 45 pounds due to illness
UNIVERSAL CITY, California – Sunisa Lee, the reigning Olympic all-around champion now aiming for the 2024 Paris Games, said she gained 45 pounds this year because of an unspecified illness involving her kidneys.
"I couldn't fit into any of my clothes,'' Lee said. "My eyes were swollen shut. It was just so scary.''
On Thursday, the 20-year-old Lee looked very much like the gymnast who won the gold medal in the individual all-around at the Tokyo Games, which were delayed a year due to the pandemic. She was on the Universal Studios Lot in Southern California as a guest of NBCUniversal, which will broadcast the Paris Games next summer.
On a sunny day, Lee wore a silver necklace with the Olympic rings and the look of good health. In April, she announced she was ending her collegiate gymnastics career at Auburn early because of the kidney issue.
"I haven't had a really bad day in a while,'' Lee said. "But in the beginning it was like I was waking up swollen. My fingers were so swollen they wouldn't fit into my grips and I couldn't hold on to the bar. …
"My whole body was swollen because I was retaining water, so I couldn't do a flip. … So it was really different and I had to learn how to work through it.''
Lee's progress in her gymnastics training
Lee has declined to identify her specific kidney issue or discuss medical treatment. But she did say she has changed her diet – less sodium, because it retains water.
"I'm feeling good,'' Lee said, before explaining how she has changed something else – her approach to gymnastics training.
"We're still working on trying to figure out how to balance all of it because I do have good days and bad days,'' she said. "But with the good days I just take advantage of what I'm able to do, and on the bad days I just do basics and try and stay as safe as possible.''
She still seems struck by the abruptness of it all.
"I've never had health issues before, so waking up one random Tuesday of the week and you just can't even recognize yourself is so scary,'' she said.
What Lee says about missing the world championships
In August, Lee returned to competition. She qualified for the U.S. Championships, where she earned bronze on the beam, and was invited to attend the U.S. team selection camp for the world championships.
Lee declined.
"I just decided that I didn't want to rush into it and push my body and even risk something happening to be able to prepare for the Olympic year,'' Lee said Thursday.
The Olympic trials will be held in June in Minneapolis, near where she was born and raised in St. Paul, Minnesota. She clearly relishes the thought of competing in front of a hometown crowd – and in front of any Olympic crowd.
Unlike Tokyo, when fans were prohibited from attending the Games because of the pandemic, the marquee events in Paris are expected to attract sellout crowds.
"I really thrive off of a crowd and the energy, it just helps uplift me and gives me that boost of confidence,'' Lee said.
But Lee stopped short of making any promises or predictions.
"Obviously the Olympics are always going to be in the back of my head,'' she said. "But I wake up every morning and I'm not like, 'Today's going to get me to the Olympics.'…I'm not trying to think too far ahead. because that can just add a lot of unwanted pressure and stress.''
This post appeared first on USA TODAY