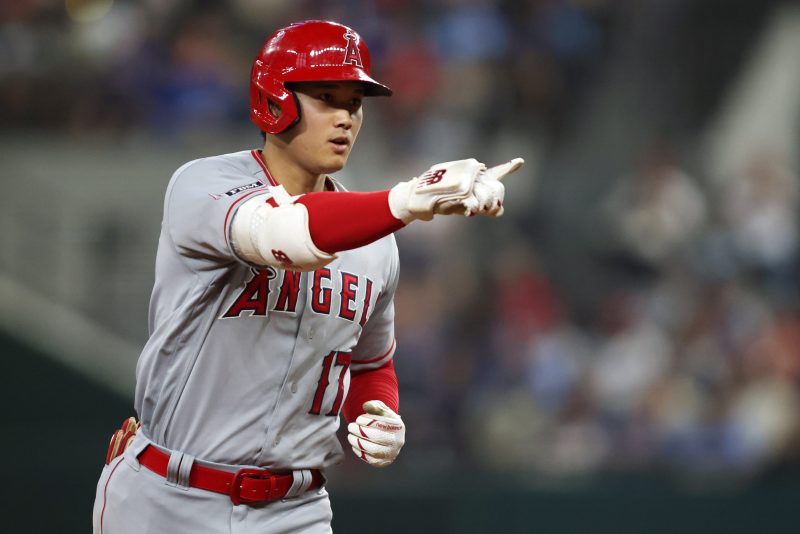 Ohtani, Acuña Jr. win MLB MVP awards for historic 2023 campaigns
Baseball's greatest two-way player of all time is now a two-time MVP.
He's the first MVP in major league history to earn unanimous election twice.
In the National League, Atlanta Braves five-tool sensation Ronald Acuña Jr. earned his first MVP award – also in unanimous fashion – after becoming the first player in major league history to hit at least 40 home runs and steal at least 70 bases.
Yet it is Ohtani, 29, who makes history virtually every time he steps on the field. And now, he will take the top honor available into a new frontier: Free agency.
HOT STOVE UPDATES: MLB free agency: Ranking and tracking the top players available.
AL MVP winner: Shohei Ohtani, Angels
Nobody's excelled at a higher level on both sides of the ball than Ohtani, and the past three seasons are almost like a personal art gallery: It's just so hard to choose which painting's most compelling.
He could have easily won three consecutive MVPs, but Aaron Judge opted to hit 62 home runs in 2022. A year later, Ohtani left no doubt: He hit an AL-best 44 home runs and also led the AL with a .412 OBP, and the majors in slugging (.654) and OPS (1.066).
And he pitched as long as he could, until, for the second time in six seasons, damage to the ulnar collateral ligament in his pitching elbow forced him from the mound. Yet Ohtani the pitcher, in 23 starts, was simply one of the best in the majors: 167 strikeouts in 132 innings, a 3.14 ERA, a 1.06 WHIP and 10 victories for a Los Angeles Angels team that won just 73 games.
Until his injury – and reconstructive surgery will keep him off the mound in 2024 – this year resembled an other-worldly mashup of his 2021 season – when he hit a career-high 46 home runs with a 157 adjusted OPS – and his '22 campaign, which featured "just" 34 home runs but 219 strikeouts in 166 innings, an AL-best 11.9 strikeouts per nine innings.
Alas, he will just have to settle for arguably the greatest all-around season in baseball history and joining Bryce Harper and Mike Trout as active players to win multiple MVPs. And soon he will be compensated commensurately.
NL MVP winner: Ronald Acuña Jr., Braves
Forget the new rules for a minute.
Acuña was destined to be a 40-40 man – that's steals and home runs – regardless of how long it took or what the rules of engagement might have been. Heck, he hit 41 homers and stole 37 bases as a 21-year-old in 2019 – essentially a rounding error away from one of the game's great milestones.
So, when Major League Baseball aimed to inject more action into the game and introduced larger bases and limitations on pickoff throws to first, it was like waving the Roadrunner onto the Autobahn.
Acuña stole 73 bases this season, obliterating the field during a year in which steals were up 41% across the majors, and also socked 41 home runs with a majors-leading 217 hits. He was the greatest player on one of the greatest offenses in major league history, a leadoff man who seemed to stick the opposition in a first-inning hole every night.
Acuña also showed he was all the way back from a torn ACL that waylaid what looked to be his first MVP season – 2021, when he had 24 homers by the All-Star break but was sidelined from there as the Braves went on to win the World Series.
He was back, but not the full Acuña, in 2022, limited to just 119 games before his statement season this year.
And it only seems a matter of time before Acuña joins Ohtani in the pantheon of multiple MVP winners.
MVP voting results
Sometime around August, Ohtani could have paraphrased Larry Bird's famous trash-talking line before a 3-point shooting contest: 'Who's coming in second?'
Thursday, we found out that was Corey Seager, the Texas Rangers shortstop and eventual World Series MVP who commanded 24 of 30 second-place votes – plus six third-place votes. He outpointed his teammate and middle-infield partner, Marcus Semien, who got five second- and eight third-place votes. Ohtani, Seager, Semien and fourth-place finisher Julio Rodriguez earned mention on all 30 ballots.
Meanwhile, Mookie Betts knows for sure he was No. 2 in voters' hearts: He earned second place votes on all 30 NL ballots to finish runner-up to Acuña. It was all Braves-Dodgers in the top four: L.A. first baseman (and former Brave) Freddie Freeman finished third, while his replacement, 53-home run man Matt Olson, finished fourth.
Acuña was the eighth Brave to win NL MVP and the first since Freeman in 2020.
American League
Voting on a 14-9-8-7-6-5-4-3-2-1 system, first-place votes in parenthesis
Shohei Ohtani, Angels (30) – 420Corey Seager, Rangers – 264Marcus Semien, Rangers – 216Julio Rodriguez, Mariners – 197Kyle Tucker, Astros – 178Yandy Diaz, Rays – 137Bobby Witt Jr., Royals – 83Gunnar Henderson, Orioles – 77Adley Rutschman, Orioles – 50Jose Ramirez, Guardians – 40Gerrit Cole, Yankees – 30Luis Robert Jr., White Sox – 21Yodan Alvarez, Astros – 16Adolis Garcia, Rangers – 14
Also receiving votes: Aaron Judge, Bo Bichette, J.P. Crawford, Cal Raleigh, Rafael Devers, Isaac Paredes, Sonny Gray, Alex Bregman, Josh Naylor
National League
Ronald Acuña Jr., Braves (30) – 420Mookie Betts, Dodgers – 270Freddie Freeman, Dodgers – 227Matt Olson, Braves – 223Corbin Carroll, Diamondbacks – 165Juan Soto, Padres – 106Austin Riley, Braves – 68Luis Arraez, Marlins – 67Francisco Lindor, Mets – 52Cody Bellinger, Cubs – 49William Contreras, Brewers – 39Bryce Harper, Phillies – 36Blake Snell, Padres – 16
Also receiving votes: Fernando Tatis Jr., Ha-Seong Kim, Ozzie Albies, Logan Webb, Pete Alonso, Marcell Ozuna, Devin Williams, Dansby Swanson, Kyle Schwarber, Zac Gallen, Christian Walker, TJ Friedl, Nick Castellanos
This post appeared first on USA TODAY