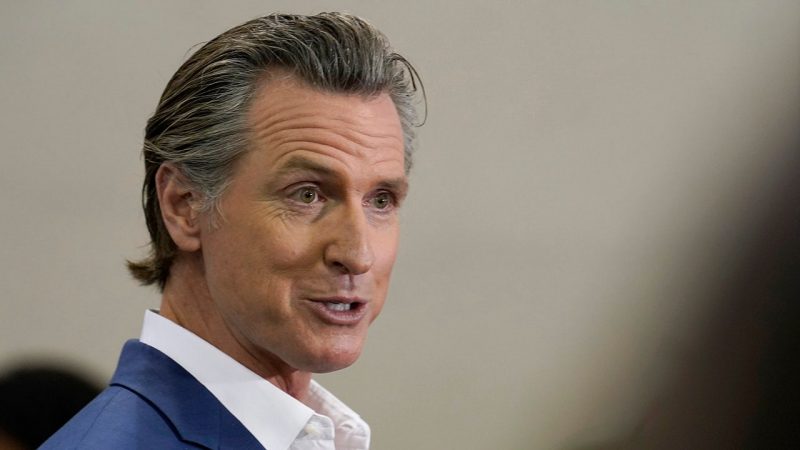 California officials investigating migrant arrivals in Sacramento: 'Without any advance warning'
California Democrat Gov. Gavin Newsom and state Attorney General Rob Bonta announced Saturday an investigation into the arrival of migrants at a church in Sacramento to determine if kidnapping or other crimes were committed.
In a statement, Newsom said more than a dozen migrants were transported from Texas to New Mexico before being flown to Sacramento and left on the doorstep of a local church 'without any advance warning.'
'We are working closely with the Mayor's office, along with local and nonprofit partners to ensure the people who have arrived are treated with respect and dignity, and get to their intended destination as they pursue their immigration cases,' Newsom said.
The governor said the migrant arrivals would be investigated to find out who is responsible for their transportation and to determine any criminal wrongdoing.
'My Administration is also working with the California Department of Justice to investigate the circumstances around who paid for the group's travel and whether the individuals orchestrating this trip misled anyone with false promises or have violated any criminal laws, including kidnapping,' he said.
Bonta issued a separate statement in which he said the migrants possessed documentation allegedly showing they are from Florida.
'We are investigating the circumstances by which these individuals were brought to California,' he said. 'We are also evaluating potential criminal or civil action against those who transported or arranged for the transport of these vulnerable immigrants. While this is still under investigation, we can confirm these individuals were in possession of documentation purporting to be from the government of the State of Florida.'
'While we continue to collect evidence, I want to say this very clearly: State-sanctioned kidnapping is not a public policy choice, it is immoral and disgusting,' Bonta said. 'We are a nation built by immigrants and we must condemn the cruelty and hateful rhetoric of those, whether they are state leaders or private parties, who refuse to recognize humanity and who turn their backs on extending dignity and care to fellow human beings.'
It is unclear at this time who is responsible for the migrants' move to California, but multiple states have relocated migrants to sanctuary cities like New York City, Chicago and Washington, D.C., amid an influx of migrant crossings at the U.S.-Mexico border. 
Texas Republican Gov. Greg Abbott has said he will not stop sending buses of migrants to these cities until the federal government fixes the problem at the border. The migrant relocations from Texas began last summer.
The immigration crisis at the southern border has also spilled into states that do not border Mexico. Florida Republican Gov. and presidential hopeful Ron DeSantis flew migrants from the Sunshine State to Martha's Vineyard last fall and Colorado Democrat Gov. Jared Polis sent migrants to sanctuary cities earlier this year.
'California and the Sacramento community will welcome these individuals with open arms and provide them with the respect, compassion, and care they will need after such a harrowing experience,' Bonta said in his statement.
This post appeared first on FOX NEWS
–>