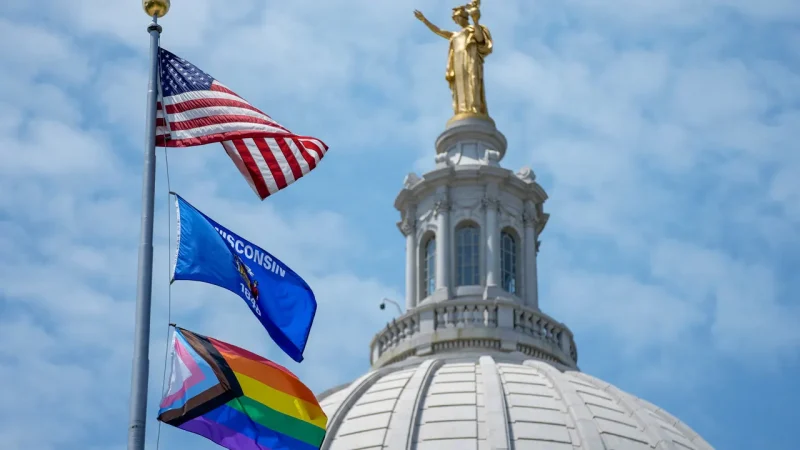 Wisconsin Gov. Evers 'jazzed as hell' as state raises pride flag in front of Capitol
Democratic Wisconsin Gov. Tony Evers ordered the gay pride flag to be flown beneath the U.S. and state flag in front of the Capitol in Madison.Evers has hosted Pride ceremonies every June since he took office in 2019.'You belong here. You are welcome here,' Evers said at the ceremony. 'It's a signal that I will always stand with LGBTQ Wisconsinites, including our trans and gender non-conforming kids, and will fight to protect them with every tool and every power that I have.'
A gay pride flag rose over the Wisconsin Capitol on Thursday in a sign of support for the LGBTQ+ community as it weathers heightened attacks from conservatives across the country.
Democratic Gov. Tony Evers ordered the flag raised during a noon ceremony as dozens of spectators looked on. The flag will fly over the Capitol throughout the month of June in recognition of Pride month below the U.S. and the Wisconsin state flag.
The Village People's 'YMCA' and Abba's 'Dancing Queen' played from speakers before the ceremony began. Spectators were decked in T-shirts that read 'Be Kind' and 'You Are Loved.'
The governor told the crowd he was 'jazzed as hell' to be there. He acknowledged the LGBTQ+ community is under attack and conservative rhetoric about the community has emboldened hate. Raising the flag sends a message to everyone who wants to belong and find a home, he said.
'You belong here. You are welcome here,' Evers said to applause, adding a moment later: 'It's a signal that I will always stand with LGBTQ Wisconsinites, including our trans and gender non-conforming kids, and will fight to protect them with every tool and every power that I have.'
Evers has ordered a rainbow pride flag raised over the Capitol every June since he took office in 2019. Last year, he ordered the progress pride flag raised in lieu of the rainbow flag. The progress pride flag is a variation of the rainbow flag with additional stripes and a chevron pattern that represent LGBTQ individuals of color, transgender individuals and those living with or who have died of HIV or AIDS, according to Evers' office. He chose to raise the progress flag again this year.
Evers' decision to raise the flag over the Capitol has been a flashpoint of contention in Wisconsin, a battleground state where Republicans control the Legislature and a Democrat controls the governor's office. Conservatives blasted the move in 2019, with GOP lawmakers calling it divisive and accusing Evers of advancing a political cause.
The order to raise the flag comes with even more baggage this year as Republicans across the country work to curtail LGBTQ+ community members' rights. Almost 500 anti-LGBTQ+ bills have been introduced in state legislatures this year and at least 18 states have enacted laws restricting or banning gender surgeries care for minors.
Robin Vos, the Republican leader of the Wisconsin Assembly, said in April he believes a bill banning trans athletes from competing on women's and girls' teams would be introduced again this session.
Anger toward the LGBTQ+ community has spread to the corporate world as well. Target announced in May that it has removed products and relocated pride displays in some stores in the South amid concerns about the displays' effect on children.
Bud Light is grappling with fallout from its partnership with transgender influencer Dylan Mulvaney, who posted an Instagram video in April of a beer can with her face on it. A cascade of criticism and hate over the video followed, notably among conservative figures. Kid Rock posted a video of himself shooting cases of Bud Light and others calling for a boycott of the brand.
A tweet Evers posted inviting the public to Thursday's flag-raising was met with some derision. One person responded by asking Evers when he planned to raise 'the heterosexual flag.'
Others thanked Evers for standing up for marginalized communities in Wisconsin, promoting equal rights and calling for love and respect for members of the LGBTQ+ community.
U.S. Sen. Tammy Baldwin, who hails from Madison and is openly gay, called the anti-LGBTQ+ bills moving around the country 'heartbreaking attacks' in a tweet recognizing June as gay pride month.
'It's going to take all of us this #PrideMonth and every month to counter these right wing attacks so everyone — even a kid like me — grows up knowing they belong, and that kindness and inclusion, not hatred and division, are American values,' Baldwin tweeted.
<!–>
This post appeared first on FOX NEWS
–>