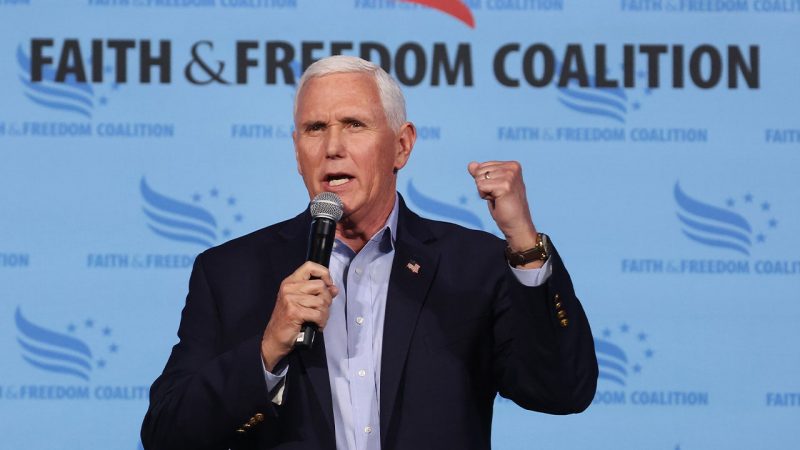 Pence calls Los Angeles Dodgers' decision to honor Sisters of Perpetual Indulgence 'deeply offensive'
Former Vice President Mike Pence is speaking out against the decision by Major League Baseball's Los Angeles Dodgers to welcome an LGBTQIA+ group called the Sisters of Perpetual Indulgence at the team's annual Pride Night.
The former vice president, taking to Twitter on Wednesday, said that Dodger's decision to honor the group after it rescinded its original invitation was 'deeply offensive.'
Pence, who's expected to launch a 2024 Republican presidential campaign next week, expressed his opinions as he retweeted a Fox News Digital story regarding the controversy.
'Having been raised in a Catholic family, the Dodgers decision to invite the Sisters of Perpetual Indulgence, a hateful group that blatantly mocks Catholicism, to their event next month is deeply offensive,' Pence wrote on Twitter. 'Last summer the MLB moved their All-Star Game out of Georgia over a lie about voter ID and now they are apologizing and welcoming anti-Catholic bigots back to Dodger Stadium with open arms.'
The former vice president, a social conservative who's long been a champion to evangelical voters, argued that 'the MLB should not be apologizing to the Sisters of Perpetual Indulgence, they should be apologizing to Catholics across America. America's pastime should respect the faith of every American no matter what.'
The MLB team announced that it would be honoring the Sisters of Perpetual Indulgence, a group of 'queer and trans nuns,' during a June 16 event, but quickly received backlash from religious groups for the decision given the history of anti-Catholic messaging and shocking performances.
The team said last week it would no longer be honoring the group during the upcoming LGBTQ event.
'Given the strong feelings of people who have been offended by the sisters' inclusion in our evening, and in an effort not to distract from the great benefits that we've seen over the years of Pride Night, we are deciding to remove them from this year's group of honorees,' the Dodgers said last week.
The next day, LA Pride announced it would no longer be participating in the event. 
The Dodgers reversed their decision five days later and welcomed the group back.
The Dodgers also received backlash from Sen. Marco Rubio, R-Fla., and religious advocacy group CatholicVote for allowing the group to participate in its festivities.
Longtime Dodgers pitcher Clayton Kershaw, a three-time Cy Young Award winner, said this week he disagrees with his team's move.
The Dodgers' decisions on the anti-Catholic group come amid a trend of well-known companies being called out for sponsoring individuals with controversial viewpoints and lifestyles.
Bud Light recently came under fire for teaming up with transgender influencer Dylan Mulvaney, and individuals nationwide began boycotting the brand as a result of the campaign.
This post appeared first on FOX NEWS