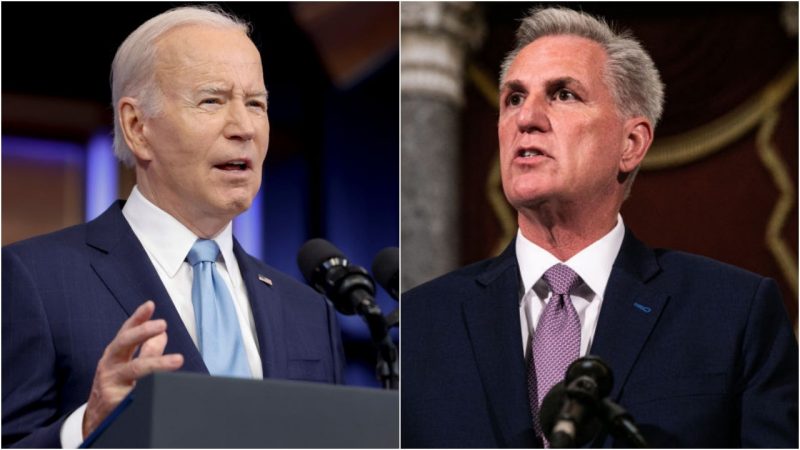 Where do moderate Democrats, Republicans stand on the debt ceiling deal as pivotal votes loom?
As the debt deal reached between President Biden and House Speaker Kevin McCarthy heads to Congress this week to face votes in the House and Senate, the spotlight has shifted to which lawmakers plan to support it and whether there is enough of that support to get it across the finish line.
Already, members of the House Freedom Caucus, the most right-leaning Republican faction in the House, have expressed their desire to see the bill fail, while others, such as Sen. Lindsey Graham, R-S.C., have expressed their disapproval over specific aspects of the deal, like defense spending.
Most members from both parties have kept their views on the bill quiet, but one group is being seen as pivotal to whether it ultimately ends up back on Biden's desk, or if the nation defaults on its debt for the first time in history: moderates.
Those down the middle votes from Democrats and Republicans not necessarily known for toeing their respective party lines could be the only chance for the bill to reach the necessary simple-majority for it to pass.
'This deal is good for the country in that it prevents a default and subsequent financial meltdown, while also limiting spending,' Sen. Mitt Romney, R-Utah, said in a statement posted on social media Monday. 'While I would have preferred to see an agreement that also addressed entitlements, this represents a good-faith bipartisan compromise.'
Sen. Joe Manchin, D-W.Va., who helped broker the agreement, all but guaranteed his support for the legislation by touting its inclusion of a provision fast-tracking the approval of a natural gas pipeline in his home state, the Mountain Valley Pipeline (MVP).
'I am pleased Speaker McCarthy and his leadership team see the tremendous value in completing the MVP to increase domestic energy production and drive down costs across America and especially in West Virginia. I am proud to have fought for this critical project and to have secured the bipartisan support necessary to get it across the finish line,' he said in a Monday statement.
Sen. Kyrsten Sinema, I-Ariz., hasn't publicly shared her thoughts on the bill since the agreement was reached on Sunday, but was also involved in the negotiation process, according to multiple reports. 
Fox News reached out to Sinema's office to get her view on the final agreement but did not receive a response. The offices of Sens. Susan Collins, R-Maine, and Lisa Murkowski, R-Alaska, two other well-known moderates, were also mum on the subject.
Over on the House side, members of the moderate bipartisan Problem Solvers Caucus are expected to play an outsized role in the bill's potential passage. Its leaders, Reps. Josh Gottheimer, D-N.J., and Brian Fitzpatrick, R-Pa., didn't respond to Fox's request for comment on the deal, but other members of the group have started speaking out.
'I am glad that the President and the Speaker were able to come to an agreement that puts our country first,' Rep. Dave Joyce, R-Ohio, said in a statement over the weekend before the full details of the bill were released. 
'Speaker McCarthy championed responsible policy, incorporating key economic and permitting reforms while limiting spending,and rescinding COVID funds. The Speaker keeps making government work better for every American,' he added.
Rep. Henry Cuellar, D-Texas, another member of the caucus, told local outlet KGNS that he was in favor of the agreement, even though it was something not supported by members further to the left and the right. He specifically praised the adjustments of entitlement benefits included in the bill.
'They are able physically and mentally able to go work, again — some of those say it's only the age of 49, we are going to move it for 54-55. Again with all due respect, just like my father said, if you are able to work, and you might not be willing, but if you are able to work then I think you should not stay home and receive a check. You should be out there working, I support that, I know some people don't,' he said.
However, not all members of the group who have shared their views on the bill are in lock step. Rep. Nancy Mace, R-S.C., said in a Tuesday statement she was 'voting NO on the debt ceiling debacle because playing the DC game isn't worth selling out our kids and grandkids.'
Mace argued the bipartisan debt ceiling package 'normalizes record high spending started during the pandemic' and 'sets these historically high spending levels as the baseline for all future spending' while growing the government annually at around one percent.
Fox reached out to a number of other members of Congress about their views on the bill, but did not receive responses.
The bill was taken up by the House Rules Committee on Tuesday and is expected to advance for a full House vote on Wednesday. Should it pass the House, the bill will then head to the Senate, where Senate Majority Leader Chuck Schumer, D-N.Y., has said he will move it through as quickly as possible.
Treasury Secretary Janet Yellen has estimated the federal government would default on its debt if a deal is not approved by June 5. 
Fox News' Houston Keene and Danielle Wallace contributed to this report.
This post appeared first on FOX NEWS