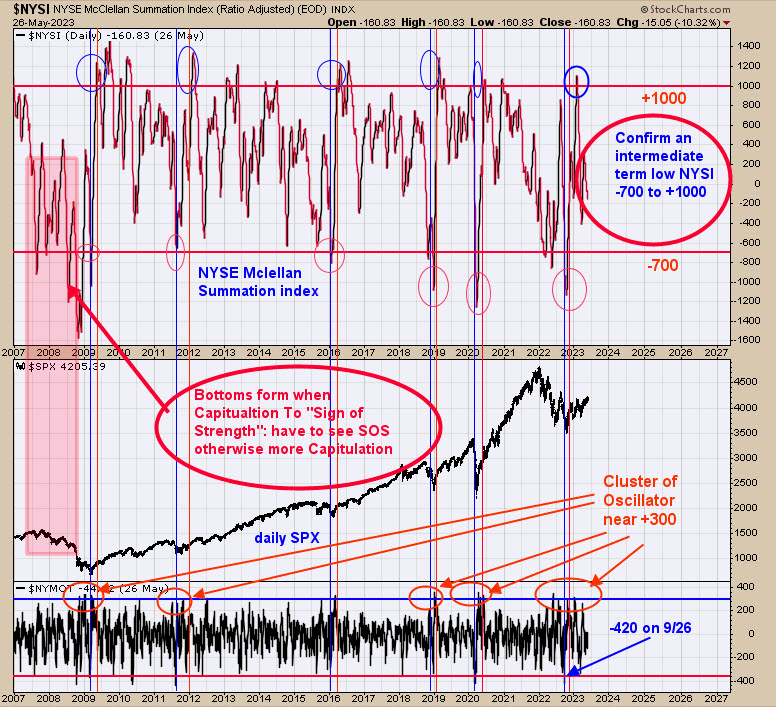 The Ord Oracle May 30, 2023
SPX Monitoring Purposes: Long SPX on 2/6/23 at 4110.98.
Monitoring Purposes GOLD: Long GDX on 10/9/20 at 40.78.
Long Term SPX Monitor Purposes: Neutral.
The short term picture is a little messy, with an open gap for May 5 near 407 SPY that still could be tested. But the bigger picture looks fine. Above is the NYSE McClellan Summation index, going back to 2007. Capitulation happens when the Summation index falls below -700 (marked with blue lines). Capitulation must be followed with a "Sign of Strength" to confirm a bottom in the market. A "Sign of Strength" is a Summation index reading above +1000 (marked with red lines). As you can see, capitulation in the Summation index below -700 appeared in October of last year, and a "Sign of Strength" with a Summation index above +1000 came in January of this year, confirming a market bottom. Bottoms form when capitulation to "Sign of Strength" forms. Have to see "Sign of Strength" of capitulation, or otherwise there will be more capitulation, which is what happened in the 2008 decline.
Last Thursday, we said, "Above is the monthly SPY going back to 2020. The retracement from the March 2020 low to the January 2022 came in a little less than 50%. A 50% retracement suggests at least a test of the previous high (near the 470 SPY) or the halfway point of the move up (which gives target to 610 SPY). A "Sign of Strength" was performed in March and closed above the neckline of a head-and-shoulders bottom confirmation this pattern. This head-and-shoulders pattern has measured target to 460 range and not far from the January 2022 high near 470. The bottom window is the monthly Slow Stochastic (momentum indicator), which turned up last October. Momentum rules all indicators and momentum is up for the SPY." Adding to the above, notice that May volume is higher than April volume and a bullish sign.
Above is the monthly cumulative up down volume and advance/decline for GDX. We took a closer look on the monthly GDX over the last week. What appears to be developing is a basing period for both indicators going back to 2016. The bottom window is the GDX monthly Cumulative Up Down volume. This indicator is near matching the low of 2016 and is below the 2019 low and a support area. The next higher window is the GDX monthly cumulative Advance/Decline. This indicator is below the 2019 lows and above the 2016 low. Both indicators closed above their mid-Bollinger bands back in March of this year, and both closed below their mid-Bollinger since negating March's buy signal. We wished these two indicator went back more in time, as that would have gleamed more information. GDX appears to be building a very large base that could produced an extended rally.
Tim Ord,
Editor
www.ord-oracle.com. Book release "The Secret Science of Price and Volume" by Timothy Ord, buy at www.Amazon.com.
Signals are provided as general information only and are not investment recommendations. You are responsible for your own investment decisions. Past performance does not guarantee future performance. Opinions are based on historical research and data believed reliable; there is no guarantee results will be profitable. Not responsible for errors or omissions. I may invest in the vehicles mentioned above.