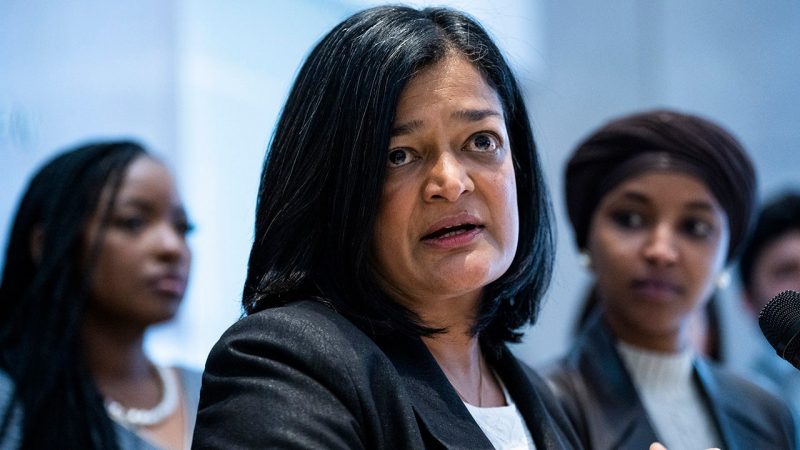 Jayapal says debt ceiling deal shows GOP doesn't care about deficits: 'No meaningful deficit reduction'
Congressional Progressive Caucus Chair Pramila Jayapal, D-Wash., dismissed House Republicans' victory lap on the new debt limit bill on Tuesday, telling reporters that there was 'no meaningful debt reduction' in the deal struck by President Biden and Speaker Kevin McCarthy, R-Calif.
'First things first: you have all heard me say that Republicans never cared about reducing the deficit, and were just using the debt ceiling as a way to force through their priorities. This deal proves that point,' Jayapal told reporters on a press call. 'There is no meaningful debt reduction here. Some pieces will actually raise the deficit. The chief thing they claimed to care about, they are not getting in this bill.'
Her comments mirror those made by several conservative Republicans who said they won't support the legislation because it doesn't cut enough.
Rep. Dan Bishop, R-N.C., one of the first House Republicans to break away from the conference and oppose the bill, noted a report that said Jayapal praised the agreement as one that minimized GOP demands. She said the bill makes some improvements to the federal food stamp program, avoids a shutdown and gave the GOP no 'major concessions.'
'Fellow members of the Republican Conference: Jayapal. Think. You won't ever be able to live this one down,' he wrote on Twitter.
House leaders are working to survey members on both sides of the aisle to see if McCarthy has the 218 votes necessary for the bill to pass their chamber. Both Republican and Democratic leaders have acknowledged that they will need bipartisan support.
Jayapal signaled on the call that progressives still had deep reservations about the bill, despite the recognition that GOP goals were minimized.
'You will all remember that last week we did a whip of the CPC, and the overwhelming majority of our members said that they would not be able to support a deal that includes bad permitting policies, work requirements on social safety net programs, and harmful spending cuts. All of those are in this deal,' Jayapal said.
House Republican leaders and McCarthy allies have pointed out that the bill follows through on the GOP's pledge to cut spending and tighten work requirements for federal benefits, as well as clawing back some IRS and COVID-19 funding.
This post appeared first on FOX NEWS