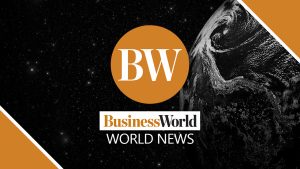 Chinese jet carried out 'aggressive' maneuver near US military plane, Pentagon says
WASHINGTON – A Chinese fighter jet carried out an "unnecessarily aggressive" maneuver near a US military plane over the South China Sea in international airspace, the United States said on Tuesday.
The US military command responsible for the Indo-Pacific said the maneuver by a Chinese J-16 aircraft occurred last week and forced the US RC-135 plane to fly through its wake turbulence.
"The United States will continue to fly, sail, and operate – safely and responsibly – wherever international law allows," it said in a statement.
A video showed a fighter jet passing in front of the US plane's nose and the cockpit of the RC-135 shaking in the turbulence.
The spokesperson for China's embassy in Washington, Liu Pengyu, did not comment on the specifics, but said that for a long time, the United States had "frequently deployed aircraft and vessels for close-in reconnaissance on China, which poses a serious danger to China's national security."
"China urges the US to stop such dangerous provocations, and stop deflecting blame on China," Liu said in a emailed response to a request for comment on the U.S. military statement.
He added that China would "continue to take necessary measures to resolutely defend its sovereignty and security, and work with regional countries to firmly safeguard peace and stability in the South China Sea." China claims almost all of the South China Sea, where several other countries have rival claims. Beijing has frequently said that the United States sending ships and aircraft into the South China Sea is not good for peace.
The latest incident took place before China snubbed a request by U.S. Defense Secretary Lloyd Austin to meet on the sidelines of the Shangri-La Dialogue Asian security summit in Singapore this week.
A senior US defense official, speaking on the condition of anonymity, said that since 2021 China had declined or not responded to over a dozen requests to talk with the Pentagon, which says such contacts are important to avoid misunderstandings and unintended consequences.
The encounter followed what the United States has called a recent trend of increasingly dangerous behavior by Chinese military aircraft.
Such intercepts happen occasionally. In December, a Chinese military plane came within 10 feet (3 meters) of a US Air Force aircraft and forced it to take evasive maneuvers to avoid a collision in international airspace.
Relations between China and the United States have been tense, with friction between the world's two largest economies over everything from Taiwan and China's human rights record to its military activity in the South China Sea. – Reuters