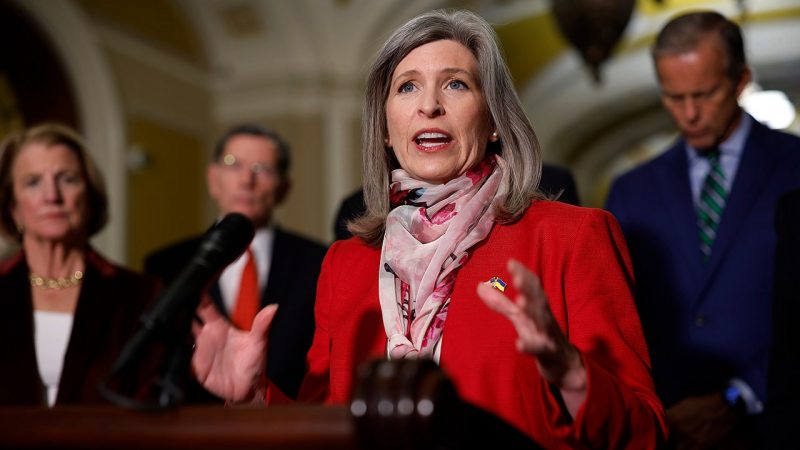 DeSantis to join 2024 Republican competitors at Sen. Ernst's Roast & Ride fundraiser in Des Moines
Florida Gov. Ron DeSantis will join several other declared Republican presidential candidates at Sen. Joni Ernst's Roast & Ride fundraiser in Des Moines on Saturday, an aide to Ernst told Fox News.
In addition to DeSantis, Ernst's event will include former United Nations Ambassador Nikki Haley, Sen. Tim Scott, R-S.C., conservative radio host Larry Elder, entrepreneur Vivek Ramaswamy, former Arkansas Gov. Asa Hutchinson, and businessman Perry Johnson.
'I'm thrilled to welcome Ron DeSantis as a special guest to Roast & Ride this year!' Ernst said. 'Despite Democrats ditching Iowa, Republicans are fired up for 2024 as we host the FIRST in the nation caucus. This year's Roast & Ride will be my biggest yet – with eight exciting special guests – making it the can't miss event of 2023!'  
DeSantis is kicking off his presidential campaign in Iowa on Tuesday by hosting a campaign event in Des Moines – his first since announcing his candidacy last week.
The Iowa Republican hosts the Roast & Ride event each year and donates its proceeds to a veteran's charity. This year's charity of choice is the Freedom Foundation of Cedar Rapids.
DeSantis said he is 'delighted' to be attending the event, which will cap a week of touring throughout the state.
'I'm delighted to be joining Senator Ernst in Des Moines. As military veterans, Joni and I both understand the importance of supporting those who have served our nation — and I'm excited to get the chance to do just that at the annual Roast & Ride,' DeSantis said. 
He added: 'Over the past few months, Casey and I have had the pleasure of getting to know hard-working patriots across the great state of Iowa. Florida and Iowa have led the way in the fight for our way of life — and I'm running for president to take that fight to the White House. Our mission is simple: We are building a movement to restore America.'
DeSantis' visit to Iowa will be followed by stops in early primary states New Hampshire and South Carolina later this week. His campaign said the overall trip will take him to 12 cities in the three states.
Former Vice President Mike Pence is also scheduled to attend the Des Moines event on Saturday. He has not yet revealed if he is seeking the Republican nomination.
This post appeared first on FOX NEWS