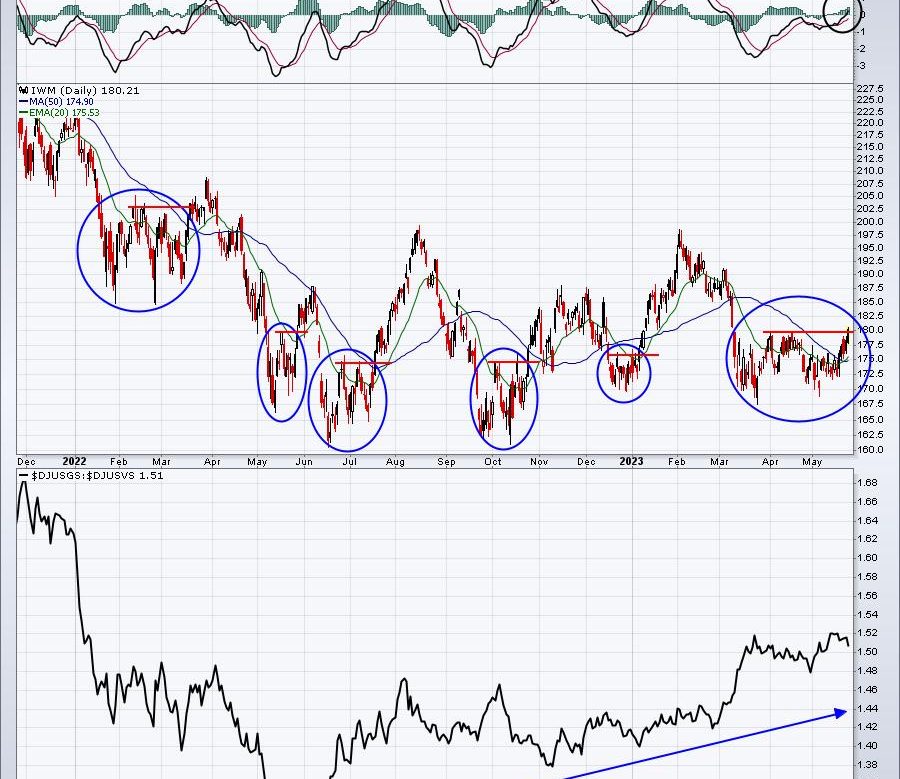 Small Caps Are Ready To Launch!
There are many who have given up on the small cap community, but I'm not one of them. The long-term 15-year chart remains in a solid uptrend. Yes, the group has been underperforming the S&P 500 for quite awhile, but that's been the standard since this bull market began. Admittedly, its relative strength has been poor. Its absolute performance, however, remains in an uptrend and we could be on the verge of a major breakout today. Check out this daily chart:
While the IWM has been floundering, check out that bottom panel. Money has been steadily rotating from small cap value ($DJUSVS) to small cap growth ($DJUSGS). I've been discussing this with our EarningsBeats.com members for the last several weeks. This bottoming formation (blue circles), though a bit longer in duration, is quite similar to previous bottoms. The MAJOR difference this time is the shift to small cap growth, which I believe is a signal that this breakout won't simply be short-term, and the simultaneous bullish PPO crossover (black circle). I'm looking for a small cap explosion on this breakout, IF it confirms into today's close! I'm betting it will.
We're hosting a Live Trading Room tomorrow, Wednesday, May 24th, beginning at 8:45am ET. It's an annual members only event, but the silver lining is that we're running our Spring Special right now, which is our absolute BEST deal of the year. CLICK HERE to check out the amazing savings! I will most certainly be looking at individual small caps that could be poised for HUGE advances, given the potential breakout in the IWM. I hope you can join me for a very exciting and educational day. I'll be scanning our ChartLists to find great trading opportunities. Who knows, maybe you'll be able to pay for your membership with Wednesday's profits!
Happy trading!
Tom