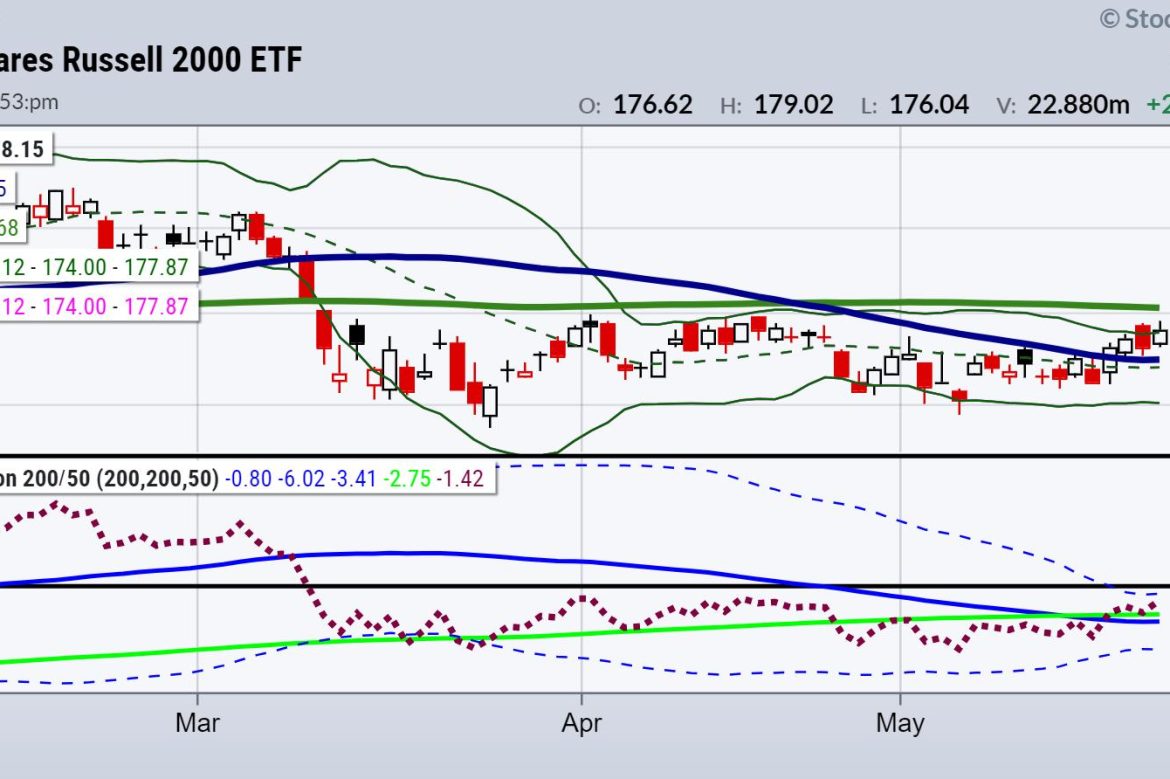 Battle of the Elders: Grandpa Russell 2000 v. Granny Retail
Just look at the March lows in Granddad Russell 2000 (IWM).
And now look at the March lows in Granny Retail (XRT).
So who is right?
IWM has moved up for the March lows and, to start the week, took the lead. It cleared the 50-DMA in price, and is now in recuperation phase.
Real Motion-our proprietary indicator that lets you see hidden strength or weakness during market trends-right now is as interesting as the diversion in price between Gramps and Granny. IWM's momentum indicator cleared the 50 and 200-DMAs changing phase to accumulation. That is a bullish diversion for IWM, as the price is still under the 200-DMA.
Granny XRT, on the other hand, shows momentum declining and below both moving averages. However, could be a mean reversion forming. Or at least we hope so.
Granny's price sits at the March lows and at the 6-month calendar range low. She must get game, or I would assume, like her grandson Regional Banks KRE, she is flashing a huge warning.
For more detailed trading information about our blended models, tools and trader education courses, contact Rob Quinn, our Chief Strategy Consultant, to learn more.
IT'S NOT TOO LATE! Click here if you'd like a complimentary copy of Mish's 2023 Market Outlook E-Book in your inbox.
"I grew my money tree and so can you!" – Mish Schneider
Get your copy of Plant Your Money Tree: A Guide to Growing Your Wealth and a special bonus here.
Follow Mish on Twitter @marketminute for stock picks and more. Follow Mish on Instagram (mishschneider) for daily morning videos. To see updated media clips, click here.
Mish and Caroline discuss profits and risks in a time where certain sectors are attractive investments on TD Ameritrade.
Powell eyes a pause, Yellen hints at the need for more rate hikes, and debt ceiling talks face challenges… what a way to end the week, as Mish discusses on Real Vision's Daily Briefing for May 19th.
Mish provides a roundup of the commodities and currency pairs to watch this week on CMC Markets.
Mish explains how the Retail ETF is at a critical level on Business First AM.
In this video, Mish walks you thru the Dollar, Euro, GBP, Gold, Silver and more.
Mish walks you through the fundamentals and technical analysis legitimizing a meme stock on Business First AM.
In this appearance on Fox Business's Making Money with Charles Payne, Mish and Charles discuss if economy has contracted enough with support in place, and present 3 stock picks.
Mish covers the trading range and a few of her recent stock picks on Business First AM.
In this appearance on Real Vision, Maggie Lake and Mish discuss current state of the market, from small caps to tech to gold.
Coming Up:
May 23rd & 25th: Mario Nawfal Twitter Space
May 25th: Wolf Financial Twitter Space
May 31st: Singapore Radio with Kai Ting 6:05pm ET MoneyFM 89.3.
June 2nd: Yahoo Finance
ETF Summary
S&P 500 (SPY): 23-month MA 420; support 415.Russell 2000 (IWM): 170 support, 180 resistance.Dow (DIA): 336 the 23-month MA.Nasdaq (QQQ): 336 cleared or the 23-month MA–now it's all about staying above.Regional Banks (KRE): 42 now pivotal resistance, 37 support.Semiconductors (SMH): 23-month MA at 124 now more in the rearview mirror.Transportation (IYT): 202-240 biggest range to watch.Biotechnology (IBB): 121-135 range to watch from monthly charts.Retail (XRT): This could be the new harbinger like KRE was in March. Poor Granny.
Mish Schneider
MarketGauge.com
Director of Trading Research and Education