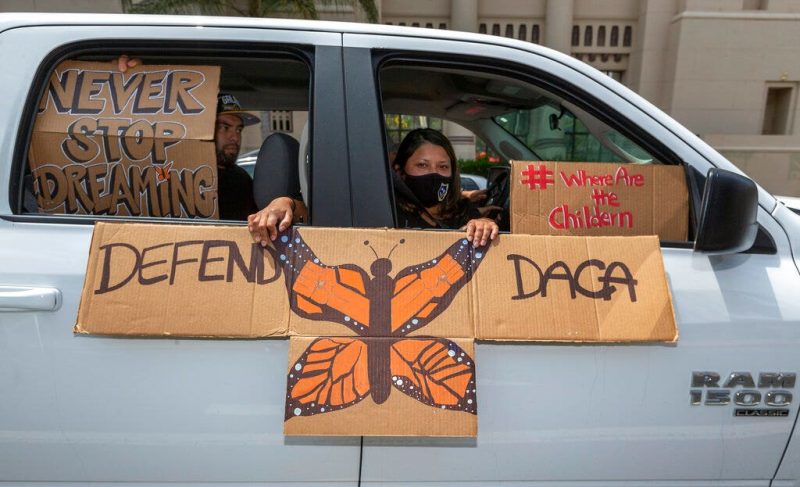 University of California board to vote on allowing illegal immigrant students to work on campus
The University of California's board of regents will vote Thursday on allowing illegal immigrants to be employed across the campus system after activists had pushed for such a move — despite criticism that it would be illegal under federal law.
The university's board is scheduled to vote on a policy on 'equitable student employment opportunities.'
'In response to a recent advocacy campaign, the University has assessed whether it would be appropriate to adopt a policy that would authorize the employment of student employees regardless of immigration status,' an official summary says. 'This assessment has included a review of legal theories that might be asserted in support of a new equitable access to employment policy.'
The New York Times reported in October about how a coalition of 'undocumented student leaders' and other legal scholars were proposing that the state begin employing students at the 10 campuses across the system.
The proposal would appear to be in violation of the 1986 Immigration Reform and Control Act. But the Times reported that a 'new legal analysis' drafted at UCLA argues that the law does not apply to states.
A UC spokesperson told Fox News Digital that the board will consider the policy to 'ensure that all students at the University of California, regardless of immigration status, have equal access to educational enrichment activities, including student employment.'
'The proposed action is consistent with the University's belief that work enhances the educational experience and expands opportunity. We believe it is our responsibility, as a public institution, to serve and support all students, as allowable by law,' the spokesperson said.
The move would be yet another step in the liberal state normalizing those who are in the country illegally, and eliminating distinctions between them and legal immigrants and U.S. citizens. The state already offers driver's licenses, as well as in-state college tuition and some state-funded health care. 
The move is likely to be highly controversial, particularly among Republicans who have opposed the mainstreaming of illegal immigration, particularly given the ongoing crisis at the southern border.
Rep. Darrell Issa, R-Calif., this week wrote to Gov. Gavin Newsom expressing his opposition to the plan, and raising his objections to the legal claims being made by the activists.
'In keeping with the Supremacy Clause of the U.S. Constitution, the Supreme Court has repeatedly recognized federal law preempts state or local immigration actions,' he wrote. 'The Court has repeatedly made clear that IRCA leaves no room for states to adopt their own immigration employment measures, nor can they conflict with the federal law's objectives and purposes.'
Issa letter on University of California vote by Fox News on Scribd
He also noted prohibitions on illegal immigrant students receiving grants under the Federal Work-Study program, which could mean that the system would have to forgo future federal assistance.
He accused the university and the state of trying to 'pick and choose which federal laws to follow and which to declare null and void,' 
'Rather than devote scarce time and resources to this — particularly during an historic and worsening state budget crisis — University leadership should focus on better ways to reduce administrative overhead, rebuild core studies, reinstate a healthy atmosphere of free speech on campus and regain the public trust in what was once the hallmark of our nation's finest systems of higher education.'
This post appeared first on FOX NEWS