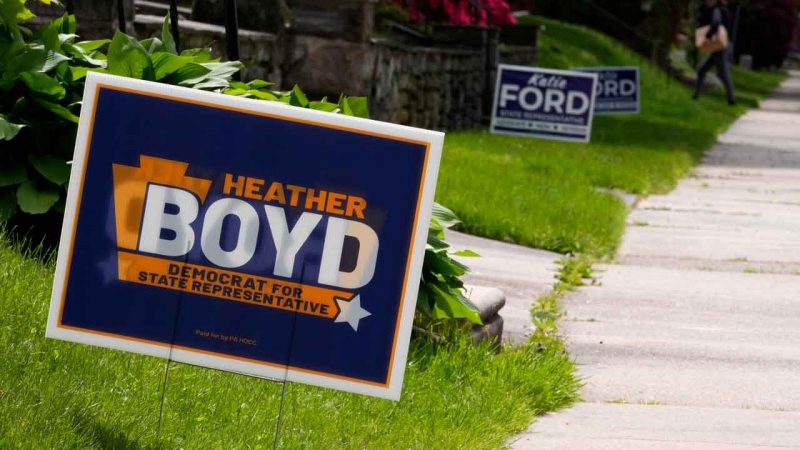 Pennsylvania Democrats' fragile House majority at stake in special elections
Democrats' narrow majority in the Pennsylvania House of Representatives is on the line Tuesday with two special elections that will determine which party controls the chamber.
One of those contests is expected to swing Republicans' way, but the other in Delaware County, in the Philadelphia suburbs, will be more competitive. It's the second time this year that Democrats have sweated the outcome of House special elections, and they hope to be just as lucky as before.
The stakes are high: A Democratic victory in Delaware County would give first-term Democratic Gov. Josh Shapiro at least one chamber to aid his agenda going into the final month of budget negotiations. The results could also affect a proposed constitutional amendment on abortion rights that legislative Republicans are one House vote away from putting before voters as a referendum.
In that race, Democrat Heather Boyd, a former congressional and state legislative aide, is competing against Republican Katie Ford, a military veteran, school volunteer and behavioral therapist. The seat opened up in March after the resignation of Democratic Rep. Mike Zabel, who was accused by a labor lobbyist of sexual harassment.
Zabel flipped what had been a reliably Republican district when he was elected in 2018, thanks in part to a voting pattern shift in recent years toward Democrats in Delaware County and the other Philadelphia ring counties of Bucks, Chester and Montgomery. The district gave its vote by comfortable margins last year to Zabel as well as Shapiro and Democratic U.S. Senate candidate John Fetterman.
Boyd reported raising more than $1.3 million, including more than $1 million in in-kind advertising from the House Democrats' campaign arm and the Democratic Party. Ford reported raising about $146,000, more than half of which came from the House Republicans' campaign arm. Shapiro cut an ad for Boyd that focused on the abortion issue and this week President Joe Biden endorsed her, which is unusual in a state legislative contest.
In the second House special election Tuesday in central Pennsylvania, candidates will be competing to succeed Republican Lynda Schlegel Culver, who resigned after winning a special election in January to fill a state Senate vacancy. The district consists of Montour County and parts of Northumberland County.
Democrats took control of the chamber in November for the first time in 12 years and then had to sweep three special elections earlier this year to hold on to their edge. With the two vacancies, the House's breakdown currently sits at 101 Democrats and 100 Republicans.
Control of Pennsylvania's House remains a key prize ahead of the 2024 presidential election, which could hinge on the Keystone State. Although the state will remain under divided partisan control, with a Democratic governor and a Republican-majority Senate, a GOP-led House could give Republicans more leverage in battles over voting procedures and even decide who the electors are in the presidential contest.
Underscoring those stakes, Biden on Monday called Boyd 'an experienced public servant who will protect a woman's right to make her own health care decisions, stand up for common sense gun safety laws and expand access to voting rights.'
In the Delaware County race, Boyd has emphasized protection of abortion rights, drawing a contrast with Ford, who is personally against abortion but says she does not want to change existing state law. Ford has also said she will vote against her fellow Republicans if they continue to advance the constitutional amendment that says the Pennsylvania Constitution does not guarantee any rights relating to abortion or public funding of abortions.
Ford has criticized Boyd, who has been a leading Democratic Party official in Delaware County, for not responding more forcefully when she learned about the allegations against Zabel. Boyd said she respected the lobbyist's request for confidentiality about her claim that Zabel caressed her leg while they discussed legislation outside the Capitol in 2018 and did not stop when she moved away from him.
'Common sense says that if someone comes to you and says that they're being sexually harassed, you do something about it,' Ford said during a televised debate. 'You don't just let it go.' Boyd responded that she did not endorse or support Zabel after hearing of the lobbyist's account, and says she tried unsuccessfully to find someone to run against Zabel.
<!–>
This post appeared first on FOX NEWS
–>