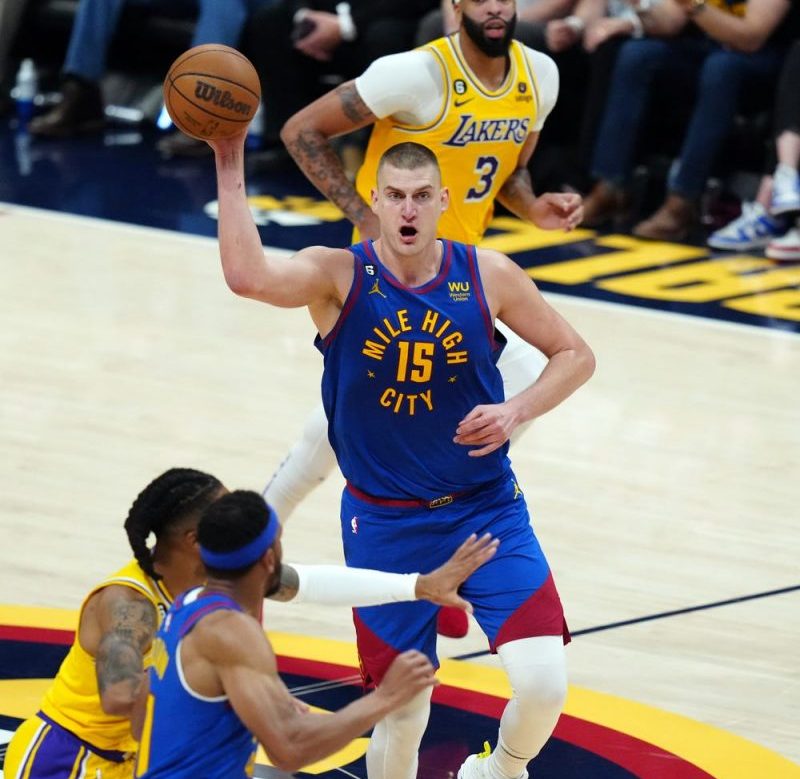 Nuggets hold off Lakers, win Game 1 behind Jokic's epic triple-double
DENVER — Los Angeles Lakers coach Darvin Ham delivered a glowing assessment of two-time Denver Nuggets MVP Nikola Jokic before Game 1.
"Just the work he puts in on his game, the way he cares about his teammates, the way he tries to get his teammates going and the unselfishness that's interwoven into his game and just his personality, he's a great kid," Ham said. "He's a really, really great — all the interactions I've had with him he's been nothing but great, positive, funny. But you can tell he's serious about winning. He's a serious competitor."
All of Ham's concerns and fears played out over four 12-minute quarters in Game 1 of the Western Conference finals as the Nuggets and Jokic downed the Lakers 132-126 for a 1-0 series lead. Game 2 is Thursday in Denver (8:30 p.m. ET, ESPN).
Jokic wasn't a one-man show. It just seemed that way.
Follow every game: Latest NBA Scores and Schedules
He had 34 points, 21 rebounds, 14 assists and two blocks for just the fourth 30-point, 20-rebound triple-double in NBA playoff history, according to basketball-reference.com. Jokic has two of them, and Wilt Chamberlain and Kareem Abdul-Jabbar each have one.
Denver improved 7-0 at home in the playoffs though it blew a 14-point fourth-quarter lead and led just 129-126 with 1:12 remaining.
Nikola Jokic delivers MVP performance
At halftime, Jokic had 19 points, 16 rebounds (one more than the entire Lakers team), seven assists and two blocks. Midway through the third quarter, he had a triple-double with 23 points, 17 rebounds and 10 assists, helping put Denver ahead 90-70.
With the Lakers making it close enough to keep the game interesting late in the third quarter, Jokic launched a 3-pointer from 28 feet and it went in for a 106-92 Denver lead as time expired in the frame. Lakers big man Anthony Davis looked in disbelief at Jokic, who could only shrug his shoulders.
Jokic did most of his damage from the perimeter with his shooting and passing and with his rebounding. Six of his rebounds were on the offensive end.
Jamal Murray masterful
Jamal Murray started Tuesday as questionable with a non-COVID illness. Ruled available to play just before tip-off, Murray provided a stellar offensive performance, scoring 31 points on 12-for-20 shooting, including 4-for-8 on 3s.
His jump shot with 1.6 seconds left in the second quarter gave Denver a 72-54 halftime lead, and he started the third with two 3-pointers that put the Nuggets up 78-58.
LeBron James, Antony Davis really good, just not good enough
LeBron James had 26 points, 12 rebounds and nine assists, and Anthony Davis had 40 points (14-for-23 shooting), 10 rebounds, three steals and two blocks.
They were good enough to keep the game interesting — despite trailing by as many as 21 points — but not good enough to help the Lakers steal another Game 1 on the road, like they did against Memphis and Sacramento in the first two rounds.
James missed a 3-pointer with 45.2 seconds left in the fourth that could've tied the score at 129-129.
Denver's offense explodes
Entering the West finals, the Lakers owned the top-rated defense in the playoffs, allowing 106.5 points per 100 possessions. The Nuggets put up 134.7 points per 100 possessions on 54.9% shooting from the field and 46.9% on 3-pointers.
Michael Porter Jr. had 15 points and 10 rebounds, Bruce Brown scored 14 of his 16 points in the first half and former Lakers wing Kentavious Caldwell-Pope contributed 21 points and Aaron Gordon had 12.
Is that kind of shooting sustainable from one of the league's best offenses against one of the league's best defenses?
This post appeared first on USA TODAY