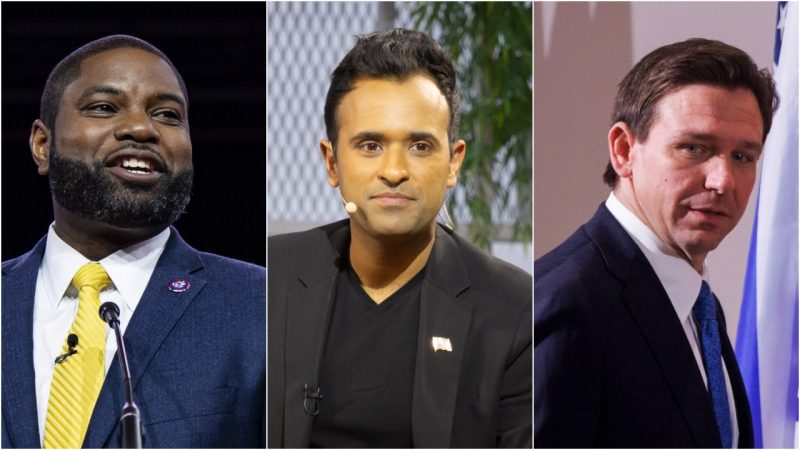 DeSantis, GOP shred FBI following release of Durham findings in Trump-Russia probe: 'Clean house'
Republican Florida Gov. Ron DeSantis, along with a number of his fellow Republicans, launched a flurry of criticism at the FBI following Monday's release of Special Counsel John Durham's report on the origin's of the Trump-Russia investigation.
'The Durham Report confirmed what we already knew: weaponized federal agencies manufactured a false conspiracy theory about Trump-Russia collusion. It reminds us of the need to clean house at these agencies, as they've never been held accountable for this egregious abuse of power,' DeSantis wrote on Twitter.
He was joined by Rep. Andy Biggs, R-Ariz., who simply wrote, 'Defund and dismantle the FBI,' and Rep. Byron Donalds, R-Fla., who wrote, 'These liars worked hand-in-hand to interfere in our election. They MUST be held to account.'
Presidential candidate Vivek Ramaswamy called the report 'a scathing indictment of the FBI,' and repeated his calls for the agency to be shut down. 
'Enough is enough. Root out the corruption & shut down the FBI. This is achievable. At the local level, we have police & prosecutors. At the federal level, we have U.S. marshals & the DOJ. An intermediary bureaucracy is rife with risk for politicized corruption & it's been happening since J. Edgar Hoover in the 60s,' he wrote.
Sen. Mike Lee, R-Utah, wrote that the FBI's actions according to the Durham report 'can't be dismissed as mere carelessness or even a severe example of garden-variety misconduct,' and described its reported actions 'corrupt and as subversive of the Constitution as it gets.'
Sen. Chuck Grassley, R-Iowa, said in a statement that 'the baseless and politically motivated Russia collusion lie robbed the American people of three years and tens of millions in taxpayer dollars,' and that FBI and DOJ officials 'at best, consciously avoided their duty of due diligence, and at worst, knowingly and willingly participated in one of the dirtiest smears in American history.'
He added that the FBI 'allowed itself to be hijacked and weaponized by political actors to target a political rival during a presidential election and administration.' 
'Where does President [Donald Trump] go for his apology??? What about all of the other lives ruined by Witch-Hunt #1?' Trump campaign advisor Jason Miller tweeted. 
House Judiciary Chair Rep. Jim Jordan, R-Ohio, wrote that he had reached out to the DOJ to have Durham testify before the committee next week.
'Where are the Democrat voices on the Durham report? They need to get loud on this. If it's only Republicans who care when a Republican is targeted then we're in a world of hurt as a country,' former U.N. Ambassador and presidential candidate Nikki Haley wrote.
Durham's report was released Monday afternoon after his years-long investigation into the origins of the FBI's original investigation, known as 'Crossfire Hurricane.' That investigation looked into whether the Trump campaign coordinated with Russia to influence the 2016 presidential election, and his report spanned more than 300 pages.
'Based on the review of Crossfire Hurricane and related intelligence activities, we conclude that the Department and the FBI failed to uphold their mission of strict fidelity to the law in connection with certain events and activities described in this report,' the report said.
Durham added that his investigation also revealed that 'senior FBI personnel displayed a serious lack of analytical rigor towards the information that they received, especially information received from politically-affiliated persons and entities.' 
Fox News' Brooke Singman contributed to this report.
This post appeared first on FOX NEWS