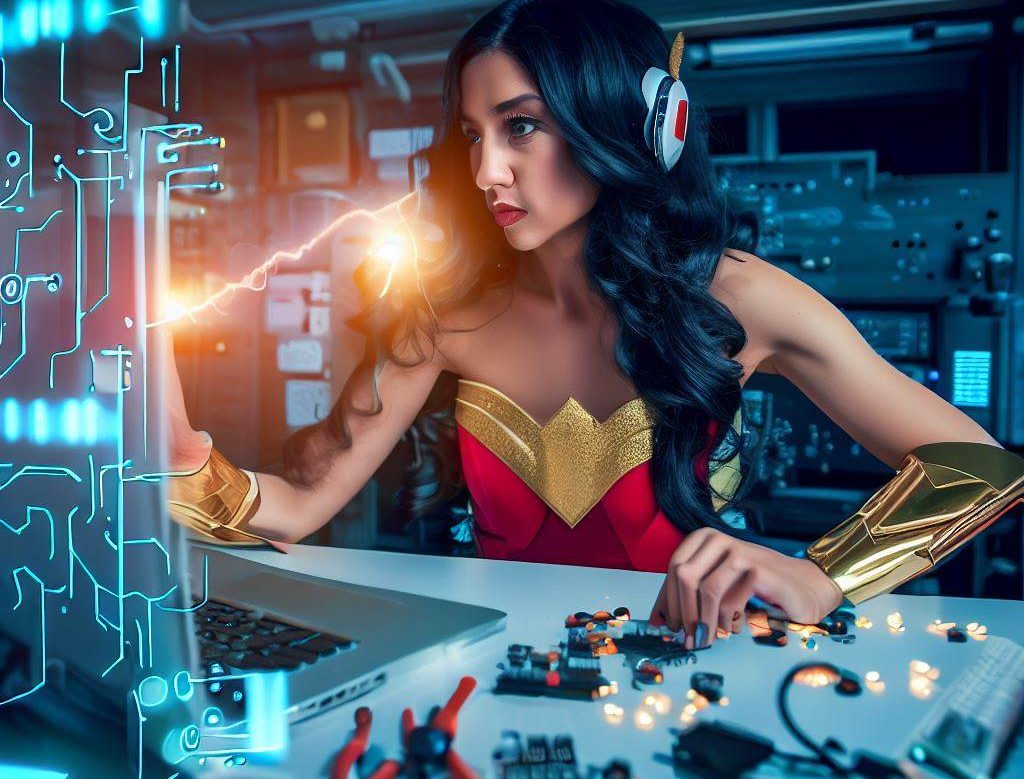 Is "Wonder Woman" Semiconductors Immortal?
Sister Semiconductors is a character and leading sector in the Economic Modern Family. We use the ETF SMH to represent her contribution to the market, family, and economy.
The cartoon you see certainly reflects some of her Wonder Woman like superpowers as I created the image from AI. Yes, AI. Cool, huh? The immortal 2 words (Artificial Intelligence) companies like Alphabet Inc (GOOGL) now attach to their menu of future deliverables to become, well, immortal in a very dull, sideways market.
I mention immortal as Wonder Woman is just that.
Related to our Sister Semiconductors, SMH has single-handedly held up the market over the last 3 months. However, humans beware; just how hot is AI?
Heard on CNBC Friday:
"The safety risks around AI are huge, and we think there is a more than 50/50 chance AI will wipe out all of humanity by the middle of the century" – BCA Research
And, as the monthly chart of SMH illustrates, it is the only Modern Family sector that has cleared the 23-month or 2-year business cycle over the last 2 months.
Now, SMH precariously sits right on that blue line with 2 weeks left in May. Will she remain immortal?
Just compare our Sister to her Granddad Russell 2000 (IWM).
IWM or the Granddaddy of the US economy reaches out to SMH for a lifeline.
In the next 2 weeks, we will also be looking for IWM to hold the 80-month moving average or green line. This is a 6–8-year business cycle indicator. If SMH successfully holds up, IWM has a chance of proving the gloomers wrong by averting the deep recession calls. That would keep IWM in the game, and potentially establish a much more solid low risk point in this persistent trading range of 2023.
It is possible for IWM to hold up even if SMH does not, especially if the Fed pauses and the politicos play nice and divert a debt default. However, if the fate of small caps does indeed rest in the hands of his granddaughter SMH, what does she have to do to make that happen?
On the Daily chart, SMH trades in a caution phase. The 50-DMA is stacked above the 200-DMA green, and the price is between the 50-DMA (blue) and the 200-DMA. For more on phases, get your copy of Plant Your Money Tree: A Guide to Growing Your Wealth.
What the caution phase tells us is that SMH is loosening her grip. The Real Motion Indicator also suggests momentum is waning alongside price. Nonetheless, we have seen caution phases return to bullish phases.
Bottom line, based on the stagflation theory and the overall market stagnating in a trading range, SMH will be on our radar. Our Sector Rotation Model remains long semiconductors since January. That too will be an interesting tell as the model will likely rotate out at a profit if the sector weakens further.
Speaking of Wonder Woman, Happy Mother's Day!
For more detailed trading information about our blended models, tools and trader education courses, contact Rob Quinn, our Chief Strategy Consultant, to learn more.
IT'S NOT TOO LATE! Click here if you'd like a complimentary copy of Mish's 2023 Market Outlook E-Book in your inbox.
"I grew my money tree and so can you!" – Mish Schneider
Get your copy of Plant Your Money Tree: A Guide to Growing Your Wealth and a special bonus here.
Follow Mish on Twitter @marketminute for stock picks and more. Follow Mish on Instagram (mishschneider) for daily morning videos. To see updated media clips, click here.
In this video, Mish walks you thru the Dollar, Euro, GBP, Gold, Silver and more.
Mish walks you through the fundamentals and technical analysis legitimizing a meme stock on Business First AM.
In this appearance on Fox Business's Making Money with Charles Payne, Mish and Charles discuss if economy has contracted enough with support in place, and present 3 stock picks.
Mish covers the trading range and a few of her recent stock picks on Business First AM.
In this appearance on Real Vision, Maggie Lake and Mish discuss current state of the market, from small caps to tech to gold.
In the Q2 edition of StockCharts TV's Charting Forward 2023, hosted by David Keller, Mish joins RRG Research's Julius de Kempenaer and Simpler Trading's TG Watkins for an roundtable discussion about the things they are seeing in, and hearing about, the markets.
Mish and Dave Keller discuss why Mish believes that yields will peak in May, what to expect next in gold, and more in this in-studio appearance on StockCharts TV's The Final Bar!
Mish explains why Grandma Retail (XRT) may become our new leading indicator on the May 4th edition of Your Daily Five.
Mish discusses the FOMC and which stock she's buying, and when on Business First AM.
Mish covers strategy for SPY, QQQ, and IWM.
Coming Up:
May 18th: Presentation for Orios VC Fund, India
May 19th: Real Vision Analysis
May 22nd: TD Ameritrade
May 31st: Singapore Radio with Kai Ting 6:05pm ET MoneyFM 89.3.
ETF Summary
S&P 500 (SPY): 23-month MA 420.Russell 2000 (IWM): 170 support, 180 resistance.Dow (DIA): Now below the 23-month MA.Nasdaq (QQQ): 329 the 23-month MA.Regional Banks (KRE): 42 now pivotal resistance-holding last Thurs low.Semiconductors (SMH): 23-month MA at 124.Transportation (IYT): 202-240 biggest range to watch.Biotechnology (IBB): 121-135 range to watch from monthly charts.Retail (XRT): 56-75 trading range to break one way or another.
Mish Schneider
MarketGauge.com
Director of Trading Research and Education