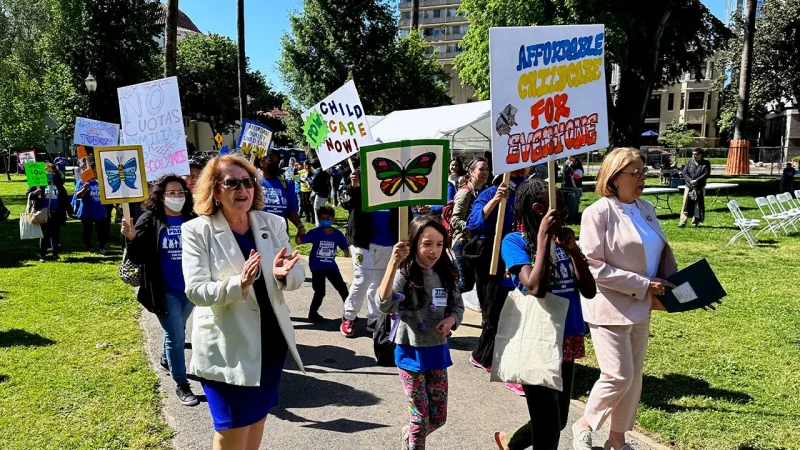 Gov. Gavin Newsom likely to announce California budget deficit may be a lot bigger than previously thought
Gov. Gavin Newsom will likely announce that California, one of the few states to have a shortfall this year, may see an extra $5 billion in losses after reporting a budget deficit of $22.5 billion.California's economic shortfall reflects a sagging stock market and delayed tax payments following a series of powerful and damaging winter storms. To cut spending, Newsom proposed delaying funding for a subsidized child care program which has angered California's Democratic lawmakers.
Gov. Gavin Newsom on Friday is expected to announce an even bigger budget deficit than the $22.5 billion hole that he confronted in January, reflecting an economy burdened by a sagging stock market and disrupted by a series of powerful winter storms that delayed billions of dollars in tax payments.
California is one of the only states to have a shortfall this year, mostly because its progressive tax code relies on wealthy taxpayers whose income is closely tied to the performance of the stock market.
The deficit is small compared to the cash crunch that the state faced during the last recession. But the challenge for Newsom will be persuading lawmakers to spending cuts who are not accustomed to enacting them.
Since taking office in 2019, Newsom's biggest budget fights with the Democratic-controlled state Legislature is how to spend California's record-breaking surpluses. Agreeing on what to cut could be much more difficult.
Newsom's plan in January was to cut money for flood protection projects, delaying an expansion of a subsidized child care program and canceling a $500 million plan to help small businesses pay higher tax rates associated with some state debt.
On Thursday, Newsom announced that he was restoring money previously cut from flood protection projects, plus introducing another $250 million in new spending, which includes raising a levee to protect the Central Valley community of Corcoran.
It's not yet clear if he can or will relent on his other proposed cuts. Newsom signed off on an expansion of a subsidized child care program last year that would pay to help an extra 20,000 families. But because of the deficit, Newsom proposed delaying that funding for one year. He argued that the state was having trouble filling the child care slots it already had.
That angered some Democratic lawmakers, who said the reason the state was having trouble filling its child care slots is because there aren't enough child care workers. On Monday, Democrats in the Assembly proposed $1 billion in new spending to increase the pay of child care workers.
'Now, we just need to put a little pressure on the governor to make sure he's on board,' Assembly Majority Leader Eloise Gomez-Reyes said on Wednesday while speaking to a rally of parents and child care workers at the state Capitol.
It's not just child care though. Democrats in the state Senate want to raise taxes on 2,500 of the largest companies so they can cut taxes by about 25% for most other businesses — a plan that Newsom has already said he opposes. And environmental groups want Newsom to reverse his planned $6 billion cut to some of his climate proposals.
But restoring those cuts could be difficult. The situation has only gotten worse since Newsom first announced the deficit in January. California's tax collections have continued to decline, falling $4.6 billion below what the governor's office had been expecting. The nonpartisan Legislative Analyst's Office says they expect the deficit to be about $5 billion bigger.
Then there's the weather. Since January, California has been hit by roughly a dozen atmospheric rivers — intense storms that bring heavy rain and snow. The storms caused so much damage throughout the state that officials decided to give people more time to pay their taxes — extending the deadline from April to October.
That's a problem now for Newsom and the state Legislature, which must pass a budget before the start of the new fiscal year on July 1. Delayed tax collection means they'll have to make a plan without knowing how much money they have to spend.
The last time this happened was at the start of the coronavirus pandemic in 2020, when taxpayers had extra time to file their taxes. Newsom and state lawmakers assumed the worst, approving a budget that slashed spending in order to cover what they thought would be a $54 billion deficit. But that deficit never happened because the pandemic's impact on state revenues turned out to be less damaging than anticipated.
This time, California's deficit looks to be for real. California's Legislature taxes the wealthy more than other states. About half of the state's money comes from just 1% of earners. That means that the state is vulnerable to big swings in the stock market, which is the source of wealth for most rich people.
The stock market has been down as the federal government has raised interest rates to combat inflation.
The downward turn has had the biggest impact on California's massive technology industry as companies like Google, Facebook and PayPal have laid off thousands of workers. Earlier this year, Silicon Valley Bank — one of the nation's largest financial institutions, whose clients were mostly in the tech industry — failed and was bought by North Carolina-based First Citizens Bank.
This post appeared first on FOX NEWS