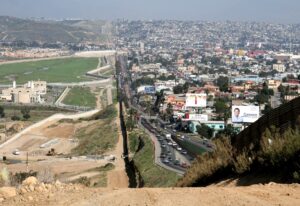 Border crossings top 10,000 daily as migrants seek US entry before Title 42 ends
SAN DIEGO/WASHINGTON – Thousands of migrants are crossing into the United States this week before a new regulation takes effect that could bar most who cross illegally from seeking asylum, while others gathered on the Mexico side amid confusion about US policy.
The US rolled out a regulation on Wednesday that presumes most migrants are ineligible for asylum if they passed through other nations without seeking protection elsewhere first, or if they failed to use legal pathways for US entry.
The new rule is a key part of President Joe Biden's border enforcement plan as COVID-19 restrictions – known as Title 42 – are set to end just before midnight on Thursday.
Under Title 42, which has been in place since March 2020, many border crossers were rapidly expelled to Mexico without a chance to seek asylum, leading to repeat attempts.
Homeland Security Secretary Alejandro Mayorkas said the new rule would mean harsher consequences for migrants crossing illegally who, if caught, could be deported and barred from the United States for five years if they do not qualify for asylum.
"We are making it very clear that our border is not open, that crossing irregularly is against the law and that those who are not eligible for relief will be quickly returned," Mayorkas said at a press conference in Washington.
Migrants have been amassing in Mexico near various parts of the border – many of them unsure about when, or how, to cross. Drone footage showed large crowds gathering at the border fence by El Paso, Texas, across from Ciudad Juarez, Mexico.
US cities are expecting to receive some of those migrants after they cross the border. New York City said it is already receiving 500 per day and expects the number to increase after Title 42 expires on Thursday, leading Mayor Eric Adams on Wednesday to issue an executive order temporarily suspending a policy guaranteeing shelter for all those in need.
"We have reached our limit," spokesperson Fabien Levy said in a statement. "This is not a decision taken lightly and we will make every effort to get asylum seekers into shelter as quickly as possible."
Violence broke out at a crossing between Reynosa, Mexico and Pharr, Texas on Wednesday morning as Mexican soldiers clashed with an armed group of suspected people smugglers, killing three, officials in the Mexican state of Tamaulipas said.
The Mexican Army said it had no immediate comment.
At a towering wall dividing San Diego, California, and Tijuana, Mexico, hundreds of migrants have been jumping across in recent days, waiting to turn themselves in to US agents.
Some have camped out for days under Mylar blankets, surviving on granola bars and water, while they wait for processing in a no-man's land on U.S. soil between a primary wall and secondary wall.
A group of single women and a family with two young children from Colombia said they left home seven days ago, flying to El Salvador, then traveling by bus through Central America and Mexico.
"We heard that Title 42 was going to end and that after that there won't be an option," said Diana, 30, who declined to give her last name. She said she heard about the policy change through the news and by word of mouth.
More than 10,000 migrants were caught crossing at the U.S.-Mexico border illegally each day on Monday and Tuesday, said Brandon Judd, president of a union for Border Patrol agents. The total surpasses a scenario outlined by a top U.S. border official last month for the period after Title 42 ends.
CRITICISM FROM BOTH SIDES
Republicans have criticized Biden, a Democrat running for re-election in 2024, for rolling back the hardline policies of Republican former President Donald Trump, the current front-runner for his party's nomination.
A coalition of 22 Republican state attorneys general has opposed the new asylum rule for being "riddled with exceptions."
But some Democrats and immigration advocates say Biden's new regulation is too harsh, comparing it to measures implemented under Trump blocked by US courts.
The measure counters previous statements Biden made in 2020 on the campaign trail, when he said he thought it was "wrong" for people not to be able to seek asylum in the United States.
The rule, which comes into effect on Thursday and expires in two years, will apply to the vast majority of non-Mexican migrants seeking asylum since they typically pass through multiple countries en route to the US
Biden officials said in late April they are at the same time expanding legal pathways for migrants abroad in order to provide alternative ways to enter the U.S. and discourage illegal crossings.
On a call with reporters on Tuesday, Biden officials said the administration planned to open more than 100 migration processing centers in the Western Hemisphere. – Reuters