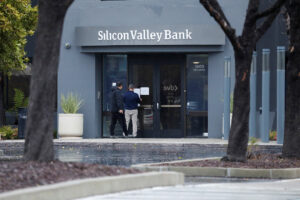 Blackstone, Apollo were among about 20 bidders for SVB's assets
Blackstone Inc. and Apollo Global Management were among about 20 bidders for some assets of collapsed Silicon Valley Bank, the Federal Deposit Insurance Corporation (FDIC) said on Wednesday.
PNC Financial Services, Valley Bank, Citizens Bank and BankUnited were also among the bidders, the FDIC said in a summary document, adding that one or more bidders submitted more than one bid.
The bids, which closed on March 10, were followed by First Citizens BancShares purchasing all the loans and deposits of SVB later that month.
SVB was the largest bank since the 2008 financial crisis to collapse when California regulators closed the bank on March 10, sparking massive market disruption and heightened stress across the banking sector globally.
That was since eclipsed by First Republic Bank which was seized by regulators in early May and sold to JPMorgan Chase & Co..
FDIC, which took over SVB after depositors rushed to pull out their money in the bank, received equity appreciation rights in its stock worth as much as $500 million in return.
The deal announced in March said First Citizens would acquire SVB's assets of $110 billion, deposits of $56 billion and loans of $72 billion. – Reuters