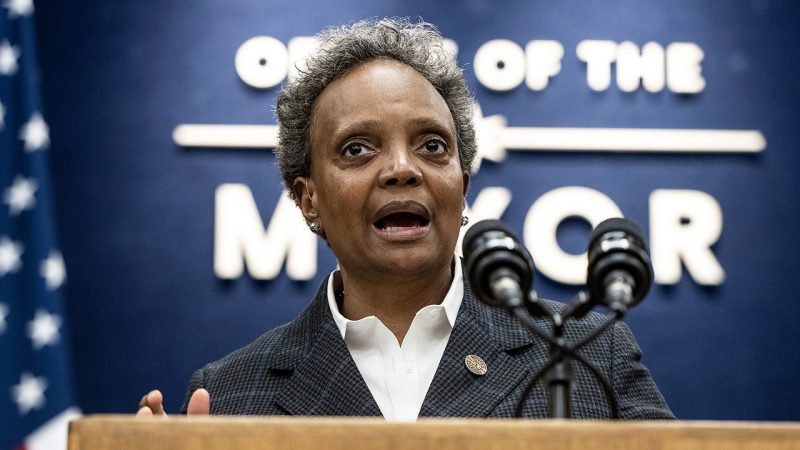 Chicago's Lori Lightfoot issues state of emergency over influx of illegal migrants sent by Texas Gov. Abbott
Chicago Mayor Lori Lightfoot issued an emergency declaration on Tuesday in response to illegal migrants being sent to her city by Texas Gov. Greg Abbott.
Lightfoot issued the emergency declaration following the arrival of 48 migrants on Tuesday, according to a press release, which states that the city and state have provided emergency care for over 8,000 migrants since August 2022.
'We should all understand that this crisis will likely deepen before we see it get better, so as we move forward, the City of Chicago will have to bring additional locations online to prepare for the arrival of more individuals and families and to relieve Chicago Police Department districts,' Lightfoot's office said. 'The City of Chicago is in the midst of a national humanitarian crisis, and through a unified effort in accordance with its values as a welcoming city, Chicago is doing everything it can to respond to the urgency of this matter. The City has continued to call on federal and state governments to support the new arrival mission with much-needed additional funding and resources for emergency shelter and resettlement, as there are not enough resources currently to meet the need.'
The emergency declaration signed by Lightfoot states that Chicago's resources are 'now stretched to the breaking point,' adding that hundreds of migrants are temporarily 'sheltering in police stations.'
Video obtained by Fox News' Matt Finn shows what appears to be migrant families taking shelter inside Chicago's 19th police district. Migrants appear to be sleeping on the floor without proper access to showers or bathrooms. 
Chicago leadership has boldly advertised the city as a sanctuary city for more than five years, despite not having adequate resources to house migrants. 
Lightfoot, who is only in office until May 15, also reserved the authority to request a mobilization of the Illinois National Guard to address the influx of migrants.
The state of emergency declaration comes just days before Title 42 is set to expire, which is expected to cause a surge of migrants to cross the United States' southern border.
Lightfoot sent a letter to Abbott in late April pleading with him to stop sending migrants to the sanctuary city.
'Nearly all the migrants have been in dire need of food, water, and clothing and many needed extensive medical care,' Lightfoot wrote. 'Some of the individuals you placed on buses were women in active labor, and some were victims of sexual assault. None of these urgent needs were addressed in Texas. Instead, these individuals and families were packed onto buses and shipped across the country like freight without regard to their personal circumstances.'
Abbott began sending migrants to Chicago in response to 'President Biden's open border policies overwhelming border communities in Texas.' The Republican governor has also sent migrants to New York City and Washington, D.C.
Fox News' Landon Mion contributed to this report.
This post appeared first on FOX NEWS