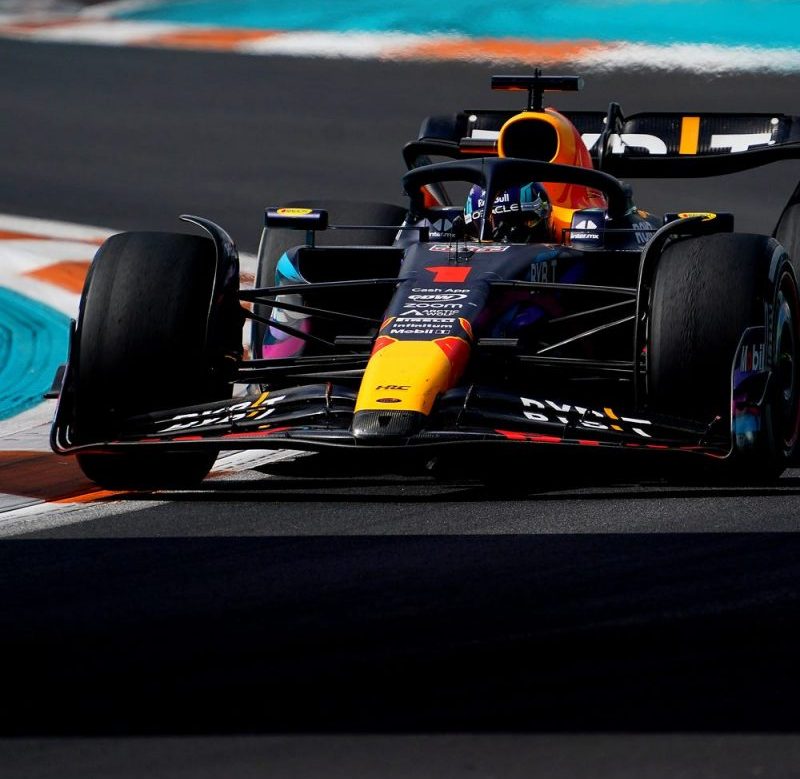 Max Verstappen repeats as Miami Grand Prix champion
MIAMI GARDENS, Fla. — The skies cleared, the grandstands filled, the celebrities shined and the second annual Formula One CRYPTO.com Miami Grand Prix provided a thrilling show with Red Bull Racing driver Max Verstappen hoisting his second Miami trophy high to the adoring crowd when all was said and done Sunday afternoon.
A miscue early in Saturday's qualifying forced Verstappen into the garage for repairs and then the session was red-flagged after last year's Miami Grand Prix polesitter, Ferarri's Charles LeClerc, crashed in the closing five minutes. Verstappen didn't get a chance to make a true run for the pole and instead had to start ninth on the 20-car starting grid at the Miami International Autodrome — just far enough back for the reigning two-time world champion to thrill fans with an exciting and predictable move forward in the opening laps — picking off his competitors one-by-one, corner-by-corner, lap-by-lap.
It took only 20 laps into the 56-lap grand prix for Verstappen, 25, to take the lead. He relinquished it later for a single lap while pitting and reclaimed the front position with nine laps remaining. He ultimately pulled away to a 5.384-second victory over his Red Bull teammate and Miami polesitter Sergio Perez in front of a sold-out crowd of 90,767 that included celebrities from Serena Williams to Tom Cruise to the Jonas Brothers who crowded the pre-race starting grid — all eager to witness the opening of three American F1 grand prix this year. 
FAMOUS FACES: Tom Cruise, Vin Diesel, Patrick Mahomes among stars at F1 Miami race
It marks the Dutch driver's third win already in the five races to date in 2023 — and his third straight win in an American grand prix (here and also Austin, Texas, last year).
Aston Martin's Fernando Alonso, who started on the front row, finished third. Mercedes driver George Russell and Ferrari's Carlos Sainz rounded out the top five for the event, which went green from start to finish despite a handful of slight-contact incidents.
Seven-time world champion Mercedes driver Lewis Hamilton — who received a huge ovation during driver introductions — finished sixth followed by Ferrari's LeClerc, Alpine teammates Pierre Gasly and Estaban Ocon. The only American team, Haas F1, earned a 10th-place finish with driver Kevin Magnussen.
Verstappen's victory gives the Red Bull team a lock on the season trophies with Perez winning the other two races of 2023. And they have finished some version of 1-2 in four of the five races.
The last time a driver won a grand prix from the ninth starting position on the grid was 1984 (Niki Lauda at the French Grand Prix). Verstappen's win total now climbs to 38 — tying him for most all-time at Red Bull Racing with the recently retired four-time world champion Sebastien Vettel. It also brings Verstappen to within three victories of the late, legendary champion Ayrton Senna.
"I call that simply lovely,'' Verstappen told the Red Bull team on the radio after claiming the checkered flag. "That was a good race all the way around. It was really, really good for the team.
"One, two in America, brilliant,'' Red Bull team boss Christian Horner responded. 
Verstappen's win — which also included a 1-point bonus for turning the fastest lap of the race — increases his lead atop the world championship standings to 14 points over Perez heading into the next race, May 19-21, in Italy.
Fort Lauderdale's Logan Sargeant, 22, finished 20th in his hometown Formula One debut, having to pit on the second lap for a new nose cone and tires. As the Williams Racing driver anticipated making his first-ever laps on the Miami course — it was predominantly a high-speed learning curve for Sargeant. Regardless, he received a warm welcome from the Florida fans all weekend and was appreciative of the support. 
This post appeared first on USA TODAY