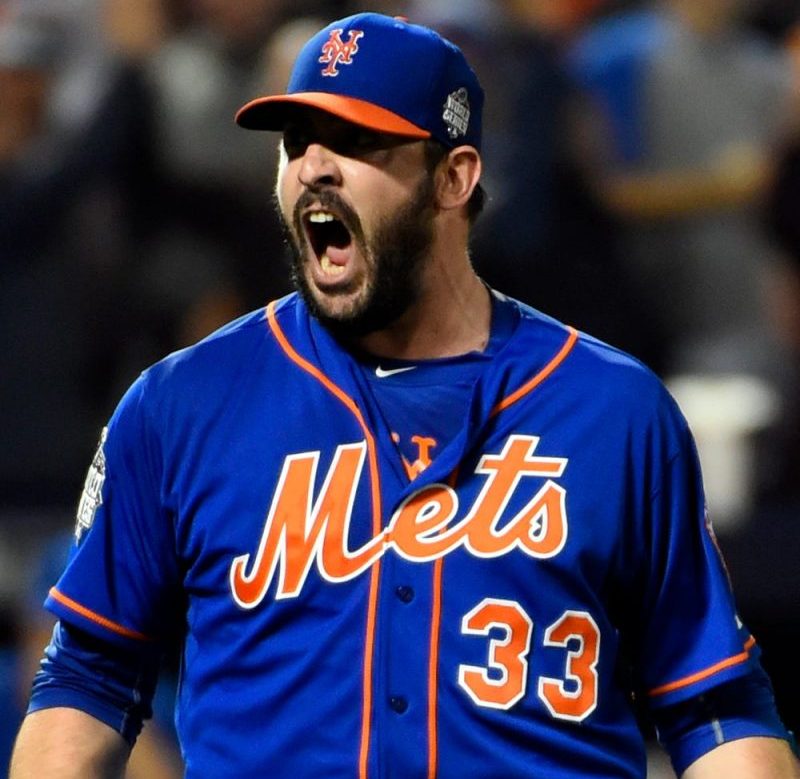 Former Mets ace announces retirement from baseball
Matt Harvey, one of Major League Baseball's last true pitching phenoms who thrilled New York City and navigated numerous peaks and valleys in a decadelong career, announced his retirement from the game Friday.
In an Instagram post, Harvey, 34, thanked his former teammates and organizations and most notably the fans, to which he said, "You made a dream come true to me. Who would have thought a kid from Mystic, CT, would be able to play in the greatest city in the world, his hometown. You are forever embedded in my heart."
Indeed, the marriage of Harvey and Mets fans was an athlete-franchise union that at times seemed almost too good to be true.
Drafted seventh overall in 2010 out of the University of North Carolina, the hard-throwing Harvey quickly hammered a path toward Citi Field, his minor-league dominance sparking a frenzy within a thirsty fan base seeking its first World Series trip since 1986. He debuted as a 23-year-old late in 2012, striking out 70 batters in 59 ⅓ innings and laying the groundwork for the frenzy to come.
In his farewell post, Harvey cited perhaps the apex of the hysteria – April 19, 2013, when Harvey struck out seven Washington Nationals in seven innings and outdueled the more ballyhooed phenom, Stephen Strasburg, all as a crowd of 27,000 chanted "Harvey's better!" throughout.
Follow every game: Latest MLB Scores and Schedules
While both pitchers would eventually see injuries strip away their dominance, Harvey's star continued to rise.
Quickly dubbed The Dark Knight, Harvey's penchant for nightlife and bachelor status made him a tabloid star in an era when athletes, ever vigilant to protect their brands, veered away from flashbulbs and potential innuendoes. Every fifth day was suddenly Harvey Day. He'd start the 2013 All-Star Game at Citi Field. Derek Jeter's nascent Players' Tribune would eventually retain him as their "Gotham Bureau Chief."
It was through that medium that he wrote about "My Gap Year," a 2014 season wiped from his record due to reconstructive elbow surgery. The comeback, predictably, was quite dramatic.
Harvey reemerged in a 2015 team on a Mets team that seemed to put its usual pratfalls behind it. The club rallied to win the National League East and, with young, gassed up arms in Harvey, Noah Syndergaard and Jacob deGrom, powered into the World Series. All the while, the ink followed Harvey: A controversy over whether he'd pitch in the postseason cropped up just as the playoffs landed, a perfect serving of drama and back-and-forths built for New York.
It was in a must-win Game 5 that Harveymania crested. Harvey shut out the Kansas City Royals through eight innings but with just a 2-0 lead and Harvey nearing 100 pitches, summoning closer Jeurys Familia seemed prudent.
Harvey lobbied manager Terry Collins. The Citi Field crowd of 44,859 roared its opinion: "Har-vey! Har-vey! Har-vey!"
And the stadium rumbled with approval when The Dark Knight emerged for the ninth.
Such a move would be almost laughable in this era of risk management and pitchers rarely facing hitters a third time, let alone into the ninth inning of a must-win game. And perhaps there's something to that.
The Royals chased Harvey before he could record an out, tying the game off Familia and eventually capturing the World Series in 12 innings. It was the end of an era in so many ways.
Harvey would never pitch in another All-Star Game, or fashion an ERA better than 4.50 in a single season. By 2016, Harvey required surgery for thoracic outlet syndrome, a procedure that has since proven something of a career-wrecker for pitchers – including the heralded Strasburg in the years after winning the 2019 World Series.
Come 2018, the Mets DFA'd and traded him. Stints with the Reds, Angels and Royals and Orioles would follow; Harvey would be suspended in 2022 for admitting he provided Percocet to Angels teammate Tyler Skaggs in 2019. Skaggs' eventual overdose death required Harvey to testify in 2022 about his own drug use during the trial of an Angels employee convicted of providing Skaggs with the pills that killed him.
Despite his ballooning ERA and personal challenges, Harvey remained a valued teammate in his final seasons, earning plaudits from the Orioles for taking the ball every fifth day despite getting rocked almost every time out; to them, his 6.27 ERA in 2021 didn't matter as much as his willingness to absorb innings and take further heat off an overmatched pitching staff.
That would be Harvey's final act as a major leaguer. Friday, it seemed he was OK with that.
"Goodbye, Baseball," Harvey wrote. "And thank you."
This post appeared first on USA TODAY