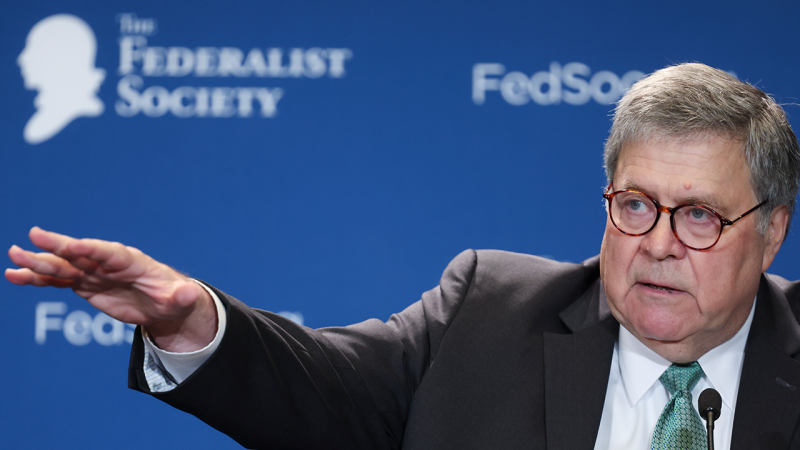 Bill Barr predicts 'horror show' if Trump re-elected, warns he will 'deliver chaos'
Former Attorney General Bill Barr said Friday that former President Donald Trump's presidency would be a 'horror show' if he were re-elected because his former boss lacks the 'discipline' as well as the 'ability for strategic thinking' needed to get things done.
'It is a horror show, you know, when… he's left to his own devices,' Barr said in remarks at the City Club of Cleveland in Ohio on Friday.
'If you believe in his policies, what he's advertising is his policies, he's the last person who could actually execute them and achieve them,' Barr said to a reporter who asked if Trump is fit to be president again.
The reporter noted that some voters say they want Trump re-elected for his policies and are willing to overlook his mistakes as president in his last term.
'He does not have the discipline,' Barr replied. 'He does not have the ability for strategic thinking and linear thinking or setting priorities or how to get things done in the system.'
'And, and so you may want his policies. But Trump will not deliver Trump policies,' Barr said.
'He will deliver chaos, and if anything lead to a backlash that will set his policies much further back than they otherwise would be.'
According to recent Fox News polling, Trump is the favored candidate for the Republicans in 2024, even ahead of popular Florida Gov. Ron DeSantis, who has yet to announce his candidacy but is widely rumored to be considering a run.
Barr served as attorney general under Trump from 2019 to 2020. He was also attorney general during the George H. W. Bush administration.
This post appeared first on FOX NEWS