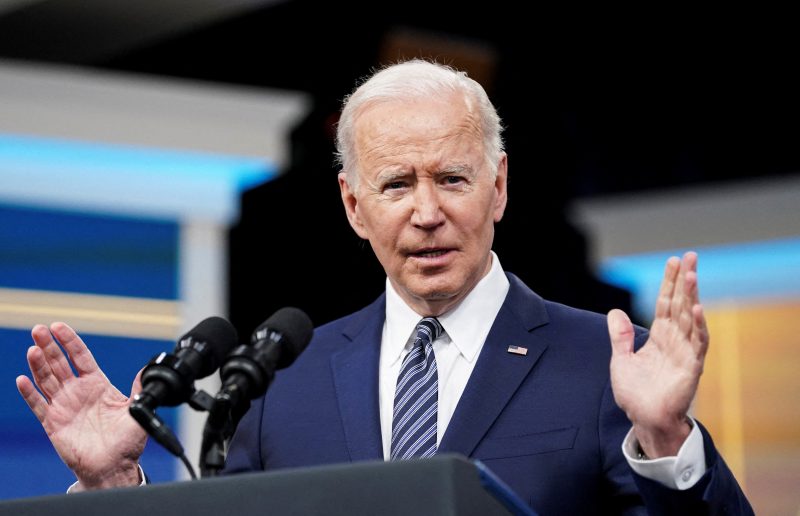 Senate passes bipartisan bill to override Biden's handout to Chinese solar companies
The Senate approved a measure Wednesday evening to override President Biden's move last year to allow Chinese solar panel makers to avoid tariffs for 24 months.
In a bipartisan 56-41 vote, the Senate voted in favor of the resolution — which was sponsored by Sen. Rick Scott, R-Fla., and co-sponsored by Sen. Joe Manchin, D-W.Va. — the latest congressional action to face an expected veto from President Biden. The vote comes less than a week after the House passed a companion resolution with 12 Democrats voting in favor.
'This measure is pro-American jobs and anti-Chinese forced and child labor. It's that simple,' Scott remarked on the Senate floor ahead of the vote.
'It's time for the Senate to finish the job in Congress and send this to President Biden's desk. This isn't partisan, it's about human rights,' he continued. 'I will not stand by, and I hope the U.S. Senate will not stand by, and accept excuses to turn a blind eye to communist China's human rights atrocities.'
Overall, Chinese companies control a more than 80% share in the global solar panel industry, controlling the supply chain in all the manufacturing stages of the product, according to the International Energy Agency. The Chinese solar industry has been tied to forced labor in China's Xinjiang province.
In addition to Manchin, several Democrats including Sens. Sherrod Brown, D-Ohio; Ron Wyden, D-Ore.; Bob Casey, D-Pa.; Tammy Baldwin, D-Wis.; and John Fetterman, D-Pa., voted with Republicans in favor of the legislation.
'Ohioans are manufacturing solar panels that can power our economy,' Brown said Wednesday in remarks of his own. 'They just need a level playing field. You can't say you want American manufacturing to lead the world, while allowing Chinese companies, often subsidized by the Chinese government, to skirt the rules and dump solar panels into the U.S.
'This comes down to whose side you're on: Do you stand with workers in Ohio, or do you stand with the Chinese Communist Party?'
In June 2022, Biden implemented the 24-month moratorium on the enforcement of solar panel anti-circumvention tariffs introduced under the Obama administration to protect U.S. companies. The White House characterized the move as a two-year 'bridge' that would allow companies to build solar panel production capabilities on U.S. soil.
The move, however, came after the Commerce Department said months earlier it would investigate whether Chinese manufacturers were routing solar panels through countries in Southeast Asia to avoid U.S. tariffs. And in December, the agency published its preliminary findings showing four large solar companies had routed products through Cambodia, Malaysia and Vietnam to circumvent duties. 
The Commerce Department is expected to release its final findings this month. Still, the White House vowed last week that Biden would veto the resolution passed Wednesday if it made it to his desk, regardless of the findings. 
'From day one, the President has prioritized investments that will create good-paying jobs and build secure supply chains in the United States, including for solar energy,' the White House said April 24. 'The Administration is working aggressively to support domestic solar panel manufacturing.'
The resolution, meanwhile, earned the support of pro-tariff groups like the Coalition for a Prosperous America and human rights groups like the Uyghur Human Rights Project.
Environmental groups and green energy organizations like the Solar Energy Industries Association (SEIA) have opposed it.
'We are urging senators to see through this political charade and examine the facts at hand,' SEIA President and CEO Abigail Ross Hopper said last week.
'The United States cannot produce enough solar panels and cells to meet demand, and the remaining 14 months of this moratorium gives us time to close the gap,' she continued. 'The United States can get there and become a global leader in clean energy manufacturing and development. Overturning the moratorium at this stage puts that future at risk.' 
Following the vote Wednesday, Rep. Dan Kildee, D-Mich., who sponsored the House version of the bill alongside Rep. Bill Posey, R-Fla., applauded the Senate vote.
'I am pleased to see the U.S. Senate, in a strong bipartisan vote, pass my legislation that supports American workers,' Kildee said in a statement. 'We must hold those who violate U.S. trade laws accountable, including China.
'When we fail to enforce our trade laws, it hurts Michigan and American businesses and workers. I will continue standing up for fair trade and the American worker, including support efforts to expand the domestic manufacturing of solar panels.'
This post appeared first on FOX NEWS