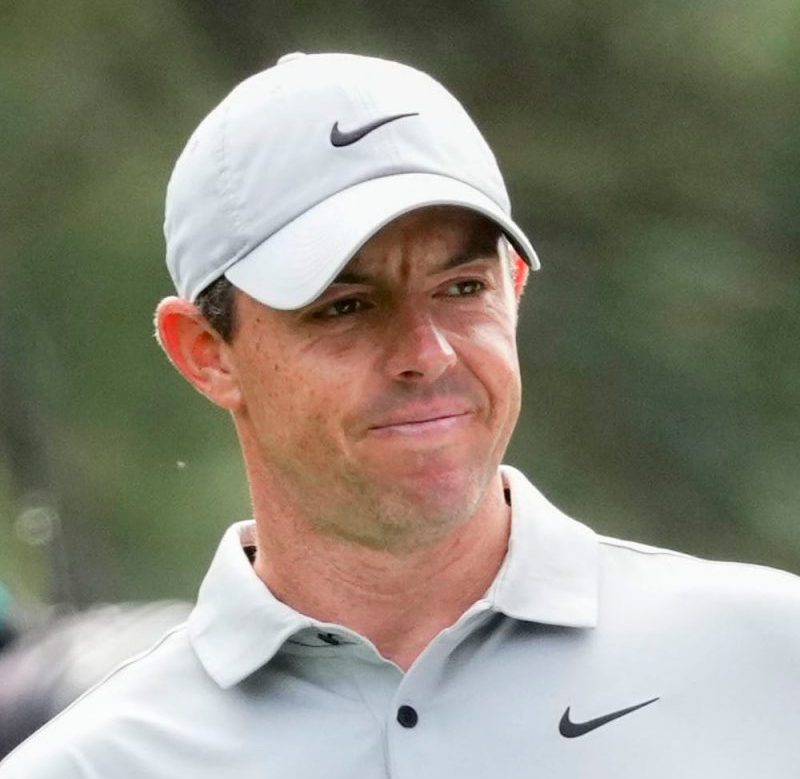 McIlroy OK losing $3M of PIP bonus, opens up about Masters
CHARLOTTE, N.C. − Rory McIlroy shot 5 under on the second nine at Augusta National on the eve of the Masters and said he never felt more ready to win the Masters and complete the career Grand Slam.
'I honestly thought I was going to have the best Masters I ever had,' McIlroy said on Tuesday evening at a private event at Puttery, the indoor modern spin on mini-golf of which he's an investor.
And yet as golf fans know all too well, the quest for the elusive Green Jacket goes on as McIlroy missed the 36-hole cut.
'It sucked,' McIlroy said. 'I shouldn't be thinking about if I'm going to be having a good week or a bad week. I should only be thinking about that first tee shot on Thursday. That's getting ahead of myself and feeling really good about my game but having those thoughts of, jeez, I'm going to have the best week I've ever had at Augusta isn't the right mindset going into it. You need to be thinking about staying in the present. I feel like at Augusta I didn't do a good job of that because of how well I was playing. I was almost too − not overconfident − but maybe got ahead of myself.'
McIlroy remained coy about why he skipped the RBC Heritage, his second missed designated event. Players are allowed one absence, which he took at the season-opening Sentry Tournament of Champions. The second miss receives a steep fine − Commissioner Jay Monahan Wednesday confirmed that McIlroy will lose $3 million of his Player Impact Program bonus from 2022.
STAY UP-TO-DATE: Subscribe to our Sports newsletter now!
'I knew the consequences that could come with missing one of those. It was an easy decision. It was worth that for me to get some other things in place,' McIlroy said Tuesday. 'I had my reasons to not play Hilton Head and I've expressed those to Jay. … I understood the consequences of that decision before I did it. So whatever happens, happens.'
When McIlroy passed on the first designated event of the season in Hawaii, he didn't envision a scenario where he'd miss another. 'My mind wouldn't have been there. It was more important for me to be home,' he said of electing to bypass Harbour Town. 'I would've been doing myself a disservice and I would've been doing the people around me a disservice if I had gone to play.'
McIlroy used his extended three-week break to reset, reassess and put his disappointment at Augusta in the rear-view mirror. He said he didn't touch a club for two weeks. He spent one of those weeks in Manhattan celebrating his anniversary there with wife Erica. To hear McIlroy tell it, he was desperate for a mental escape from the game.
'I feel like it's totally consumed my life for the last 12 months. There's other parts of my life that are important as well,' he said.
Despite the $3 million fine, which is a drop in the bucket for a guy with McIlroy's earning potential, his decision seems sensible in the bigger picture except for the fact that McIlroy signed off on the designated events being mandatory and when there initially was player pushback after it was announced in August at the Tour Championship, McIlroy took a strong stance. In a meeting with PGA Tour chief tournaments and competitions officer Andy Pazder captured in the Netflix documentary 'Full Swing,' McIlroy said if he was willing to do it, they should too. 'I say to these guys, 'No other athletes in the world get to choose when and where they play.' We've all just gotten a little soft.'
But on Tuesday, McIlroy was quick to point out that the burn out he's been suffering from had little to do with his golf. His involvement as a director on the PGA Tour policy board and his unofficial role as Tour spokesman during the civil war with LIV Golf has taken its toll. He still managed to win the FedEx Cup in August and regain World No. 1 for a stretch, beginning in October, but all those demands eventually caught up to him even if he said he still was able to attend a seven-hour board meeting and nearly win the Arnold Palmer Invitational a few days later.
'It was everything that we've all had to deal with in the golf world over the past 12 months and being right in the middle of it and sort of being in that decision-making process that's what gassed me,' he explained.
'I've always thought I had a good handle on the perspective of where golf fits within my life and trying to find purpose outside of golf in some way. I think over the last 12 months I lost sight of that. I lost sight of the fact that, you know, there's more to life than the golf world and this little silly squabble that's going on between tours and all sorts of stuff. I think I just gained some perspective. Once I disconnected, I could see things a little clearer and where everything fits within my life. It was a good reset.'
A refreshed McIlroy picked up the clubs last Monday and expressed excitement about going back to work at Quail Hollow, where he's won the Wells Fargo Championship three times. As McIlroy put it, 'there are three more majors ahead, the entire golf season still to play.'
This post appeared first on USA TODAY