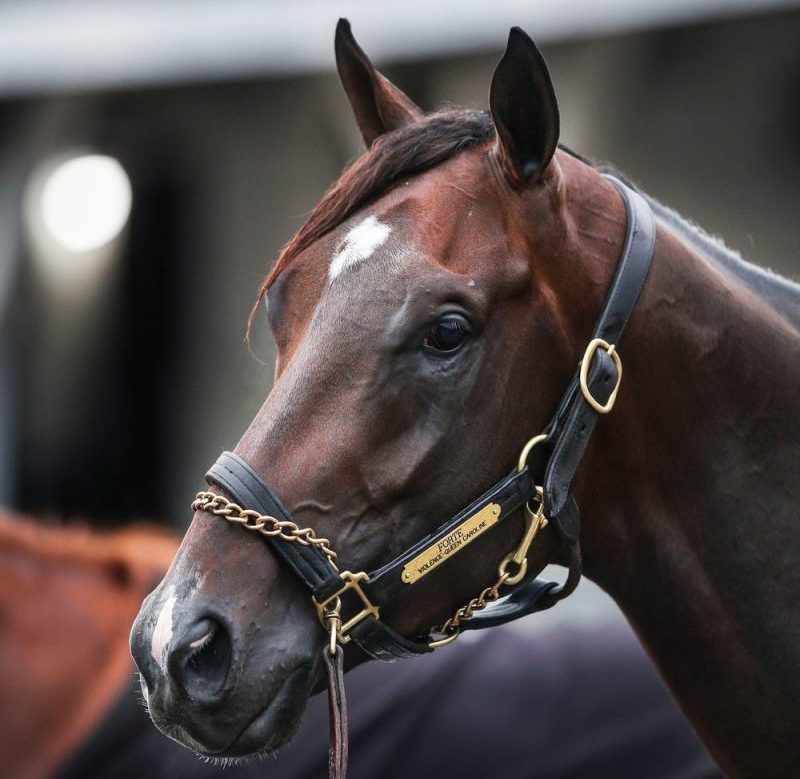 Kentucky Derby favorite gives billionaire owner his best chance yet
LOUISVILLE, Ky. — There's no doubt Mike Repole believed it when he said on the morning before the 2011 Kentucky Derby that there would be more chances to win in his future.
"He's 43 and I'm 42," Repole said at the time, referring to himself and trainer Todd Pletcher. "He looks a lot older than I do, but the bottom line is that we're going to be around awhile."
Nobody would have doubted Repole's ambition or his pocketbook, having co-founded the company that created Smartwater and Vitaminwater and then selling it to Coca-Cola for more than $4 billion. If he wanted to be around the racetrack at the highest level, he was going to be around.
Then again, horse racing has seen guys like Repole come and go. They sink millions on expensive Thoroughbreds, think they've got it all figured out after they hit it big once or twice, then eventually sour on the game after setbacks and bad luck.
And there's nothing unluckier than having to scratch the Kentucky Derby favorite, as Repole did in 2011 when Uncle Mo came down with an illness. 
"If you can scratch the favorite the day of the Kentucky Derby, how much tougher can this game get?" Repole said Monday. "If you can survive that, you can probably handle pretty much anything."
NO SWEAT DERBY BET: New users can get up to $20 returned on Kentucky Derby bet with FanDuel
As promised that day a dozen years ago, Repole did not stop coming back to Churchill Downs — even though his Derby dreams have never come close to being realized.
But at this point, Repole is either going to win a Derby or "I'm going to die trying," he said. And he may never have a better shot than Saturday when 2-year-old champion Forte goes into the gate as the favorite. 
"It would be absurd (to win)," Repole said. "I can't put into words now, and if I was blessed enough to win it, I'd probably have less words then. There's nothing more special."
Despite his humble origins in horse racing, sitting in the cheap seats as a teenager at the New York tracks, Repole is now firmly entrenched among the most successful owners in the sport. One by one, his horses have collected some of the game's biggest prizes, including Vino Rosso in the 2019 Breeders' Cup Classic and his first Triple Crown breakthrough last year with Mo Donegal. 
"I wanted to win the Belmont and was very open about it," Repole said. "The good news is we won the Belmont and now this is the race I want to win."
Uncle Mo, who was never the same horse after suffering through the liver condition that kept him out of the Derby, ostensibly got revenge in 2016 when one of his offspring, Nyquist, won the roses.
That meant a lot to Repole, who believes Uncle Mo was the most brilliantly fast horse he's owned. 
"He (could have been) American Pharoah before American Pharoah," Repole said, referring to the 2015 Triple Crown winner. 
But as an owner, Repole's subsequent attempts to win the Derby have not gone well. The seven horses he's entered since Uncle Mo have finished 12th, 11th, 14th, 17th, ninth, 17th and fifth.
Still, the results haven't deterred Repole from loading up on expensive horses in pursuit of one Derby crown. At the 2021 September yearling sale alone, Repole and his partners bought 43 horses for a total of $16 million.
Most of them haven't amounted to much yet, including Abstract ($975,000 purchase, 0 wins), Dreamlike ($975,000, 0 wins), Bailout Money ($950,000, 0 starts), Point Proven ($675,000, one win) and Fearless Soldier ($700,000, one win).
Interestingly, it was a horse Repole spotted toward the end of the auction — typically, the place where the leftovers are sold — that became the best of the bunch.
At $110,000, Forte was not one of the least expensive horses Repole and partner Vincent Viola bought during the sale. On looks, the horse reminded Repole of his sire, a fast horse named Violence that Pletcher trained a decade ago but had to be retired after an injury early in his 3-year-old season.
By that point in the sale, most of the big owners had already exhausted their budget and gone home. But Repole just kept collecting talent. In the moment, he thought he might have overpaid for Forte since most of the owners willing to spend six figures on a horse were done buying. 
It's turned out to be a bargain: Forte showed early potential, won the Breeders' Cup Juvenile last fall and has had an ideal path to the Derby this spring with wins in the Fountain of Youth Stakes and the Florida Derby. He has already made $2.4 million on the track and will be worth several times that as a stallion, particularly if he were to win Saturday.
'It's about being there, hanging round the rim at all times," he said. "We (might buy) 100 but I'll get outbid on 150. Most owners like me would say, 'I'm just going to get 20 and not get outbid.' When they run out of money, I've still got money, so I'm OK. I'm fine. In fact, if I keep bidding and cost you a lot of money I'm OK with that also."
Whether in business, horse racing or his other interests like St. John's basketball, Repole knows what he wants and understands what it takes to get it. Recently, Repole shared a photograph on social media of himself and new Johnnies coach Rick Pitino, of whom he joked 'I have to get him some players."
In the old days, that would have been taboo for a booster to make inferences about paying athletes. But in the world of athletes earning money off their name, image and likeness, someone like Repole can potentially make or break a program's recruiting efforts. 
"I love winning," he said. "If you want to win in college basketball, you hire the best of the best. We're going to have a lot of fun with him."
And win or lose, Repole insists he's going to have fun at the Derby this weekend with dozens of friends and family coming to Louisville. He has spent the early part of this week palling around with his brother, a former New York City cop, and friends that used to go with him to the harness track at Yonkers Raceway where his love for the sport grew as a teenager. 
All these years later, Repole wants to win the Derby more than ever — and has spent a fortune trying. But a dozen years after the Uncle Mo disappointment, he has even more enjoyment in the experience no matter what happens when the gate opens.
"We've been so blessed," Repole said. "I just think as I get older, I started this game in my 30s and now I'm in my 50s, you always appreciate it more. I'm enjoying it more than ever before. I feel confident in the horse. I told my family yesterday, 'Listen, if we win this it's going to be great. And if we don't win this, it's going to be great.' "
Follow USA TODAY Sports columnist Dan Wolken on Twitter @DanWolken
This post appeared first on USA TODAY