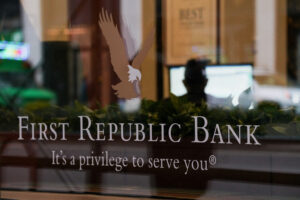 PNC, JPM, Citizens among final bidders in First Republic auction -sources
NEW YORK – PNC Financial Services Group, JPMorgan Chase & Co. and Citizens Financial Group Inc. were among banks that submitted final bids for First Republic Bank on Sunday in an auction being run by US regulators, sources familiar with the matter said.
The Federal Deposit Insurance Corp had been expected to announce a deal on Sunday night, with the regulator likely to say at the same time that it had seized the lender, three sources previously told Reuters.
As the process dragged into Sunday evening, one source familiar with the situation said the regulators had come back multiple times with requests for bids to be revised and specific criteria to be refined on assets that were being bid. That source said there was a sense a decision was nearing.
US regulators have been trying to clinch a sale of First Republic over the weekend, with roughly half a dozen banks bidding, sources said on Saturday, in what is likely to be the third major US bank to fail in two months. Guggenheim Securities is advising the FDIC, two sources familiar with the matter said on Saturday.
FDIC was not immediately available for comment. Guggenheim, FRC and the banks declined to comment.
A deal for First Republic would come less than two months after Silicon Valley Bank and Signature Bank failed amid a deposit flight from U.S. lenders, forcing the Federal Reserve to step in with emergency measures to stabilize markets.
While markets have since calmed, a deal for First Republic would be closely watched for the amount of support the government needs to provide.
The FDIC officially insures deposits up to $250,000. But fearing further bank runs, regulators took the exceptional step of insuring all deposits at both Silicon Valley Bank and Signature.
It remains to be seen whether regulators would have to do so at First Republic as well. They would need approval by the Treasury secretary, the president and super-majorities of the boards of the Federal Reserve and the FDIC.
In trying to find a buyer before closing the bank, the FDIC is turning to some of the largest US lenders. Large banks had been encouraged to bid for FRC's assets, one of the sources said.
JPMorgan holds more than 10% of the nation's total bank deposits. Federal law prevents a large bank from an acquisition that would put it above a threshold of 10% of total deposits, but that could be waived by banking regulators in the event it was buying a failed bank, according to text of the 1994 law and interpretation of the document by a source who is expert on bank failures.
STUNNING FALL
First Republic was founded in 1985 by James "Jim" Herbert, son of a community banker in Ohio. Merrill Lynch acquired the bank in 2007, but it was listed in the stock market again in 2010 after being sold by Merrill's new owner, Bank of America Corp BAC.N, following the 2008 financial crisis.
For years, First Republic lured high-net-worth customers with preferential rates on mortgages and loans. This strategy made it more vulnerable than regional lenders with less-affluent customers. The bank had a high level of uninsured deposits, amounting to 68% of deposits.
The San Francisco-based lender saw more than $100 billion in deposits fleeing in the first quarter, leaving it scrambling to raise money.
Despite an initial $30 billion lifeline from 11 Wall Street banks in March, the efforts proved futile, in part because buyers balked at the prospect of having to realize large losses on its loan book.
A source familiar with the situation told Reuters on Friday that the FDIC decided the lender's position had deteriorated and there was no more time to pursue a rescue through the private sector.
By Friday, First Republic's market value had hit a low of $557 million, down from its peak of $40 billion in November 2021.
Shares of some other regional banks also fell on Friday, as it became clear that First Republic was headed for an FDIC receivership, with PacWest Bancorp down 2% after the bell and Western Alliance down 0.7%. – Reuters