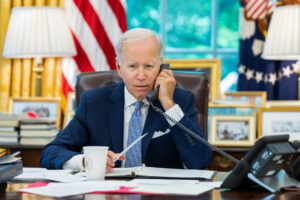 Biden attacks news outlets for 'lies of conspiracy'
WASHINGTON — US President Joseph R. Biden on Saturday, in a possible preview of a 2024 presidential campaign theme, attacked news outlets he said used "lies told for profit and power" to stir up hatred, as he coupled his remarks with pointed jokes about Fox News.
Speaking at the annual White House Correspondents' Association dinner, Mr. Biden referred to "truth buried by lies," in an apparent reference to false conspiracy theories that his 2020 election win was the result of a massive voter fraud.
"Lies told for profit and power. Lies of conspiracy and malice repeated over and over again designed to generate a cycle of anger and hate and even violence," Mr. Biden said.
That cycle, Mr. Biden added, has emboldened local jurisdictions to ban books, and "the rule of law and our rights and freedoms to be stripped away."
Zeroing in on what he characterized as "an extreme press," Mr. Biden at the same time joked that if he called Fox News "honest, fair and truthful then I can be sued for defamation."
Earlier this month, Fox Corp. settled a defamation lawsuit by Dominion Voting Systems for $787.5 million in a case that centered around Fox's false claims that the 2020 presidential election had been manipulated in favor of Mr. Biden.
And in a jab at former President Donald Trump, Mr. Biden quipped that comedian Roy Wood, Jr., who also was a featured speaker at the dinner, had offered him $10 to keep his speech short.
"That's a switch — a president being offered hush money," Mr. Biden said to laughter.
On April 4, Mr. Trump was charged with 34 felony counts in a case involving an alleged $130,000 hush payment to an adult film star during his 2016 presidential campaign. Trump pleaded not guilty to all of the charges.
PRESS FREEDOM
This annual dinner is attended by scores of reporters who cover the White House, along with many government officials. It also has become a showcase for entertainment industry stars to hobnob with Washington's power elite.
Presidents — although not Mr. Trump — normally attend the dinner and use their speeches as nods to the US Constitution's First Amendment guaranteeing freedom of speech and the press.
But the deep partisanship that has washed across American politics in recent years has at times turned the light-hearted dinner, known in Washington as "the nerd prom," into a tense affair.
In 2011, then-President Barack Obama used part of his speech to skewer Mr. Trump, who was sitting in the audience. At the time Mr. Trump had been spreading the falsehood that Mr. Obama was not born in the United States.
More than a decade later, Mr. Trump was still hovering over this spring rite.
Mr. Biden said he and his administration were "here to send a message to the country and quite frankly to the world. A free press is a pillar….of a free society, not the enemy."
Mr. Trump used the term "enemy of the people" to refer to some journalists as a way of criticizing unflattering news coverage of his 2016 presidential campaign and his term in the White House.
Before the dinner began, Mr. Biden held a private meeting with the family of Evan Gershkovich, the Wall Street Journal reporter who was arrested on March 30 in Russia and subsequently charged with espionage. The US government has said he is being wrongfully detained.
"Journalism is not a crime," Mr. Biden said as he spoke of efforts underway to free reporters all over the world who are being held in detention.
The president and First Lady Jill Biden also met with Brittney Griner, a professional basketball player released last December by Moscow after being imprisoned on charges of drug smuggling.
After discussing the arduous efforts required to free Americans being held in foreign jails, Mr. Biden pivoted to a lighter portion of his speech, even turning his humor on himself.
"I believe in the First Amendment," the 80-year-old president quipped, adding: "Not just because my good friend Jimmy Madison wrote it."
James Madison was the fourth US president, serving from 1809-1817. — Reuters