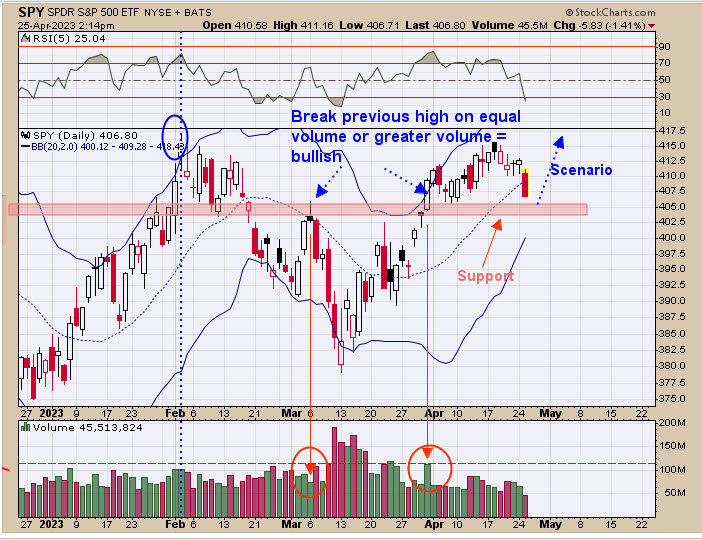 The Ord Oracle April 25, 2023
SPX Monitoring Purposes: Long SPX on 2/6/23 at 4110.98.
Monitoring Purposes GOLD: Long GDX on 10/9/20 at 40.78.
Long Term SPX Monitor Purposes: Neutral.
Don't believe an extended decline is beginning here. March 31 jumped above the previous high of March 6 with a "Sign of Strength" (noted with red arrows), which suggests a valid break to the upside and now the previous high (March 6 high near 405 SPY) should act as support (light-shaded pink area is support). The SPY is near the support now. Our thinking is that, as April is up 94% of the time in pre-election years, the support near 405 SPY will hold and the market will again try to rally. (Food for thought; In pre-election years like this year, if January was up–and it was up over 6% in 2023–then April is up 88% of the time.)
The bottom window is the VIX, which touched a new short-term low yesterday. Worthwhile tops in the SPX usually don't form when the VIX touches to a new short term low. What can be troubling for the market is when the SPX trades at higher highs and the VIX trades at higher lows (circled in red on bottom window) where worthwhile tops can form. Page one suggests SPY is near support near the 405 level. If the market does rally from support and trades to new short-term high while VIX fails to trade to new short term low, we will see a negative divergence. If the market rallies to new short-term highs while VIX trades to new short-term lows, there will be a positive divergence.
Tim Ord,
Editor
www.ord-oracle.com. Book release "The Secret Science of Price and Volume" by Timothy Ord, buy at www.Amazon.com.
Signals are provided as general information only and are not investment recommendations. You are responsible for your own investment decisions. Past performance does not guarantee future performance. Opinions are based on historical research and data believed reliable; there is no guarantee results will be profitable. Not responsible for errors or omissions. I may invest in the vehicles mentioned above.