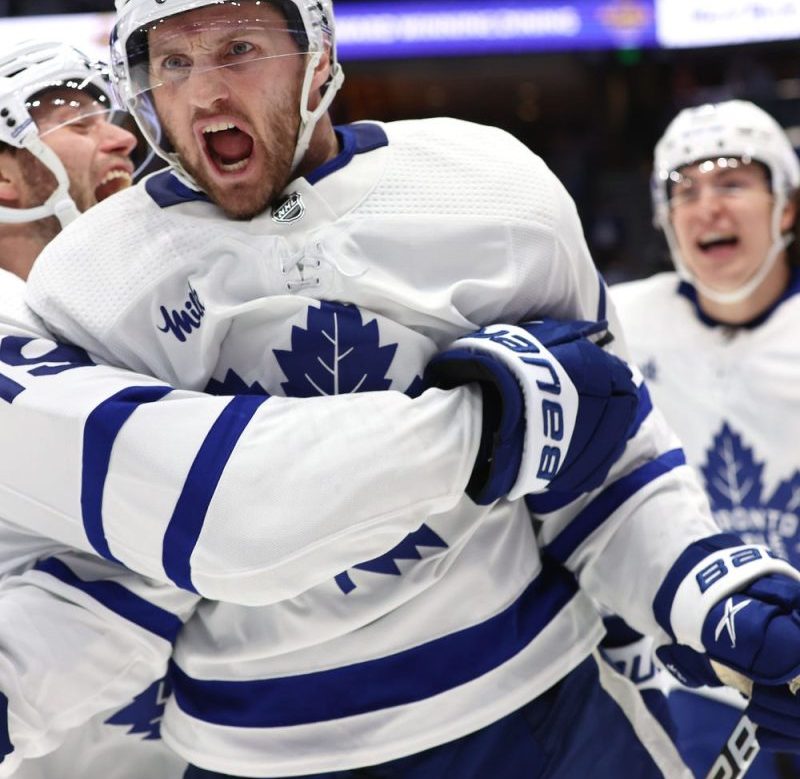 NHL teams in trouble: Avs star suspended; Lightning blow lead
The Toronto Maple Leafs' first-round struggles seemed to be returning again Monday night.
Up 2-1 in the series against the Tampa Bay Lightning, they found themselves down 4-1 after two periods. The Lightning had put on a defensive clinic in the first period. Goalie Andrei Vasilevskiy, who wasn't his usual stalwart self in the first three games, had stopped 18 of 19 shots. Defenseman Victor Hedman appeared to be in his pre-injury form.  
But the Maple Leafs rallied to win 5-4 in overtime on an Alexander Kerfoot power-play goal and grabbed a 3-1 series lead. Toronto can knock off the Lightning at home on Thursday when Michael Bunting is eligible to return from his three-game suspension.
'Maybe there was just a little bit of mindset of we'll just close this one out, but obviously Toronto had different ideas,' Lightning coach Jon Cooper said. 
Follow every game: Latest NHL Scores and Schedules
The Lightning are far from out because they have overcome adversity during their three consecutive trips to the Stanley Cup Final and the Maple Leafs haven't escaped the first round since 2004.
But Toronto is clicking because its stars are. Auston Matthews scored twice on Monday, giving him seven points in four games. Mitch Marner (two assists) and William Nylander (three assists) continued their strong play. Morgan Rielly scored the tying goal after getting the overtime winner in Game 3. Trade deadline acquisition Ryan O'Reilly, who had tied Game 3, had two assists Monday and made several strong defensive plays.
The Lightning, meanwhile, have blown second-intermission leads in back-to-back games after going 28-1-2 in the regular season when leading entering the third period. And in the biggest surprise, Vasilevskiy has a 4.33 goals-against average and .856 save percentage.
Which other teams find themselves in trouble?
New York Islanders (1-3)
The Carolina Hurricanes can finish off the series Tuesday night. The banged-up Hurricanes (who are without Max Pacioretty, Andrei Svechnikov and Teuvo Teravainen) are finding enough offense to win, with Mackenzie MacEachern getting two points in Game 4 after he was recalled. The Islanders have one power-play goal in 12 attempts.
Winnipeg Jets (1-3)
They already were without No. 1 defenseman Josh Morrissey and forward Nikolaj Ehlers. Then leading goal scorer Mark Scheifele, who initially crashed hard into the boards, went to the dressing room after taking a shot on a power play and didn't return. He's day-to-day. The Jets kept it tight but lost 4-2. The Golden Knights can wrap up the series on Thursday at home.
New York Rangers (2-2)
The New Jersey Devils won both games at Madison Square Garden after switching to Akira Schmid in net and head home with a chance to take a lead in the series on Thursday. Schmid has stopped 57 of 59 shots. The Rangers' power play has gone 0-for-8 over the last two games after Chris Kreider had scored four power-play goals in the first two games. Devils star Jack Hughes scored his third goal of the series Monday while Rangers stars Mika Zibanejad and Artemi Panarin have been held without a goal.
'We didn't show up,' coach Gerard Gallant said of Monday's 3-1 Devils win. 'We didn't play hard enough. We didn't compete hard enough. All we did was yell at the linesman for getting thrown out of the faceoffs. A lot of bad things.'
Colorado Avalanche and Seattle Kraken (2-2)
Both teams will be missing key players when the series resumes Wednesday in Denver. Kraken 40-goal scorer Jared McCann is out for Game 5 and possibly beyond after being injured on a hit by Colorado's Cale Makar well after he had taken a shot and the puck appeared to go over the glass. Makar, the Avalanche's top defenseman and last year's playoff MVP, has been suspended for a game for interference, the NHL announced Tuesday.
Florida Panthers (1-3)
The Boston Bruins can wrap up the series at home on Wednesday. That's not unexpected after their record-setting season of 65 wins and 135 points. The Panthers tried Sergei Bobrovsky in net in Game 4 after Alex Lyon was pulled in Game 3, but Bobrovsky gave up five goals on 30 shots. Bruins captain Patrice Bergeron is scheduled to return to practice Tuesday and play in Game 5 if all goes well. 
This post appeared first on USA TODAY