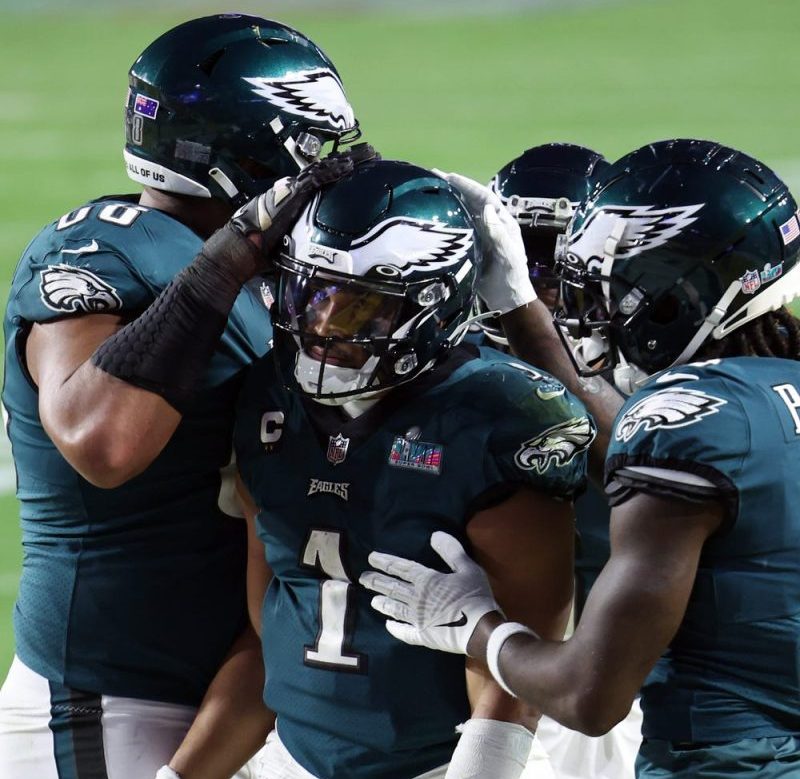 Star QB after big extension: 'Money is nice. Championships are better'
Jalen Hurts knows how to turn a phrase.
'Money is nice,' the Philadelphia Eagles quarterback said Monday at a news conference for his five-year, $255 million extension ($179.3 million guaranteed). 'Championships are better.'
The annual average salary makes Hurts the highest-paid player in NFL history. Earlier in his meeting with the media, Hurts had been asked why he accepted a deal with less guaranteed money than quarterbacks Kyler Murray (Arizona Cardinals, $189.5 million) and Deshaun Watson (Cleveland Browns, $230 million).
'You look at all the great teams, it takes a village,' Hurts said.
He continued: 'We got something special going on.'
NFL Draft Hub: Latest NFL Draft mock drafts, news, live picks, grades and analysis
Hurts reiterated multiple times his championship aspirations, two months after the Eagles lost Super Bowl 57 to the Kansas City Chiefs. Hurts scored three rushing touchdowns and completed 27-of-38 passes for 304 yards and one touchdown in the 38-35 defeat.
The former Alabama and Oklahoma quarterback enjoyed a breakout season in 2022, with Philadelphia going 16-2 (including the postseason) with Hurts as the starter. During the regular season, Hurts compiled career highs in passing yards (3,701), touchdown passes (22) and passer rating (101.5). He was achieved second-team All-Pro honors and finished second in MVP voting. 
Philadelphia selected Hurts in the second round (53rd overall) in the 2020 draft to back up Carson Wentz. 
Hurts said he is on a constant quest to be the best player he can be. 
'The only thing I wanted to do was be the best version of myself. That hasn't changed,' Hurts said. 'That won't change.' 
Hurts thanked the city of Philadelphia, owner Jeffrey Lurie and general manager Howie Roseman for the opportunity and the trust.
'It's not a moment for me to reflect, because the journey's not over,' Hurts said.
Follow Chris Bumbaca on Twitter @BOOMbaca.
This post appeared first on USA TODAY