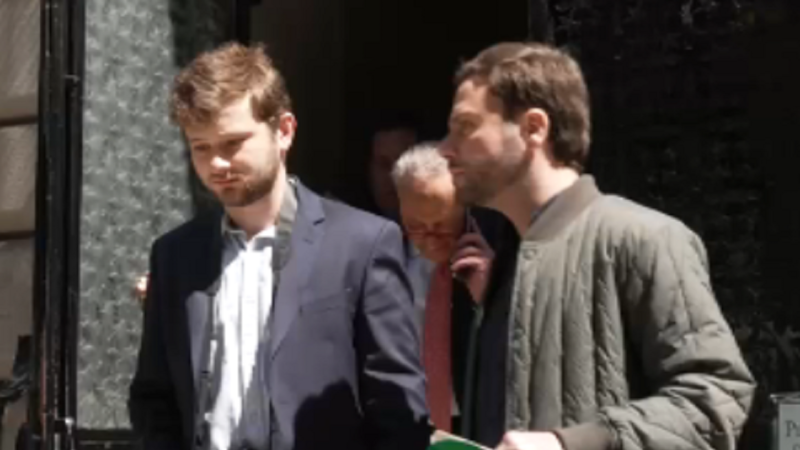 Schumer dodges questions about attending event with man accused of running secret NYC Chinese police station
Senate Majority Leader Chuck Schumer dodged questions from Fox News on Monday after being photographed last month with a man at a gala who is now facing federal charges for allegedly running a secret Chinese police station in New York City. 
The prominent New York Democrat was asked twice about the matter outside the Roosevelt House at Hunter College in Manhattan – where Schumer was the honorary speaker at an Equal Rights Amendment event this morning – but he chose not to respond. 
Before and after the event, Schumer appeared to be on his phone. 
'Hi, Senator, what can you tell us about attending a gala last month and taking photos with a suspected CCP agent?' Schumer was asked as he walked outside the building. 
VIDEO SHOWS SUSPECT ACCUSED OF OPERATING SECRET CHINESE POLICE STATIONS MINGLING WITH SCHUMER, ADAMS 
'How well do you know the man accused of running the secret police station in New York City?' Fox News's Jennifer Johnson also asked the senator before he got into a vehicle. 
Schumer's office also did not immediately respond to a request for comment Monday from Fox News Digital. But a spokesperson later told Fox News Digital: 'Senator Schumer attends countless events in every corner of New York, including with the Asian American community. He was attending the annual Fukinese Association dinner, as he has in years before, and took photos with those present. He had never met this man before and did not know who he was.'
Video recorded on March 18 appears to show Lu Jianwang standing alongside New York City Mayor Eric Adams at an event where Schumer also spoke. 
2 NEW YORK RESIDENTS ALLEGEDLY RAN SECRET CHINESE POLICE STATION   
Lu was arrested last week and charged with conspiring to act as an agent of China's government, according to the U.S. Attorney's Office for the Eastern District of New York. 
The event was a fundraiser for the Fukien American Association, a cultural nonprofit linked to the Chinese province. 
When announcing Lu's arrest last week, U.S. Attorney Breon Peace said China's Ministry of Public Security (MPS) 'has repeatedly and flagrantly violated our nation's sovereignty, including by opening and operating a police station in the middle of New York City.'  
'Two miles from our office, just across the Brooklyn Bridge, this nondescript office building in the heart of bustling Chinatown in Lower Manhattan has a dark secret. Until several months ago, an entire floor of this building hosted an undeclared police station of the Chinese National Police,' Peace said. 'Now, just imagine the NYPD opening an undeclared secret police station in Beijing. It would be unthinkable.' 
In a statement, Adams' office told Fox News that the mayor's attendance at an event is either to show support for a local community or the city, and does not signal any kind of endorsement.  
A spokesperson for Adams also said he does not know Lu.  
Fox News' Bryan Llenas contributed to this report. 
This post appeared first on FOX NEWS