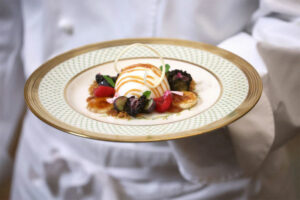 Crab cakes, beef and banana splits: Biden's South Korea state dinner menu unveiled
WASHINGTON — Guests at President Joseph R. Biden's and First Lady Jill Biden's state dinner with their South Korean counterparts will feast on Maryland crab cakes and braised beef short ribs followed by banana splits for dessert, the White House said on Monday.
The Bidens are hosting South Korean President Yoon Suk Yeol and his wife Kim Keon Hee for a state visit on Wednesday that will conclude with dinner in the East Room, which will feature tables decorated with large vases filled with boughs of blooming cherry blossoms that tower six feet into the air.
The meal itself will kick off with crab cakes along with cabbage, kohlrabi, fennel and cucumber slaw. A chilled yellow squash soup will round out the first course.
The main course features beef, butter bean grits, sorghum-glazed carrots and pine nuts.
The dessert is a deconstructed banana split with lemon bar ice cream, fresh berries, mint ginger snap cookie crumble and "Doenjang caramel."
"Joe's favorite will be the last," Jill Biden quipped to reporters about her husband, whose love of ice cream is well documented.
"We hope to showcase the harmony of our cultures and our people intertwined," at the dinner, she said.
The first lady worked with Chef Edward Lee, author of Smoke & Pickles and Buttermilk Graffiti, along with the White House chefs to design the menu.
"The first person I called was my mother," Mr. Lee said, noting she had immigrated to the United States from Korea. "To come full circle and to give back and be able to do this was … a very proud moment for me and also for my mom."
Asked what advice she gave, Mr. Lee said: "She just said don't mess it up." — Reuters