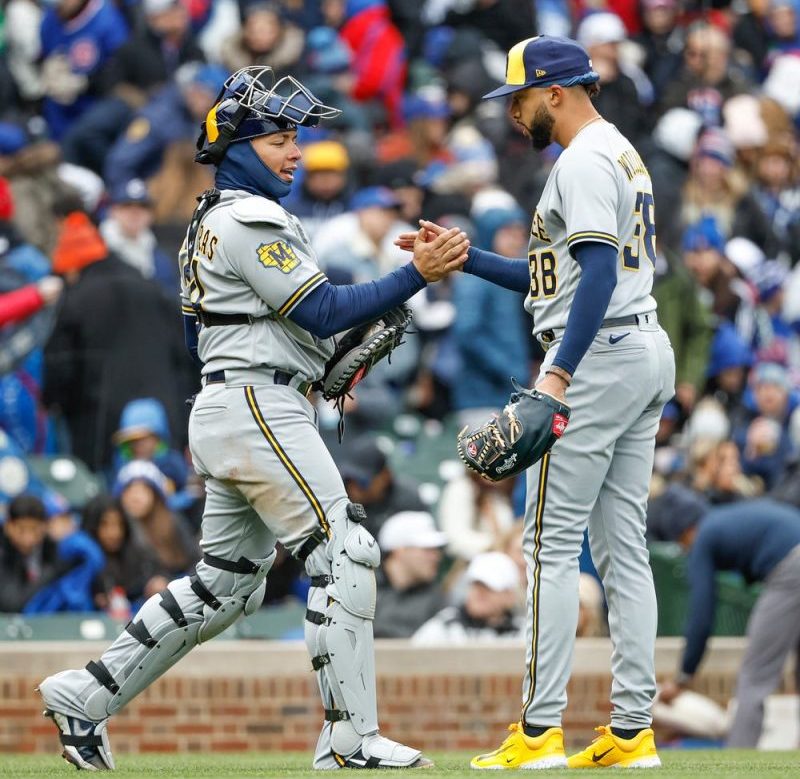 The Brewers, irate over Hader trade, regroup after 2022 season crumbled
PHOENIX – The Milwaukee Brewer players were stunned, completely blindsided by the news, leaving them so enraged they couldn't see straight.     
Really, we're trading Josh Hader, our four-time All-Star closer, and three-time National League reliever of the year? 
In the middle of a pennant race? 
While leading the NL Central by three games on the way to a fifth consecutive postseason? 
"Everybody still asks me, 'Why did you trade Hader?''' All-Star reliever Devin Williams, who assumed the closer's role, told USA TODAY Sports. "To this day, I still don't know. I still can't figure it out. 
Follow every game: Latest MLB Scores and Schedules
"When that happened last year, it just brought us down. It wasn't something that was quickly forgotten. And rightfully so, to be honest with you. I mean, trade your [expleitive] closer? That's how we won last year. I was No. 1 in holds. [Brad] Boxberger was No. 2 in holds. Hader was No. 1 in saves. That's how we won. Then, you trade the guy at the end, and say it's going to be fine. 
"You can't just put numbers in a computer. A computer algorithm doesn't tell you how different it's going to feel doing this. These are people. There's a lot of chemistry stuff. You see how that turned out for us.'' 
The Brewers, who traded Hader to the San Diego Padres for closer Taylor Rogers and two prospects, immediately collapsed. 
They went to Pittsburgh and were swept. After spending 95 days in first place, it took them five days to fall out of first place. They were never again the same. 
They wound up sitting at home in October for the first time since 2017, missing the playoffs by one game. 
"It shocked us really, we weren't expecting it as a first-place team,'' starter Brandon Woodruff said. "We're humans. Guys have relationships. Hader is a great dude. A great clubhouse guy. It didn't affect just a few guys, it affected everybody. 
"It was the perfect storm. Everything just kind of crumbled.'' 
MLB PAYROLLS 2023: Full list of every baseball team from highest to lowest
2023 MLB SALARIES: Database of every player on an opening day roster
Said outfielder Christian Yelich: "Nobody makes the moves with the intention of it not working out, but obviously it is what it is. It didn't work out. We make mistakes on the field, it's fair to say they made a mistake there. They'll admit that. We fell apart.'' 
The Brewers had a choice this spring, keep brooding about the trade, or do some self-reflection, even challenging one another, making sure they were strong enough to withstand future adversity. 
Well, after players were paired off during spring training to eat dinner, and report the next morning what they learned about each other, the front office organized a full team breakfast the first day of each road trip, and the players laid down instructions to minimize their time on cell phones and spend time talking to one another, voila! 
The Brewers have become a tight, close-knit team, who genuinely like hanging out with each other, enjoy arriving early to the clubhouse, and guess what? 
They're doing a whole lot of winning, too. 
The Brewers are off to sizzling 14-6 start, tied for the third-best 20-game start in franchise history.
"I feel like now we are way more together than last year,'' says shortstop Willy Adames. "We do a lot of stuff off the field, and hanging out, and last year we didn't do any of that kind of stuff. It was bad last year. The vibe was not there. Then you go home, turn on the TV, see the postseason, and think, 'Man, we should have been there.'' 
Craig Counsell, who has managed more games than any Brewers manager in history, sensed last year that the clubhouse vibe wasn't quite right. The Hader trade just exposed it. He spoke with veterans at the end of the season, talked with the front office, and changes were made. 
"I remember talking to Couns about it at the end of the year,'' 2021 Cy Young winner Corbin Burnes said. "There was something missing. We had multiple conversations about it, how we can get guys to hang out more, go to lunch together, go to dinner together, just getting to know your teammates a little more.'' 
They opened the season with homegrown rookies Garrett Mitchell, Joey Wiemer and Brice Turang. They brought in veterans Luke Voit and Brian Anderson. They traded for Atlanta catcher William Contreras and outfielder Jesse Winker from Seattle. And they signed veteran free-agent starter Wade Miley, one of the most beloved clubhouse figures in the game. 
The clubhouse vibe dramatically changed, even with the early-season injuries to starters Woodruff, Adrian Houser and Aaron Ashby. 
"The personalities are different in here now,'' Williams says. 'Guys want to come in here every day versus last year when it wasn't like that. There were some guys, to be honest with you, it just seemed like they really didn't want to be here when they showed up for work. 
"There's just a conscious effort to be different as opposed to last year.'' 
The Brewers, who implemented a team breakfast on the first day of each road trip in 2018, complete with an omelette station, went a step further this spring when Counsell paired up two players for dinner. He wanted players with different personalities and backgrounds to get to know one another. 
He got left-hander Hoby Milner and and infielder Luis Urias together one day, reliever Joel Payamps and Winker another, reliever Javy Guerra and Yelich on another. 
It created some rather interesting conversations with Winker reminding Payamps that he once hit a walk-off against Payamps, only for Payamps to tell Winker he also broke his bat three times. Milner and Urias spoke about their different upbringings and family. 
"We just made a point of trying to connect with each other,'' Counsell said. "I think clubhouses in general are like anywhere else, you have your friends, you have people that you are close to, and people you're not close to, and those are the people you need to connect with. That's what really brings teams together.'' 
Brewers GM Matt Arnold, recognizing the value, too, made a conscious effort to change the clubhouse dynamic. They believed that Winker, who was an outcast in Seattle, would be a perfect fit returning to the NL Central where he played five years for the Reds. And Miley made such an impact in his 2018 season with the Brewers they were convinced he'd be the ideal centerpiece to make everyone feel comfortable with each other. 
"Wade Miley, honestly, has helped us more than anyone getting everybody connected,'' Woodruff says. "He's just old school. He wants to talk. He wants to interact with everybody. And he can talk with anybody. He just goes out there and pitches, showing you can go out there and have fun, and do your job, too. 
Miley, who contemplated retirement after last season after pitching for eight teams in his 12-year career, instead returned on a one-year, $4.5 million contract, and has been everything the Brewers envisioned, going 2-1 with a 1.50 ERA in his first three starts.
"Man, I just love it here,'' Miley says. "I'm just here to keep it loose. People get too stressed out with this game, and it only makes it worse. You got to joke about it.'' 
The Brewers realize that a close-knit clubhouse doesn't win you a pennant, but it sure can make the grind much easier, providing an edge that can't be quantified by numbers. 
"Missing the playoffs by one game stunk last year,'' Arnold said. "We had to assess the mix, the vibe, the culture. We asked, how can we make it great, how can we make Milwaukee a destination.'' 
And, yes, they dissected the Hader trade, evaluated what went wrong, and determined it was a valuable lesson. 
"We definitely learned some things throughout that process,'' Arnold said. "Josh Hader meant a lot to a lot of people here, including me. He was a great player for so long. Just the challenges of existing in our market, we have to make some tough decisions that are not popular and go against the grain. It was not a white flag trade 
"We had to weather that last year, we learned some lessons from it, and we will making decisions going forward.'' 
There's nothing that can be done now. Hader is gone. The Padres aren't trading him back. The Brewers players are focusing now on returning to the postseason, year, vowing never to look back. 
No one is holding a grudge. 
No one is still angry. 
It's a new year. 
And as the Brewers will tell you – opening a new tradition by putting a cheesehead on top of anybody who homers – it sure is a new vibe. 
"It is what it is, we've got to let it go,'' Woodruff said. "The trade hurt us, but at the end of the day, we are professionals. We have to show up and do our job, and we didn't do our job. 
"It was a valuable lesson to everyone.'' 
The Las Vegas Athletics?
The Oakland A's, after spending the last 20 years trying to build a new ballpark in the Bay Area, say they are finally out. 
They just doled out more money on a 49-acre lot in Las Vegas than they're spending on their entire player payroll – and plan to open the 2027 season in a brand new $1.5 billion retractable-roof stadium. 
Then again, they don't say who's coming up with the money. 
They are asking Nevada officials for $500 million in public funding by the end of the legislative session on June 5. If the tax package collapsed, the A's can simply renege on their deal and get their money back. 
It's a shame it has even come to this. 
It could have all been avoided if MLB had simply told the San Francisco Giants two decades ago that the A's could move to San Jose, or if the A's had an owner who actually wanted to keep the A's in the East Bay instead of running the franchise into the ground. 
Who knows for sure if the A's really do wind up in Las Vegas, and if they do, just how long will it last before the A's start looking for their next city? 
It's going to be a colossal failure in Las Vegas. 
Look, baseball can barely survive in Phoenix, which is the fifth-largest city in the country with 1.6 million residents, and the 11th-largest TV market.  
Las Vegas has the same weather as Phoenix, brutally hot in the summer, with just 646,000 residents and the 40th-largest market. 
The A's try to counter the argument by saying they will rely on the tourism of Las Vegas. 
Please. 
Tourists are not coming to Las Vegas in the 110-degree summer days to catch a ballgame. They will be in the casinos and lounging at the luxurious pools 
Oh, and this talk of building an entertainment district like the Ballpark Village in St. Louis, or the Battery in Atlanta, believing that it could draw 10 million tourists. 
Are you serious? 
Who is in the world is going to be hanging out at an entertainment district outside of a ballpark in the desert when you can be enjoying the cool comfort of a casino with blackjack tables and a sportsbook just an arm's length away? 
Oh, and how about the fantasy insisting that loyal A's fans will now make the trek from the Bay Area across the desert to see them play in Las Vegas? 
Zero chance. 
Just ask the good folks of San Diego, who were passionate Charger fans, but are so disgusted by the franchise's move to Los Angeles that they refuse to spend a dime buying a ticket to support them. 
Sure, the Raiders will forever be a gold mine and tourist attraction for all NFL fans in Las Vegas. 
The expansion Golden Knights are wildly successful in the NHL. 
The NBA will probably work, too. 
But the Las Vegas A's? 
Good luck. 
If the A's think they have trouble drawing fans in Oakland, baby, just wait until they're in Vegas. 
They ain't seen nothin' yet. 
Sticky situation
It's time for a renewed urgency by Major League Baseball to develop a baseball with an enhanced grip to avoid the drama that surfaced this past week. 
It's a terrible look for everyone when future Hall of Famer Max Scherzer is suspended 10 days for either using too much rosin or having an illegal foreign substance on his hand. 
Scherzer insists it was only rosin, but the umpiring crew, led by crew chief Dan Bellino, says it was clear there was an illegal substance, causing his ejection and automatic 10-game suspension. 
"MLB needs to employ available scientific methods (not subjective),'' said Scott Boras, Scherzer's agent, "to create verifiable certainty of rules. It's not a rule, it's a standard, because a standard is subjective. A rule is specific, objective, and it has identifiable criteria.'' 
While Boras obviously is supporting his star player, the point is clear. It can be subjective. What one umpire's view of stickiness is another's view of tackiness. It's not fair for the umpires to be the judge, jury, and pitch-clock watcher while doing their own jobs.  
"No one can explain what is too sticky," Boras said. "There are no units of stickiness to quantify. How do you appropriately enforce? MLB attempts to level the playing field by using standards that are not measurable…. 
It's almost like the NBA's conundrum with their referees having different viewpoints of flagrant fouls. 
One major-league executive, who is on the competition committee, said he is hopeful that MLB can develop baseballs to be used at the Major League level within two years. It needs at least a 90% approval rate by pitchers. 
A new baseball with a tacky surface is being used at the Class AA Southern League for the first half of the season. A similar test was tried last year, but was abandoned when it became clear it was not working. They have been experimenting with different baseballs since at least 2016, hoping to find a solution. 
Well, time is of the essence, before it's too late. 
Can you imagine the outcry of a World Series game decided by a sticky vs. tacky debate? 
Around the basepaths
► The San Diego Padres quietly are worried about All-Star left fielder Juan Soto, who simply hasn't been the same player since his arrival from Washington.
The Padres believed it was simply getting adjusted to his new surroundings when he was traded at last year's deadline, but his woes continue. He's badly pressing, the Padres say, although he tells USA TODAY Sports, "I'm starting to feel a bit more comfortable, little by little.''
He's at his best when he hits line drives to left center, but has been mostly rolling the ball over these days.
The result?
He's hitting a career-worst .192 with just seven extra-base hits this season, and has a slash line of .223/.381/.387 in 75 games with the Padres. Yes, he continues to draw walks, but is considered a below-average baserunner with one stolen base in the 75 games.
The Padres plan to be in heavy pursuit for free agent Shohei Ohtani, and if they land him, Soto could be the one traded, realizing they likely wouldn't be able to meet his contract demands after already rejecting $440 million from the Nationals.
► Now that the A's may be moving to Las Vegas and the Rays are hopeful of finding a permanent home in the Tampa Bay area by the end of the year, baseball could soon be ready for serious expansion talks. 
The top two choices are clear: Nashville and Montreal. 
► Ohtani's price tag continues to soar as he's off to one of the greatest starts by a pitcher in history. He has yielded a 0.64 ERA, a .092 batting average, and a .115 slugging percentage in his first five starts. It's the lowest by a pitcher with at least 20 innings to start a season since 1893 when the pitching mound was moved to its current distance of 60 feet, 6 inches from home plate. He has yielded just eight hits this season, and has given up three or fewer hits in his last nine starts, the second-longest streak since at least 1901. 
While speculation continues to build where he may land as a free agent, the Dodgers and Padres are the clear-cut co-favorites. He loves Southern California. 
► Please send your prayers to beloved scout Dave Yoakum. The former Chicago White Sox executive is revered in the scouting industry for tirelessly helping thousands of scouts, co-founding the Professional Scouts Foundation. Now, the family is asking for your help with prayers. 
► Bryce Harper is taking not just a page, but a chapter out of the modern-medicine book of miraculous recoveries by potentially returning to the Phillies in two weeks. He is attempting to play baseball quicker than any known player in history after undergoing reconstructive elbow surgery. 
Harper underwent surgery Nov. 23, 2022, and could return perhaps May 5, just 163 days later. It would be two months earlier than the Phillies originally projected. 
Remarkably, the average time for a player to return to the baseball field is 382 days – 219 days more than Harper's targeted return – according to a study of position players who underwent Tommy John surgery by the Journal of Shoulder and Elbow Surgery, as The Athletic reported. 
"I don't want to just be the fastest,'' Harper told the Philadelphia Inquirer, "I want to be smart about it, too. I don't want to be dumb. This isn't just some rinky-dink surgery that I had. It's a big-time surgery." 
► The Cincinnati Reds would love to lock up the other two members of their young trio of starters now that they have signed Hunter Greene to a six-year, $53 million contract. They are in negotiations with left-hander Nick Lodolo and have had preliminary talks with Graham Ashcraft. 
► How stunning has the Chicago Cubs offense been this season? They have already scored at least 10 runs six times in their first 19 games, equaling their entire total in the 2022 season.
"We knew in spring training this could be a special group,'' Cubs first baseman Trey Mancini told reporters, "and it is.'' 
► Meanwhile, on the South Side of Chicago, they can no longer blame Tony La Russa. They are off to a dreadful 7-14 start, failing to win a single series this season. 
► The Royals may consider staying on the road for the rest of the summer. They are 1-12 at Kauffman Stadium this season, outscored 52-15 on their recent six-game homestand. They are 4-16 overall, the second-worst start in franchise history, hitting .203 and averaging a putrid 2.95 runs a game 
► While the pitch clock certainly has had a dramatic effect on the game this year, the banning of infield shifts has had basically no impact on the offense. The 9.1 runs per game is unchanged from two years ago with the .248 batting average just .02 higher. The batting average in balls put in play by lefties (.286) is actually down 0.1 from two years ago while the batting average for right-handed hitters when the ball is put in play is up 10 points (.305 from .295). 
The biggest difference, besides the games being 27 minutes shorter, is that stolen bases have increased from 1.7 per game compared to 1.2 per game in 2021, with a 80.8% success rate, including 94.1% stealing third base. 
► Best news of the week was White Sox closer Liam Hendriks' message that he is now cancer free. He could return to the White Sox before June. Hendriks began treatment in January for non-Hodgkin lymphoma. 
"Baseball really wasn't on my mind, but you always hope that he's going to be OK and can be back because that's what he loves to do," White Sox pitching coach Ethan Katz told reporters. "But when you get the news, the first thing you think of is his life. Is he going to get through this? Is he going to have a normal life? 
"It's hard to replace Liam Hendriks as a person and a player, so having him around is a huge asset." 
► Best performance of the week: Los Angeles Dodgers star Mookie Betts, who spent two nights in the hospital with his wife who was delivering their second child, rushing to Wrigley Field, entering the game in the sixth inning inning to pinch hit and play shortstop for the first time since 2013, and then turning a double play. 
"That,'' Betts told reporters, "was like a dream come true.'' 
► The most surprising team in baseball, scouts say? 
The Pittsburgh Pirates, who are off to their best start since 1992 with a 15-7 record. 
The most disappointing? 
The Philadelphia Phillies and St. Louis Cardinals, who already are a combined 11  games out of first place. 
► Yes, there was actually a baseball game at Fenway Park that lasted just 1 hour, 57 minutes, the quickest game at Fenway since Oct. 1, 1989, between the Red Sox and the Angels. 
Now, if there's a game that ever goes that quick between the Yankees and Red Sox on national TV, with advertising dollars suddenly evaporating, don't be surprised if the Fenway pitch clock suddenly becomes inoperable. 
► Can we start working on the Hall of Fame plaque for Dodgers starter Clayton Kershaw right now? 
Kershaw won his 200th game this week, and joined Hall of Famers Bob Gibson and Walter Johnson as the only pitchers to win at least 200 games with 2,800 strikeouts for one team. 
► Yes, New York Mets first baseman Pete Alonso actually has more homers this year (10) than the entire Washington Nationals team. 
► The early NL Cy Young favorite? 
Look no further than D-backs ace Zac Gallen, who hasn't permitted a run in 21 ⅔ consecutive innings, with a major-league leading 39 strikeouts. He generated 32 swings-and-misses and struck out 11 in his Friday start against the Padres. 
One of the best kept secrets in baseball? 
"Not anymore,'' says Padres infielder Jake Cronenworth. 
► Baseball lost one of its superb athletes this week when Dave Frost, 70, passed away from injuries related to a car accident last month. 
This is a guy who once scored 25 points against Bill Walton and UCLA while playing for Stanford. It was the most points scored by a single player against that UCLA team, which included Jamaal Wilkes. 
"If he had not hurt his back,'' said his agent David Sloane, Frost's agent, "he would have made the NBA. 
He instead was drafted by the White Sox, and won 16 games for the Angels on their 1979 AL West title team, earning the team's MVP award over fellow 16-game winner Nolan Ryan. 
► Don't be surprised if MLB tries to incorporate a designated pinch-runner in the near future, allowing a pinch-runner to enter the game once, while still permitting the player he subbed for to re-enter the game just once. It's an experiment they are trying this year in the Atlantic League. 
After all, says one MLB official who is in favor of the rule, baseball is the only sport that does not have free substitution. 
► It took 2,168 days, but Rockies outfielder Kris Bryant finally hit another home run at Coors Field. His last one there occurred on May 9, 2017, when he played for the Cubs. 
► Houston Astros utilityman Mauricio Dubon certainly is making his presence known while filling in for injured Jose Altuve, hitting .333, with a 16-game hitting streak, while not trying to dissect his success. 
"The power of belief is strong,'' Astros manager Dusty Baker says. 'Don't try to figure out why, just keep doing it. When you're talking to surfers: "When you ride that wave, just ride it all the way to the beach and jump off and go back and catch another one. If you start worrying about it or thinking about it, then you'll fall off, so you just ride it.''' 
► Minnesota Twins shortstop Carlos Correa has become a book aficionado, telling the St. Paul Pioneer Press that "it's a great way to keep evolving, keep trying to get better as a human.' 
His reading list: 
"Legacy'' "Atomic Habits" "The Dad's Edge'' "How to Really Love Your Child. "The Subtle Art of Not Giving A F*ck" "The Four Agreements: A Practical Guide to Personal Freedom" "Surrounded by Idiots" "Think Again: The Power of Knowing What You Don't Know" "The Art of War" 
Follow Nightengale on Twitter: @Bnightengale 
This post appeared first on USA TODAY