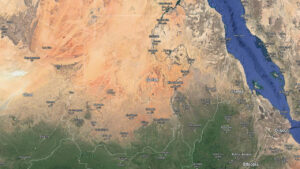 Foreign states evacuate citizens from Sudan
KHARTOUM – Sudan's sudden slide into conflict between the army and a paramilitary group called Rapid Support Forces (RSF) has stranded thousands of foreigners, including diplomats and aid workers, and countries are working to evacuate their nationals.
Several evacuations are by air. Others are via Port Sudan on the Red Sea, which is about 650 km (400 miles) northeast of Khartoum, but is about 800 km (500 miles) by road.
This is the status of some evacuations:
UNITED STATES
US special forces evacuated all US government personnel and their dependents, along with a few diplomats from other countries, from the embassy on Saturday using helicopters that flew from a base in Djibouti and refueled in Ethiopia. They were not fired on during the evacuation.
Washington does not plan to coordinate an evacuation of other Americans but is looking at options to help them leave.
BRITAIN
British armed forces staged a "complex and rapid evacuation" of all diplomatic staff and their families from Sudan, Prime Minister Rishi Sunak said on Sunday.
He said the government was pursuing every avenue to end the bloodshed and ensure the safety of British nationals there. The Foreign Office urged nationals to shelter in place and let it know where they were.
The defense minister said British troops undertook the operation alongside the United States, France, and other allies.
FRANCE
A French plane carrying about 100 people left Khartoum on Sunday for Djibouti with a second plane carrying a similar number preparing to take off, France said, adding that operations would resume on Monday.
The plane also carried the European Union delegation along with some other nationalities.
Earlier, the warring army and RSF each accused the other of attacking a French convoy. The army said the RSF had fired on the convoy, wounding a French national.
The RSF said it had been attacked by aircraft during the evacuation, leading to a French national being wounded, and it had returned the convoy to its starting point.
France's Foreign Ministry has not commented on the reported attack or injury.
GERMANY
Germany said a first military plane evacuated 101 citizens to Jordan, with two more aircraft still in Sudan. Germany had earlier said it had roughly 200 citizens in the country.
ITALY
Italy said its nationals would be taken out of Sudan on Sunday night along with some people from Switzerland, Vatican City and other European countries.
Italy's foreign minister said some 140 Italians would be evacuated, plus around 60 people from other countries.
EGYPT
Egypt said it evacuated 436 of its nationals out of about 10,000 in neighbouring Sudan.
It said one of its diplomats had been wounded by gunfire, without giving details.
SAUDI ARABIA AND GULF STATES
Saudi Arabia on Saturday took 91 Saudis and about 66 people from other countries out from Port Sudan by naval ship to Jeddah, across the Red Sea.
Kuwait said all citizens wishing to return home had arrived in Jeddah.
Qatar thanked Saudi Arabia for helping evacuate Qatari citizens. Sudan's army accused the RSF of attacking and looting a Qatari embassy convoy heading to Port Sudan. Neither the RSF nor Qatar have commented on that and it was not clear if it was the same group that left for Saudi Arabia.
RUSSIA
Moscow's ambassador in Khartoum told Russian state media that 140 out of roughly 300 Russians in Sudan had said they wanted to leave. Evacuation plans were made but were still impossible to implement because they involve crossing frontlines, the ambassador said. He added there were about 15 people, including a woman and child, stuck in a Russian Orthodox church close to heavy fighting in Khartoum.
OTHER COUNTRIES
Jordan said four planes carrying 343 people, including Jordanian nationals and residents of Palestine, Iraq, Syria and Germany, had departed Sudan.
Libya's embassy in Khartoum said 83 Libyans including diplomats and their families, students and airline and bank employees had reached Port Sudan for onward travel home.
Spain said it evacuated diplomatic personnel and citizens, as well as others from Europe and Latin America. Five Mexicans and two family members were aboard that flight, according to Mexican Foreign Minister Marcelo Ebrard.
India said it had sent a naval ship to Port Sudan and two military planes to Jeddah as part of its preparations and was telling citizens to avoid unnecessary risks.
Tunisia said it would start evacuating citizens on Monday from Khartoum.
Lebanon said it was working to evacuate 51 citizens from Port Sudan.
South Korea said on Friday it was sending a military aircraft to evacuate its 25 citizens in Sudan.
Japan said three planes had arrived in Djibouti to transport Japanese nationals.
Canada said it was suspending operations in Sudan and had extracted its diplomats.
Ghana and Kenya said they were working to help their nationals get out.
Nigeria said had asked for a safe corridor to evacuate 5,500 nationals, mostly students.
Sweden, Norway and Ireland also each said they were involved in efforts to evacuate citizens. The Netherlands said a handful of its 150 nationals in Sudan had left on the French plane.