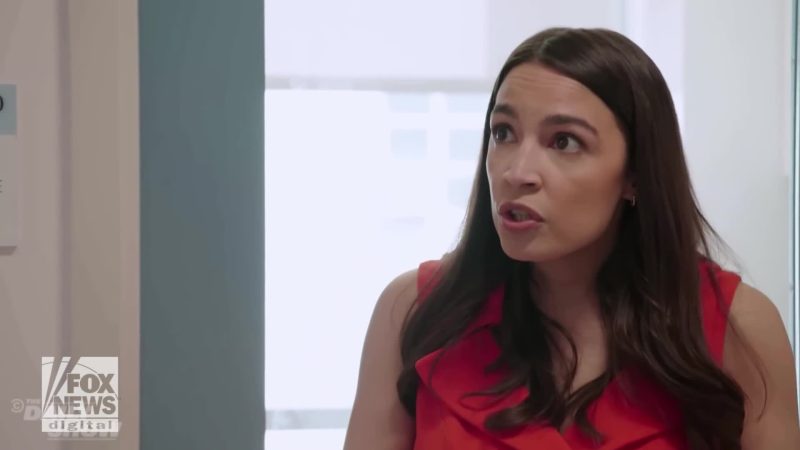 AOC admits 'massive' scale of Green New Deal, says climate change will be even worse
Rep. Alexandria Ocasio-Cortez, D-N.Y., defended her reintroduction of the Green New Deal on Sunday, admitting the bill was 'massive,' but saying the threat of climate change is even greater.
Ocasio-Cortez made the comments during a Sunday interview with MSNBC host Jen Psaki. The divisive lawmaker introduced her Green New Deal for the second time last week, arguing that it is time to 'aggressively' transform the American workforce.
'You just reintroduced the Green New Deal,' Psaki began. 'When you talk about big, expensive new programs, that's where you sometimes hit resistance, I think. How do you convince those people, people who believe climate change is real, it is a crisis, but they're concerned that some of these proposed solutions are too grand?'
'It is important to acknowledge that the scale and the scope of what we are proposing is massive, but the scale and the scope of the climate crisis is even bigger,' Ocasio-Cortez responded. 'If we are not proactive about very aggressively and transformationally addressing our infrastructure, our workforce, our preparation for the climate crisis, then the costs of not addressing it are going to be far greater.'
Ocasio-Cortez reintroduced her trillion-dollar Green New Deal last week, and analysts say it could end up costing the U.S. up to $92.9 trillion if passed.
The Democrats – led by Ocasio-Cortez and Sen. Ed Markey, D-Mass. – said their legislation, if enacted, would 'tackle the climate crisis' with a decade-long mobilization that creates millions of good-paying, union jobs. They added the bill would strengthen U.S. infrastructure and combat pollution.
Ocasio-Cortez had released her previous version of the Green New Deal in 2019 to widespread criticism. She brushed passed those criticisms in a statement announcing her second version of the bill.
'When we first introduced the Green New Deal, we were told that our vision for the future was too aspirational,' Ocasio-Cortez said. 'Four years later, we see core tenets of the Green New Deal reflected in the Inflation Reduction Act – the largest ever federal investment in fighting climate change, with a focus on creating good, green jobs.'
'But there is still much, much more to do to make environmental justice the center of U.S. climate policy,' she continued. 'Today's reintroduction marks the beginning of that process – of strengthening and broadening our coalition, and of laying the policy groundwork for the next fight.'
While the Green New Deal is just 14 pages and includes little detail about how it would achieve its lofty greenhouse gas emissions reduction goals, the legislation would effectively end fossil fuel extraction and include massive investments in green energy alternatives.
Fox News Thomas Catenacci contributed to this report.
This post appeared first on FOX NEWS