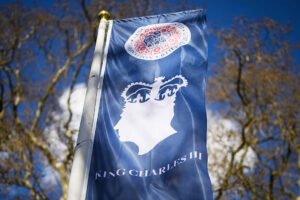 Americans set to spend more than Brits at UK hotels for coronation
WHEN King Charles III is crowned May 6 at Westminster Abbey, royal-watching analysts say American tourists will celebrate by outspending his British subjects at London's top hotels.
According to research conducted by AI hotel booking platform Allora.ai, US-based travelers will account for 32% of all booking revenue in four- and five-star hotels, more than usual for this time of year. Americans typically make up 24% of revenue and domestic travelers 34%, according to the platform.
"The fact that the coronation has really caught the imagination of visitors from the US is a real added bonus for London hoteliers, as they are far more likely to make use of the hotel's facilities, such as the restaurant or spa," says Michael De Jongh, chief commercial officer of Allora.ai. "US guests spend a good deal more than domestic ones."
There will be plenty of opportunities for visitors who have traveled across the pond to splash cash at luxury hotels on everything from coronation-themed high teas and cocktails to Michelin-starred dinners and a $25,000 whisky for the occasion.
Some of the more exciting recent announcements include 5-star hotel The Londoner opening a pop-up royal martini bar. The Dorchester is reopening its rooftop on coronation day to let guests watch the Red Arrows pass overhead while enjoying a three-course lunch, starting at £165 per person ($205). But hotels in all corners of London are cashing in on the occasion.
Patricia Yates, chief executive officer of VisitBritain, the UK's national tourism agency, told Bloomberg last month that the coronation has global appeal, especially for Americans, who are the key drivers behind the country's tourism recovery after pandemic restrictions lifted. Americans shelled out $5.2 billion in the UK in 2019, and spending so far this year is already up 40%, according to VisitBritain.
This all comes after a YouGov poll said that most Brits just don't care much about the coronation. Apathy is highest among younger people, with 75% of 18- to 24-year-olds who were polled saying they care "not very much" or "not at all" about the king's big day.
Many Brits said they are looking to get out of town entirely during the festivities. Expedia search data showed that British travelers have been searching for flights to Amsterdam, Paris and even New York, while the top hotels in London are being booked by Americans. — Bloomberg