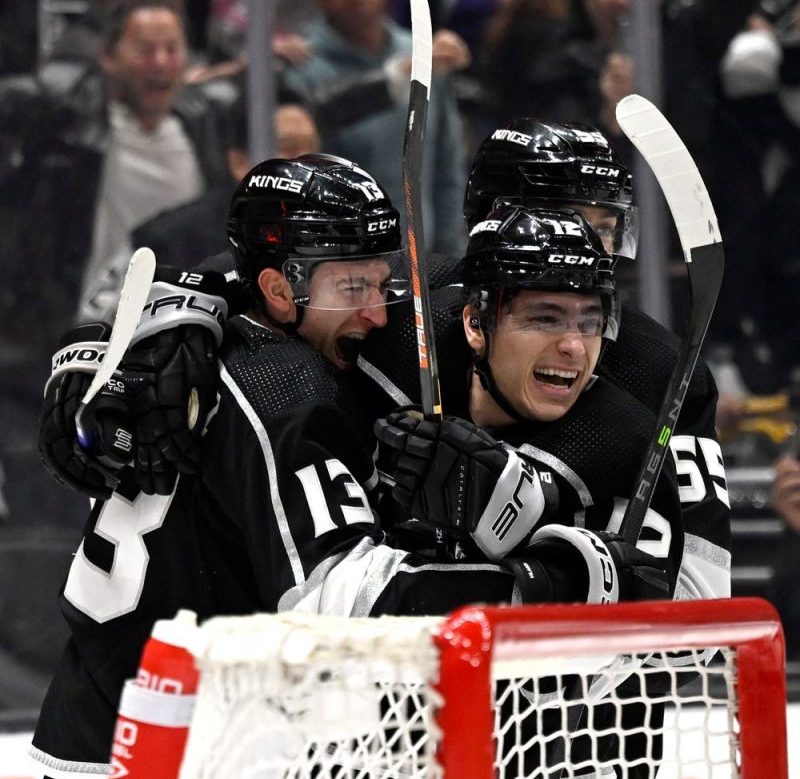 High stick? Frustrated Oilers don't think OT goal should've counted
If awards were given out for blown leads, the Edmonton Oilers would be one game away from advancing in the NHL playoffs.
But instead, the Los Angeles Kings lead their first-round series two games to one as a result of an overtime goal that left the Oilers frustrated in more ways than one.
Trevor Moore netted the winner on a play that saw Gabriel Villardi nearly play the puck with a high stick in the offensive zone, a play, per Rule 80, that would've necessitated a stoppage as the puck was corralled by the Kings. While Oilers star Connor McDavid immediately pointed up to gesture for a high-stick, the NHL's situation room said there was no conclusive video evidence that determined the puck touched Villardi's stick.
'It's a play where the greatest player in the world (Connor McDavid) is 2 feet away as it happens, and his arm comes straight up in the air,' Oilers coach Jay Woodcroft told reporters. 'He knows that it hit the stick. Otherwise, he wouldn't put his arm up in the air. He'd keep playing. It appears to me in the video that the puck's going straight up in a trajectory and deadens.
'In the end, I'm going to go with the greatest player in the world who's 3 feet away.'
Follow every game: Latest NHL Scores and Schedules
McDavid elaborated after the game.
'I saw just in the corner … the puck kinda goes up and it goes off his stick, so I called high stick, that's what I saw on the ice and then obviously they go on and score,' McDavid told reporters.
But the NHL didn't see it that way, and with it came a 3-2 win in Game 3 for the Kings, who erased a 2-1 Edmonton lead in the second period. The Oilers blew two-goal leads in the prior two games, though they won Game 2.
'To be completely honest with you, I had no clue what they were checking for,' Kings center Anze Kopitar said. 'Obviously, I saw the goal and that was certainly not played with a high stick. I didn't know. I guess in my mind the longer it took – usually the longer it takes, it's inconclusive and the call on the ice was a goal.'
Los Angeles hosts the Oilers in Game 4 on Sunday at 9 p.m. ET (TBS).
This post appeared first on USA TODAY