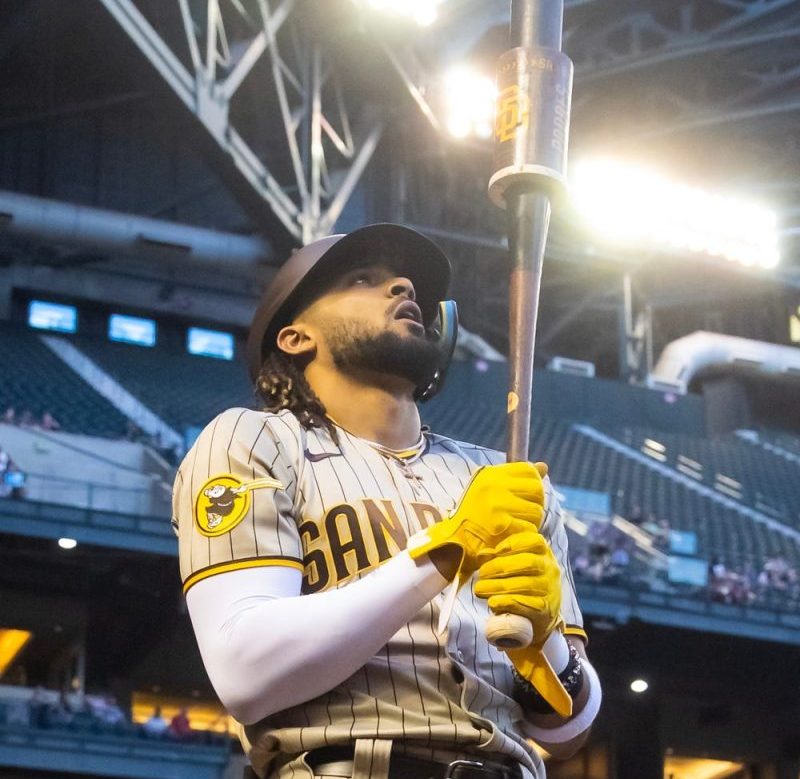 Fernando Tatis Jr. energizes Padres after 564 days away: 'Top of the world'
PHOENIX — The music blared in the visiting clubhouse Thursday evening and vibrancy filled the air as the San Diego Padres laughed, joked  and teased one another.
For the first time in 564 days, El Niño was back, and, man, can he light up a clubhouse.
It was hardly a spectacular debut, with Fernando Tatis Jr. going 0-for-5, striking out twice, missing a cutoff man and taking one wrong route, but he did make a fabulous running catch.
Still, it was hardly a coincidence the Padres' offense finally woke up in their 7-5 victory over the Arizona Diamondbacks on the night of Tatis' return.
The Padres fed off his energy – scoring more than twice as many runs in the first four innings (five) than their combined total in their previous four games – and finally looked like the lethal offense everyone envisioned.
Follow every game: Latest MLB Scores and Schedules
'Today felt like opening day for all of us,' said veteran Matt Carpenter, who homered in the fourth inning. 'It's just his name. His presence. He's just such a big personality, and obviously a generational talent. You see how the crowd reacted, he just brings a whole other level of excitement.
'It will be fun to watch going forward.'
STAY UP-TO-DATE: Subscribe to our Sports newsletter now!
That energy rubbed off on everyone, with the clubhouse buzzing about 42-year-old Nelson Cruz scoring from first base on Trent Grisham's double in the sixth inning.
'What did people think, that I was 80 years old? Come on,' Cruz said.
Tatis' return creates a Mount Rushmore top-of-the-batting order with Tatis, Juan Soto, Manny Machado and Xander Bogaerts.
Padres manager Bob Melvin was so excited about writing Tatis' name atop the lineup card that he immediately sent a text to Tatis: 'You've got the green light. You're leading off.'
'I've been waiting for Fernando to get in the lineup since I've gotten here,' said Melvin, who arrived in 2021. 'It's exciting for me, too.'
'Great to be back'
Tatis, wearing Padres-colored brown-and-gold pants leaving the clubhouse, couldn't hide his joy and enthusiasm before the game, during the game, and even afterward.
It was the happiest he's ever been taking an 0-for-5 at the plate.
'It was great being back out there with the boys, in the jungle,' Tatis said. 'The jungle is real. Just happy to get that 'W' and be back out there. I embraced the moment. I embraced the fans. I embraced everything. Just happy. …
'Just getting back on the field I feel like that was just the full highlight of the day for me. Remembering everything I went through, every single process, every single surgery, every moment at night, when I wake up just thinking where I was going to be next in my life.
'It was just a moment to embrace.'
Tatis' presence, playing a major-league game for the first time since Oct. 3, 2021, was electric, and polarizing, too.
He was cheered when he walked to the plate for the first time.
He also was booed, with some fans chanting 'cheater,' causing one altercation in the stands with D-backs fans and a Padres fan wearing a Tatis jersey.
There will be plenty of days like this throughout the season on the road, and certainly, there will be much more hostile environments than Phoenix where there were just as many Padres fans as D-backs fans at Chase Field.
'That's going to come,' Tatis said. 'Everybody has freedom of expression in this country. Nothing I can do about it. I'm just going to keep playing this game and enjoy every part of it.'
Tatis heard some, well, interesting comments from the stands in right field, too, reminding him of his transgressions. But he heard praise, too.
'A lot of good stuff, a lot of old stuff,' Tatis said. 'But it's all part of it. I'll keep rolling.'
A new beginning
Perhaps nothing Tatis can do will alter people's image of him as a young star who used performance-enhancing drugs while trying to come back from a broken wrist, but he vows never to take the game for granted.
'The feeling that I'm playing baseball again, it's just at the top of the world. … It's kind of like my debut in the big leagues,' Tatis said. 'It's kind of those nerves again. I'm just happy to be here. Grateful for the chance.'
Certainly, the Padres could use him. There's no way a team with this kind of talent (11 All-Stars), this kind of payroll ($249 million, third-largest in baseball), and this kind of commitment from ownership should be off to a 10-11 start.
The Padres don't want any extra burden placed on Tatis' shoulders. No one is saying they'll go only as far as Tatis will take them. This is a team, after all, that advanced to the NLCS last year without Tatis taking a single at-bat.
Yet, having their $340 million man back, and feeling as healthy as he has since 2020, the Padres sure believe this is a World Series or bust team.
Maybe this is why owner Peter Seidler, president Erik Greupner, GM A.J. Preller and assistant GM Josh Stein, along with several of their scouts, were on hand.
Basketball Hall of Famer Ralph Sampson, wearing a Padres' warmup jacket, was on hand too, and soaking in the clubhouse jubilation.
'There were more Padres fans here than Arizona fans,' Tatis said, laughing. 'It was nice how they showed up. They were loud. It felt like we were at home.'
The Padres fans, with several thousand of the 16,734 on hand making the five-hour drive from San Diego, were raucous before the game started. Tatis was serenaded to a standing ovation taking batting practice. He then signed autographs and posed for pictures for several minutes, and then spent time reflecting on the past 18 months.
'Just taking time to realize and just know how really blessed I am to play, to be able to play this game at the level I've been playing,' Tatis said. 'All the kids are watching. And the vibe they give me, that love they give me genuinely back, I feel like it feeds me every single time. I feel like I just want to keep doing it and see that generation of boys playing that way.'
A more mature Fernando Tatis Jr.
Tatis, 24, became one of the faces of baseball his first three years, but everything changed when he got into a motorcycle accident in December 2021. He underwent wrist surgery that sidelined him for the first four months of the 2022 season, and then missed the rest when he was suspended Aug. 12 for testing positive for Clostebol, a synthetic anabolic steroid. He underwent a second surgery on his left wrist, and also consented to have surgery to repair the torn labrum in his left shoulder.
'Every situation you learn,' Tatis said. 'You see what you can take the best out of in it. I'm just more mature. Learned different stuff. Came from a really bad situation. I feel like I've overcome it with the right stuff.'
Said Melvin: 'You do some soul-searching during those times, and you realize how lucky you are to be a big-league player. And when you come back from something like that, you get humbled a little bit and appreciative. He's been nothing but easy to deal with, easy to manage in spring training, and doing anything he has to do to help his team win. I think all the guys feel that.'
This was a player who twice finished in the top four of the NL MVP voting in 2020 and 2021, won a home run title, two Silver Slugger awards and became the only player in baseball history with 80 homers and 50 stolen bases in his first 273 games. He had the third-highest OPS behind Mike Trout and Soto his first three years.
Can Tatis actually return to being that same player, if not better?
'One hundred and ten percent,' he said. 'It's just me playing baseball. It's nothing different. It's been the same way since Day Zero. It's going to keep being the same way.'
If Tatis reverts to the player we last saw, who hit 42 homers, drove in 97 runs and stole 25 bases in 2021, look out because the Padres could be the badest dudes on the NL West block.
'He's just so good for this game,' Diamondbacks manager Torey Lovullo said. 'He's a refreshing young athlete that plays with a love for the game. I'm a fan of his because of how he plays the game and has had the success he's had.
'You can see the impact on both sides of the field. He does some magical things.
'I just wish he had waited three or four more days before coming back.'
Stay tuned.
The party is just getting started.
Follow Nightengale on Twitter: @Bnightengale
This post appeared first on USA TODAY