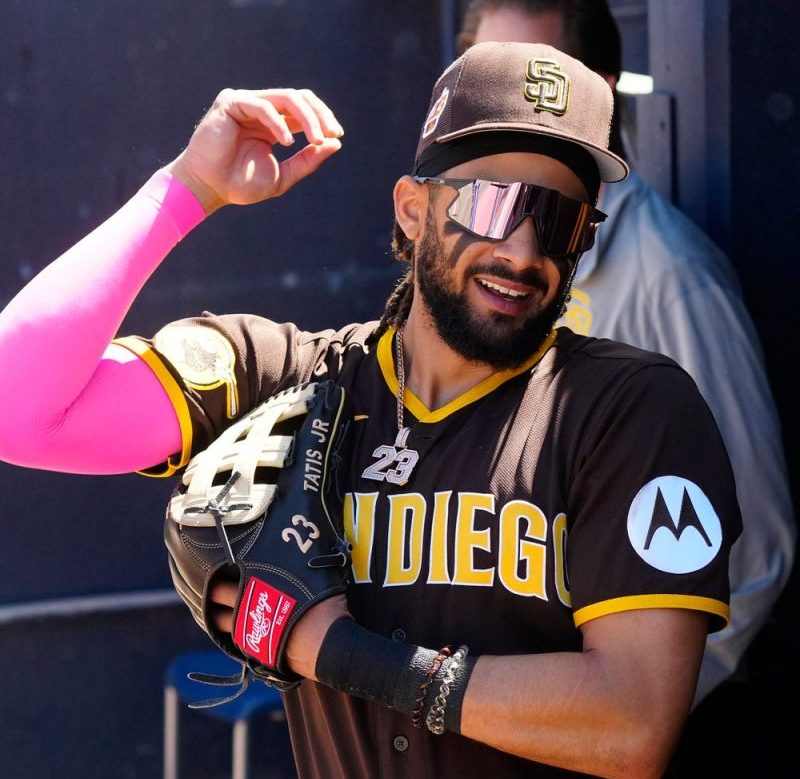 Tatis ready to return, but not as a shortstop, which is short-handed in the majors
Fernando Tatis Jr. is set to make his return to the major leagues on Thursday after completing an 80-game suspension for testing positive for a performance-enhancing drug. There's no guarantee he'll be the same player he was when we last saw him on a major league field in 2021, but his recently completed minor league rehab stint gives us a pretty good idea.
In eight games at Class AAA El Paso, Tatis hit .515 with seven home runs (including three in one game), 15 RBI and a ridiculous 1.802 OPS.
He could have played a few more games in the minors but the Padres had more than enough evidence he's ready to return. However, one thing will be slightly different from last time. He won't be their everyday shortstop.
Partly because the Padres signed free agent Xander Bogaerts over the offseason and partly because of his history of shoulder injuries, Tatis will instead be playing in the outfield.
From a fantasy perspective, the additional eligibility will make Tatis even more valuable. If he can just stay healthy, he should have no trouble making up for lost time on the stat sheet. Remember, back in 2021, he led the National League with 42 home runs despite playing in only 130 games.
Short-handed at shortstop
Tatis' return can also help balance out a wave of early injuries at the shortstop position – one that looked overflowing with talent this season at every level.
Oneil Cruz, Pittsburgh Pirates. One of the game's most exciting young players, the 6-7 Cruz has only scratched the surface of his immense talent. His biggest weakness had been a tendency to swing at almost anything, but he seemed to be making real progress – reaching base in all nine games with seven walks and only eight strikeouts in 40 plate appearances.
However, an awkward slide and a collision at home plate on April 9 resulted in a broken fibula and damaged ligaments in his ankle, which will keep him out until at least August.
Corey Seager, Texas Rangers. Freed  from the constraints of the dreaded shift, Seager was off to a ridiculously hot start when he strained his left hamstring legging out a double April 11. In 11 games, he posted a .359/.469/.538 slash line with a homer, four RBI, seven runs scored and a hard-hit rate (48.5%) that ranked among the top 10 in the majors. He'll miss at least a month.
Tim Anderson, Chicago White Sox. The 2019 AL batting champ was looking like his .300-hitting self and taking advantage of the new rules to swipe five bases in his first 11 games before he suffered a sprained knee trying to make a tag in a rundown. He could be back later this month.
Orlando Arcia, Atlanta Braves. The veteran was validating the team's surprising decision to make him the opening-day starter. Hitting .333 with a pair of homers, seven RBI and 10 runs scored in his first 13 games, Arcia was hit by a pitch that resulted in a microfracture in his wrist and a trip to the injured list.
In addition to those injuries, minor ailments last week forced the Twins' Carlos Correa and the Cubs' Dansby Swanson to take some time off.
Rays of hope
Not everything has gone wrong at the 6 this season.
First of all, Bo Bichette has lived up to his preseason hype in Toronto. Through April 16, he was hitting .375 with four homers, 11 RBI and 11 runs scored. That's good enough for third in Roto value at the position at $27 (via BaseballHQ.com, based on a $260 cap, 5×5 mixed league).
One of the biggest breakout performers in the early going has been Tampa Bay's Wander Franco. Like the rest of the Rays, Franco is off to a sizzling start.
The 22-year-old has yet to play a full season in the majors – missing half of last year with a fractured bone in his wrist – but he's one of the driving forces behind the Rays' season-opening 13-game winning streak.
At the beginning of the week, Franco was hitting .318 and showing some newfound power with four home runs and a .621 slugging percentage. That's after hitting just 13 homers in 652 career plate appearances entering this season. He ranks second among shortstops at $30 earned so far.
And perhaps the position's biggest surprise has been Jorge Mateo of the Baltimore Orioles ($40), who began the week hitting .372 and tied for the major league lead with eight stolen bases. With a career average of .234, Mateo isn't going to win a batting title … but he's taken full advantage of this season's new rules and could conceivably end up with 50-plus steals.
Better days ahead
Looking longer-term, fantasy managers can take inspiration from the way several MLB teams have plugged their holes at shortstop.
Anthony Volpe, New York Yankees. The Yankees didn't want to put too much pressure on their prized prospect, so he opened the year batting ninth. But he started his big league career with only four hits in 31 at-bats (.129).
After hitting in the leadoff spot for the first time on April 12, Volpe put together a modest five-game hitting streak and seems to be turning things around.
He's benefiting from hitting in front of Aaron Judge, and don't look now, but he's a perfect 7-for-7 in stolen base attempts.
Zach Neto, Los Angeles Angels. Finally, the Angels made the unusual move to promote their 2022 first-round draft pick directly from Class AA over the weekend – after just 44 games in the minors.
The No. 13 overall selection last year, Neto hit .342/.418/.550 over parts of two seasons at Class AA Rocket City (Alabama). He has a nice power/speed combination and is a much better fit at short than the Gio Urshela/Luis Rengifo combination the Angels were using.
Neto, 22, went 1-for-16 in his first four MLB games, but there's a good chance he'll get a chance to play through any growing pains he experiences.
Mookie Betts, Los Angeles Dodgers? Following Gavin Lux's season-ending injury in spring training, the Dodgers turned to veterans Miguel Rojas and Chris Taylor to fill the void. However, Taylor left Monday's game early with an abdominal injury and Rojas is hitting a putrid .129. Dodgers manager Dave Roberts hinted his Gold Glove right fielder (who has already played five games at second base this season) could possibly be an option at short.
For a position that's endured more than its fair share of injuries, that may be the most creative solution of all. 
Follow Gardner on Twitter @SteveAGardner
This post appeared first on USA TODAY