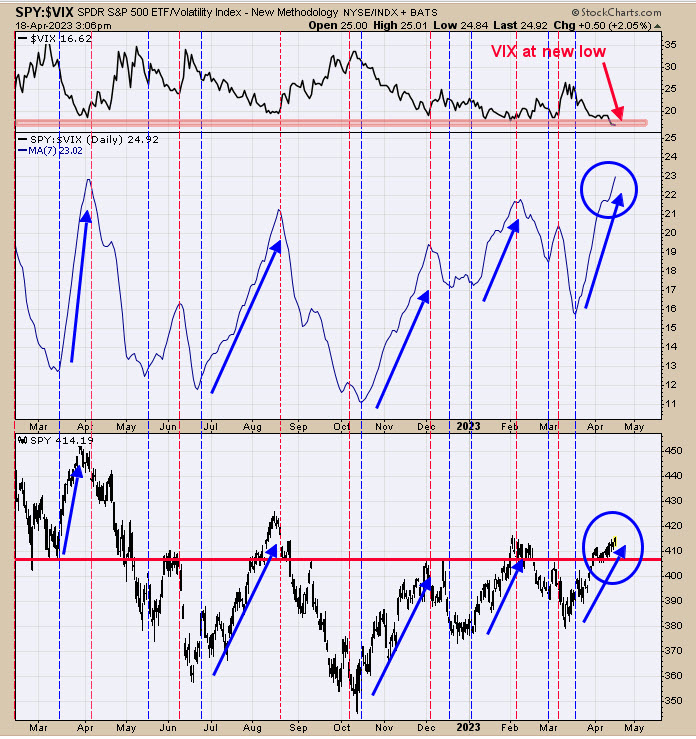 The Ord Oracle April 18, 2023
SPX Monitoring Purposes: Long SPX on 2/6/23 at 4110.98
Monitoring Purposes GOLD: Long GDX on 10/9/20 at 40.78.
Long Term SPX Monitor Purposes: Neutral.
We updated this chart from yesterday. The SPY/VIX ratio is still rising, which suggests the SPY is in an uptrend. Yesterday we said, "Above is the daily SPY/VIX ratio going back to last March. This ratio helps to define the direction for the SPY. When this ratio is rising, SPY is in an uptrend; when declining, it is in a downtrend. This ratio turned up in mid-March and has continued to rise, suggesting SPY is in an uptrend. The red and blue vertical lines show the times when ratio has reversed direction. The top window is the VIX, which touched a new yearly low today and a bullish sign for intermediate term. Food for thought; in pre-election years (like this year), April is up 94% of the time. If January was up (it was up over 6% this year), April is up 88% of the time."
The bottom window in the chart above is the weekly VIX. The light pink-shaded area is when the VIX was below 17 (the VIX closed today at 16.79). It appears that when the VIX is below 17, SPX is in a trending mode. The light blue shaded area shows the times when the VIX was below 17 and compared that to what the SPX did. With the VIX below 17, the SPX may be in a rally trend mode.
Above is the weekly Gold and ETF for Gold, GLD. Both indexes are back up the to their previous highs and holding steady. This is a third test of the previous highs for both indexes. The more times a high is tested, the more likely the previous high will be exceeded. We have the GDX bullish into the August-September timeframe (see last night's report) and if GDX goes up, so will Gold and GLD. To get through the previous highs, a "Sign of Strength" (strong volume with strong rally) will be needed, and that condition may develop in the coming weeks, where the market may be getting stronger.
Tim Ord,
Editor
www.ord-oracle.com. Book release "The Secret Science of Price and Volume" by Timothy Ord, buy at www.Amazon.com.
Signals are provided as general information only and are not investment recommendations. You are responsible for your own investment decisions. Past performance does not guarantee future performance. Opinions are based on historical research and data believed reliable; there is no guarantee results will be profitable. Not responsible for errors or omissions. I may invest in the vehicles mentioned above.