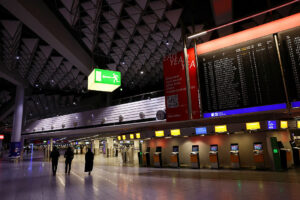 Strikes in Europe could spell more flights havoc into summer
LONDON — Strikes across Europe have led to a spike in flight cancellations, delays and driven down bookings to cities like Paris, data from travel firms show, despite efforts by airlines to avoid a repeat of last year's disruptions.
Flight cancellations and delays of over three hours in Europe were up over 2022 and 2019 over the Easter holiday weekend from April 5-11, most markedly in France and Britain, according to data from flight claim management firm AirHelp.
"The situation quickly deteriorated as France was sinking into the pension reform crisis. Charles de Gaulle airport is negatively affected, both as a destination and as a hub," said Olivier Ponti, VP of Insights at travel data firm ForwardKeys.
In France, where air traffic control staff were on strike in recent weeks, 62% of flights were on time, compared with 75% in 2022 and 76% in 2019 before the pandemic brought international travel to a standstill, Airhelp data shared with Reuters showed.
Some 33,300 flights were canceled this year over Easter, compared with 7,800 last year, while 9,000 flights were delayed by more than three hours, compared to 6,800 last year.
Transfers and planned stays through Charles de Gaulle airport in Paris dropped by around 75% compared to 2019 levels by mid-March, according to ForwardKeys.
Paris airports operator Aeroports de Paris estimated on Monday it lost around 470,000 passengers between January and March due to the strikes.
In Britain, border strikes also caused disruption at airports across the country, with airports in London facing the largest delays, according to AirHelp.
Around 73% of flights were on time, compared with 76% in 2022 and 81% in 2019. There were 33,700 flights canceled, compared with 26,600 last year, while 10,800 flights, which made up 1% of all total flights, were delayed by more than three hours, up from 9,500 last year.
PASSENGER RIGHTS PAYOUTS
The ongoing disruptions from prolonged labor strife could lead to escalating costs for airlines that have worked hard to mitigate problems, leading some chief executive officers to call on the European Commission to intervene.
This year's Easter holiday was seen as a major test of the industry's ability to cope with the influx of travelers after adding staff.
But there's a particular worry that continuing strikes might lead to a decline in tourist traffic, which was set to rebound to pre-pandemic levels this summer.
Tickets from Europe to Charles de Gaulle airport fell by 30% compared to 2019 during the week of March 16, ForwardKeys said, although they dropped by only 8% from the United States.
And strikes look set to continue. President Macron on Saturday signed into law a deeply unpopular bill to raise the state pension age, infuriating unions which called for months of mass protests, that started in January this year, to continue.
In Germany, Hamburg Airport has cancelled all departures on Thursday and Friday due to a strike by security control workers called by union Verdi.
Air traffic authority Eurocontrol previously warned that delays could continue into the northern hemisphere summer, especially if strikes keep going.
Ryanair Chief Executive Michael O'Leary said last month that it was a "scandal" that French strikes had blocked many flights over France's airspace, disrupting services between different countries including the busy tourist market between Britain and Spain.
According to passenger rights rules in Europe, airline customers who face delays of many hours are entitled to compensation, long a sore point for airlines struggling with razor thin margins.
Airlines say airports and other stakeholders need to also pay in compensation to consumers, so the burden isn't entirely on them. — Reuters