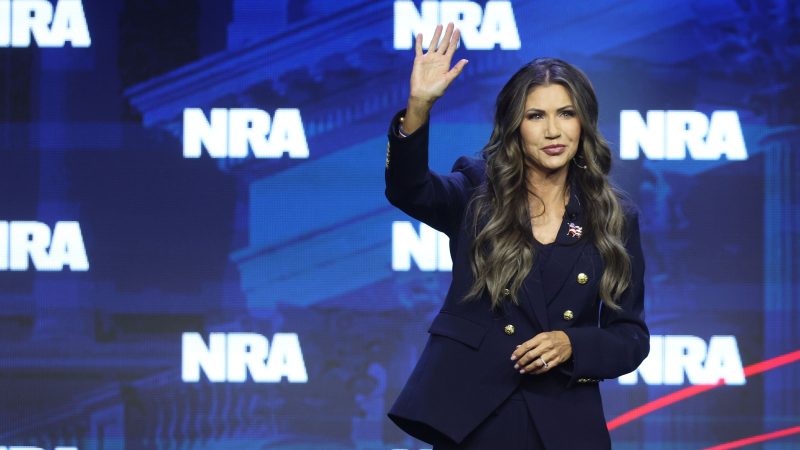 South Dakota's Kristi Noem takes action on Second Amendment as 2024 rumors ramp up
INDIANAPOLIS – EXCLUSIVE: Republican South Dakota Gov. Kristi Noem took firm action over the weekend to strengthen the Second Amendment rights of people in her state, signing an executive order on stage during her address to the annual National Rifle Association convention to stop what she called 'discriminatory action' against those rights.
Speaking with Fox News Digital immediately after signing of the order, the rumored 2024 presidential candidate stressed the need to 'lead by example' when it came to the Second Amendment, and shared what was on her mind as she mulls a potential run for the White House.
'We've recently seen in this country that banking institutions are discriminating against firearm companies or ammunition companies. So what I did was sign an executive order that would prevent the state of South Dakota from doing any business with financial institutions that would do that type of discriminatory action against our Second Amendment rights,' Noem said when asked about the order she signed in front of the thousands of NRA convention attendees.
'It's incredibly important that we set and lead by example. And this executive order is one way that we can do that to continue to stand for constitutional rights of the people in our state right now,' she said.
In addressing the numerous recent deadly shootings snatching headlines across the country, Noem argued there were laws already in place needing to be enforced that she said would protect citizens and ensure the safety of children. 
'Now, it's more important than ever that those of us who value this country, that they value what our founders gave us as our rights to continue to defend them and to explain why they're in place. They're in place so a normal, everyday citizen has the chance to deter a corrupt government that would come in and take away their ability to provide for their families,' she said.
When asked about the rumors swirling around the possibility she might launch a campaign for president, Noem said she wasn't going to announce a decision just yet, but instead said she saw a country 'desperate for a president' that would fight for the values and principles America was built on.
'I'm looking for an individual like that. I hope that people in this country are as well, because now more than ever, we're seeing federal government come in and take away our ability to even conduct business, to raise our families as we see fit and to use our values that we were raised with,' she said. 
'I do think that it's important that we keep our eye on the ball and make sure that we have the best individuals stepping forward to take on that role because we've got some big fights ahead and we need to make sure that we have a president who will hang in there with us,' she added.
Concerning the 34 felony falsification of business records charges facing Trump in a New York court, Noem described them as 'unprecedented action,' and argued district attorney Alvin Bragg was ignoring the statute of limitations on the former president's alleged crimes.
'It's clearly all politics. You know, I'm sure President Trump will go through the process and will come out recognizing that these kinds of attacks can be withstood and that he will continue to work for the people in this country,' she said.
This post appeared first on FOX NEWS