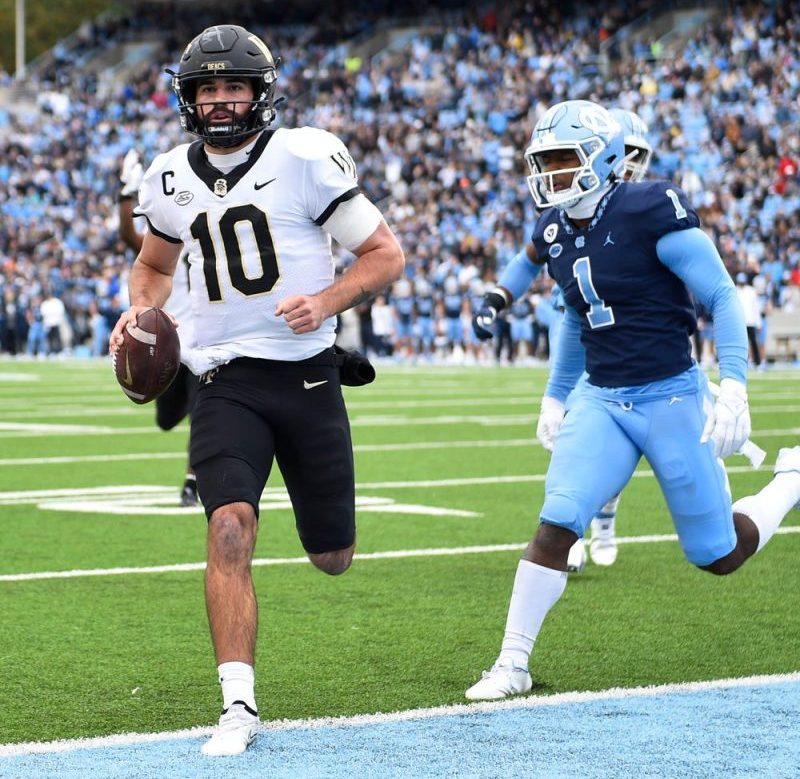 Ranking the 10 biggest transfers in college football this offseason
The most important transfers of the offseason play the most important positions on the field: quarterback, cornerback and edge rusher.
In many cases, these transfers are joining some of the best teams in the Bowl Subdivision. At Georgia, Notre Dame, Oregon and elsewhere, experienced newcomers will have a deep influence on the College Football Playoff.
And we're not done yet. A new transfer window began on April 15 and will remain open through the end of the month, ushering in another round of roster moves before teams retake the practice field this summer.
For now, these are the transfers set to have the biggest impact on the 2023 season:
Notre Dame QB Sam Hartman (Wake Forest)
After setting almost every meaningful record in program history at Wake Forest, Hartman elected to spend his final season of eligibility with the Fighting Irish. His arrival will have a dramatic impact on Notre Dame's offense that hasn't had a player of his caliber at the position and the broader playoff race. When healthy, he's an elite college quarterback who will not be intimidated by the stage and bright spotlight that comes with starting under center for the Irish.
Colorado DB Travis Hunter (Jackson State)
There is absolutely no question about the overall talent level: Hunter was the top prospect in the 2022 class and shockingly chose Jackson State and the opportunity to play for Deion Sanders. He followed Sanders to Colorado and is the flashiest member of a rapidly reworked roster. Amid other story lines and subplots heading into Sanders' debut, there is enormous intrigue over how Hunter will fare in the transition to the Pac-12 and the Power Five.
LSU DB Denver Harris (Texas A&M)
Harris missed seven games during his one season at A&M due to multiple suspensions from team activities. When on the field, however, Harris flashed All-America potential as a true freshman. He started all five games in which he appeared and more than held his own against SEC competition. Harris walks into a virtually empty room at cornerback for LSU and is expected to step right into a starting role.
Kentucky QB Devin Leary (North Carolina State)
Leary is the Wildcats' replacement for Will Levis, who transferred from Penn State and developed into one of the top prospects in this year's draft class. In comparison, Leary arrives on campus as a more polished passer after multiple seasons as the starter at North Carolina State, including a 2021 campaign that saw him throw for 35 touchdowns before a pectoral injury limited him to six games last season. Like Levis, he's an NFL prospect who should play at an all-conference level.
Georgia WR Dominic Lovett (Missouri)
Lovett pulled down 56 receptions for 846 yards in 2022, leading the Tigers in both categories by a wide margin. The junior is an up-and-coming SEC talent set to occupy a key role as the Bulldogs undergo a series of changes on offense, including a new coordinator in Mike Bobo and a new quarterback, likely former backup Carson Beck. Lovett's play-making ability will be a valuable asset.
Oregon DE Jordan Burch (South Carolina)
Burch was a five-star recruit who started to break through as a first-year starter in 2022, with 60 tackles, 7½ tackles for loss and 3½ sacks. After a sluggish start to his college career, these numbers in the SEC speak to Burch's untapped potential and ability to anchor Oregon's defensive front. He has an NFL frame and athleticism, so a big year could easily land Burch in the upper range of next year's draft.
Michigan LB Josiah Stewart (Coastal Carolina)
The Wolverines added another promising defensive transfer in former Nebraska linebacker Ernest Hausmann. But Stewart has a longer track record of production on the Group of Five level for the Chanticleers. As a freshman in 2021, he ranked fifth nationally with 12½ sacks and earned first-team All-Sun Belt honors. While his numbers dipped last season, he was still a second-team all-league pick.
Florida State TE Jaheim Bell (South Carolina)
A number of FSU transfers could've landed in this spot, including cornerback Fentrell Cypress (Virginia), defensive lineman Braden Fiske (Western Michigan) and offensive tackle Jeremiah Byers (Texas-El Paso). Bell promises to make an impact as a receiver after making 25 catches for 231 yards in 2022. He added another 261 yards on the ground, showing off the unique package of skills now at coach Mike Norvell's disposal. Overall, this incoming transfer class bolsters the case for picking the Seminoles to win the ACC and compete for a playoff berth.
UCLA RB Carson Steele (Ball State)
Steele is the Bruins' replacement for Zach Charbonnet after rushing for 1,556 yards in 2022, good for ninth in the FBS. The All-MAC pick ran for 891 yards as a freshman and topped 100 yards in 11 of the 14 games in which he had at least 20 carries across two seasons at Ball State. UCLA will likely play five-star true freshman Donte Moore at quarterback, meaning Steele should play a big part in easing his way into the starting lineup.
Iowa QB Cade McNamara (Michigan)
McNamara was the given the chance to hang onto the starting role in 2022 but lost an extended competition to J.J. McCarthy that drifted into the first two weeks of the regular season. As the starter in 2021, he threw for 2,576 yards and 15 touchdowns to help lead Michigan to a win against Ohio State, the Big Ten championship and a playoff berth. Even taking away the infectious confidence McNamara has brought to Iowa's much-maligned offense, his skills and experience make him a drastic upgrade over what the Hawkeyes have used at quarterback the past several seasons.
This post appeared first on USA TODAY